Data is everywhere. In everything. All around us. Don't let it envelope you! Mastering metadata will help you to no end locate, organise and use your video footage in Premiere Pro. Here's how.
Professional video editing has long since passed the point where simply naming media files was enough to help you keep track of them. With footage likely to come from numerous different sources and issues of copyright and clearance to deal with, a much more detailed way to manage media is necessary. Plus, with ever larger hard drives it's possible to store hundreds, even thousands of high quality clips on a single system, so being able to search them properly is essential.

Step 1 '" open the Metadata viewer
In your project, load at least one clip and then choose Window > Metadata, which will open the Metadata window in the center of the screen. You will see that there are many Metadata fields and we're not going to mention each one individually, but rather look at the most important ones and how metadata works in Premiere.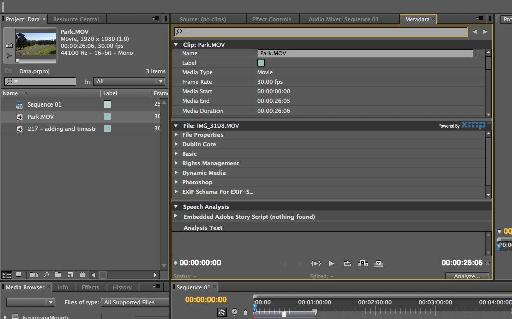 Premiere's Metadata window is contextual and will change based on the clip that you select.
Step 2 '" Add some data
The uppermost section contains basic information like the clip's name and label, and you can alter the name by clicking on its field and entering new information. To change a color label, right-click on the clip in the project bin and go to the Label submenu. Scroll down past the duration information and you will see that you can assign a tape name, description and comment to a clip as well as adding offline property info like scene, shot and client information.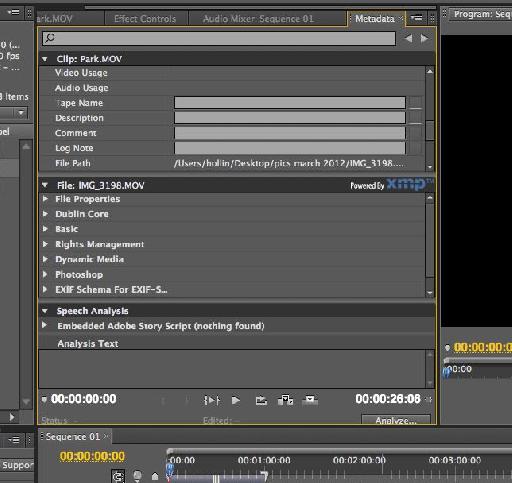 Add important tracking info like tape name, shot name and client information using metadata.
Step 3 '" Advanced properties
Scroll down again and you come to the advanced properties section. Here, you can add basic as well as Dublin Core metadata, the latter being an attempt to standardize some metadata across platforms so that information can be found more easily. Scroll down to the bottom of this section and you can even assign a rating to a clip, making it easier for example to later only search for the best takes, which you have assigned a four or five star rating.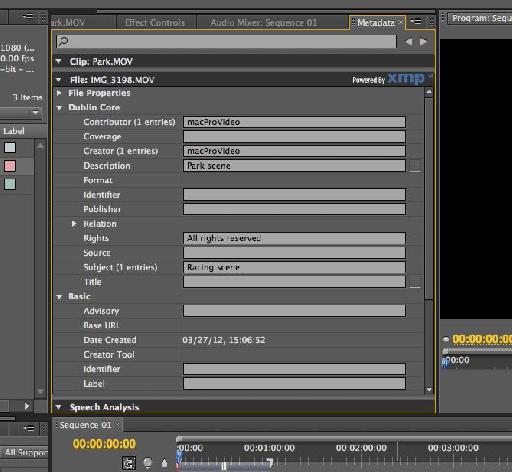 Add multiple kinds of data including Dublin Core, which is interchangeable with other media systems.
Step 4 '" Rights management
Go down a little further and you will see a Rights Management section where you can add information about the clip's owner, who is allowed to use it, and under what terms. In the Web Statement field it's possible to enter a URL containing more detailed info on this subject.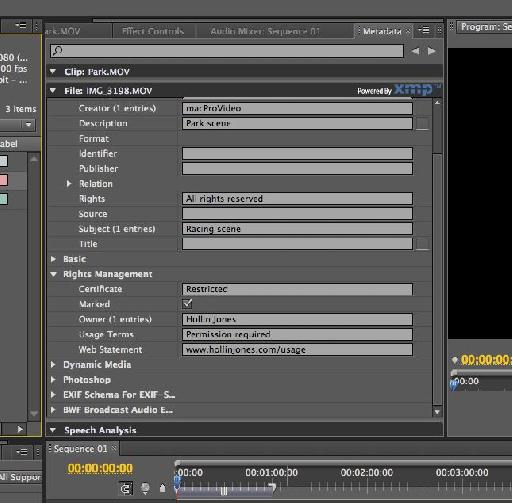 Add rights management information together with a web link where other editors can contact you to request permission for usage.
Step 5 '" Analyze content
Under the Speech Analysis section at the base of the metadata window, you can click to analyze the clip. Or right-click on the clip in the project bin and choose Analyze Content. This detects faces and, remarkably, attempts to convert spoken words in the audio to text. Of course this requires a clear recording, and you can manually edit the results. Afterwards you can run searches for spoken words and identify them within clips, just like you can search any metadata using the search field at the top of the metadata window.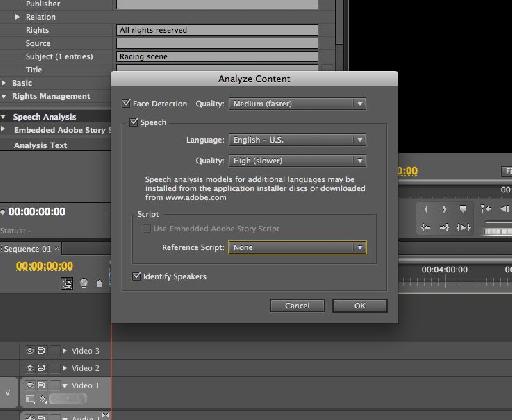 Analyze a clip to detect faces and even convert speech to text, making it possible to quickly find people or even phrases within video and audio clips.