Sidechaining is used extensively in all styles of music. It can be used to correct a mix, duck out a secondary audio signal or as a creative effect. But first you need to know how to set it.
Sidechaining ist eine jener Techniken, die nur immer wieder erscheint. Seine etwas kann man in jedem Genre bedienen und, wenn Sie ein Live-Benutzer youll gerne seine zugänglich wissen Sie auch.
Schritt 1 - Identifizieren der Audio To-Prozess
Ihre erste Aufgabe hier ist es, auf der Audio-, Instrumenten-oder Schleifen Sie bearbeiten möchten, entscheiden. Youll müssen einen Sound, der als Auslöser für Ihren Kompressor und einen Sound, der komprimiert werden soll fungiert wählen.
Im Wesentlichen
Nur etwa zwei beliebigen Quellen können für diese Technik verwendet werden, aber ich habe für den traditionellen Kick-Drum-und Synth-Combo gegangen. Dies sollte Ihnen eine gute Vorstellung davon, wie Live-wickelt seine Sidechaining und die Ergebnisse, die erzielt werden können.
Unten hört man die beiden Töne, die wir jetzt mit null Kompression aufgenommen verwenden sind: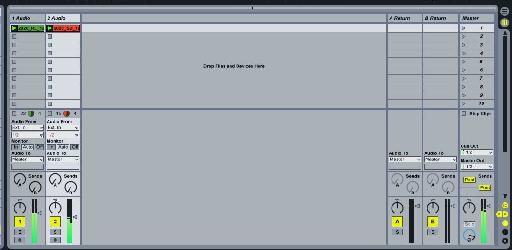 Die beiden Audio-Tracks auch verwenden werden.
Die beiden Schleifen ohne Komprimierung gehört:

[Audio-id = "8268"]

Schritt 2 - Laden der Compressor
Laden Sie nun Lives Standard-Kompressor auf der Spur, die Sie Effekt. In diesem Fall ist es das Synth auch die Verarbeitung und so habe ich einfach fallen gelassen den Kompressor (als Beilage) direkt auf den Synth-Spur.
Möglicherweise hören Sie einige Kompression statt an dieser Stelle. Dont worry das ist nur die Kompressoren Standardeinstellungen und auch ändern im nächsten Schritt.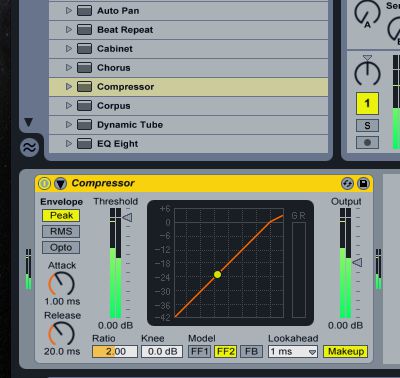 Ein Kompressor ist in den Synthesizer-Kanal geladen.
Schritt 3 - Die Sidechain-Einstellungen
Youll müssen nun die Einrichtung des Sidechain-Routing, das ist wirklich einfach und dauert nur eine Minute. Gehen Sie zu Ihrem Kompressor und eröffnen dem Moment versteckt auf der linken Seite. Beim Öffnen dieser Abschnitt wird zeigen, alle Ihre Sidechain Parameter.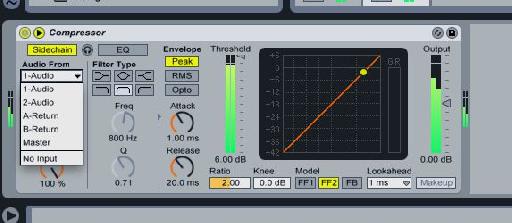 Der Sidechain Kontrollen aufgedeckt werden.
Einfach greifen die Sidechain-Funktion und wählen Sie die Audiodaten, die Sie verwenden möchten, um die Gain Reduction auslösen. In diesem Fall wählte ich '1-Audio ", da dies war die Strecke, die Drum-Loop untergebracht. Sobald Sie dies tun Sie Sidechain-Routing ist komplett!
Jetzt erhöhen Sie einfach das Verhältnis und Thresholdparameter bis Sie Gain Reduction auftretenden sehen. Vielleicht möchten Sie auch auf die Attack-Zeit so, dass die Dinge sind bissig zu senken. Ich mag auch die Zeit der Veröffentlichung mit dem Titel für eine transparentere Wirkung.

Die endgültigen Einstellungen verwendet.
Die endgültige Sidechain Effekt in Aktion:

[Audio-id = "8264"]

Thats it fertig! Jetzt experimentieren mit verschiedenen Quellen und Ziele und sehen, was Sie können sich mit. Wenn Sie lernen, wie das Routing dieser Effekt wird sich vielleicht fragen, wie Sie ohne sie gelebt haben!
Möchten Sie mehr über Sidechaining in Live-, Druck zu lernen und was die Threshold und Ratio steuert eigentlich? Schauen Sie sich Mo 's Live 8 202 - Live-Effekte benötigt: Plugged In -und Olav Basoski das Live 8 404 - Making Electronic Dance Music .