Sidechaining is used extensively in all styles of music. It can be used to correct a mix, duck out a secondary audio signal or as a creative effect. But first you need to know how to set it.
Sidechaining est une de ces techniques qui ne cesse de surgir. Ses quelque chose que vous pouvez utiliser en tout genre et si vous êtes un utilisateur de Live youll être heureux de connaître sa accessibles à vous aussi.
Étape 1 - Identifier l'audio Processus
Votre premier travail ici est de décider de l'audio, des instruments ou des boucles que vous voulez traiter. Vous aurez besoin de choisir un son qui va agir comme déclencheur pour votre compresseur et un son qui seront compressés.
Essentiellement
À peu près tout deux sources peuvent être utilisées pour cette technique, mais je suis allé pour la grosse caisse traditionnelle et combo synthé. Cela devrait vous donner une bonne idée de la façon dont Live gère ses sidechaining et les résultats qui peuvent être atteints.
Ci-dessous vous pouvez entendre les deux sons que nous allons utiliser avec compression zéro ajouté: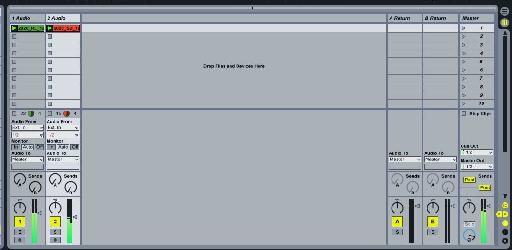 Les deux pistes audio bien utiliser.
Les deux boucles entendre sans compression:

[Audio id = "8268"]

Etape 2 - Chargement du compresseur
Maintenant charger Vies compresseur standard sur la piste que vous voulez effet. Dans ce cas, le synthé de son bien être le traitement et j'ai donc tout simplement abandonné le compresseur (comme un insert) directement sur la piste de synthé.
Vous pouvez entendre une certaine compression de prendre place à ce point. Ne vous inquiétez pas c'est juste les paramètres par défaut des compresseurs et du bien changer cela à l'étape suivante.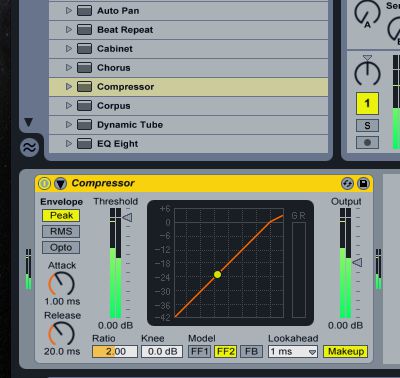 Un compresseur est chargé dans le canal de synthé.
Étape 3 - Les paramètres de sidechain
Youll maintenant besoin de mettre en place le routage de sidechain, c'est vraiment facile et ne prend qu'une minute. Accédez à votre compresseur et d'ouvrir la section actuellement caché sur la gauche. Lorsque ouvrir cette partie va révéler tous vos paramètres de sidechain.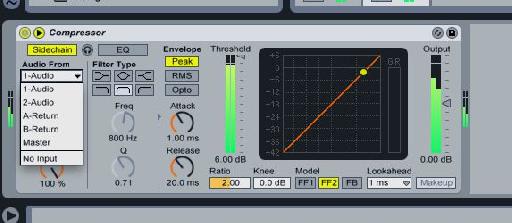 Les commandes de sidechain sont révélés.
Il suffit de se livrer la fonction sidechain et choisir l'audio que vous voulez utiliser pour déclencher la réduction de gain. Dans ce cas, j'ai choisi '1-Audio »comme cela a été la piste qui a abrité la boucle de batterie. Dès que vous le faites de votre routage sidechain est terminée!
Maintenant il suffit d'augmenter le ratio et les paramètres de seuil jusqu'à ce que vous voyez la réduction de gain produisent. Vous pouvez également réduire le temps d'attaque pour que les choses sont percutants. J'aime aussi le temps de la libération avec la piste pour un effet plus transparent.

Les réglages finaux utilisés.
L'effet final de sidechain en action:

[Audio id = "8264"]

Thats it votre fait! Maintenant expérimenter avec différentes sources et destinations et voir ce que vous pouvez venir avec. Une fois que vous apprendre comment diriger cet effet, vous pouvez vous demander comment vous avez vécu sans elle!
Vous voulez en savoir plus sur sidechaining dans Live, de compression et de ce que contrôle le Threshold et Ratio réellement? Vérifiez Mo Live 8 202 - Effets Live: Plugged In et Olav Basoski Live 8 404 - Faire de la musique de danse électronique .