Sidechaining is used extensively in all styles of music. It can be used to correct a mix, duck out a secondary audio signal or as a creative effect. But first you need to know how to set it.
Sidechain è una di quelle tecniche che continua a spuntare. Il suo qualcosa che si può utilizzare in qualsiasi genere e se sei un utente live youll essere felici di sapere le sue accessibile anche a voi.
Fase 1 - Identificare l'audio a processo
Il tuo primo lavoro è quello di decidere, gli strumenti audio o loop si desidera elaborare. Dovrai scegliere un suono che fungerà da innesco per il vostro compressore e un suono che verranno compressi.
Essenzialmente
Quasi tutte le due sorgenti possono essere utilizzate per questa tecnica, ma sono andato per la grancassa tradizionale e combo synth. Questo dovrebbe darvi una buona idea di come gestisce il suo live sidechain ed i risultati che possono essere raggiunti.
Qui di seguito potete ascoltare i due suoni che si intende utilizzare con zero compressione aggiunto: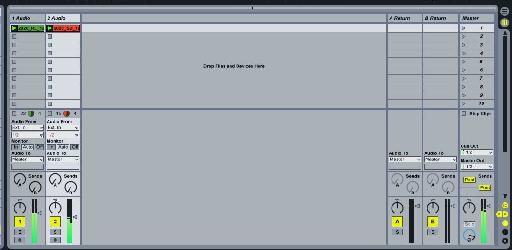 Le due tracce audio e utilizzare.
I due anelli ascoltato senza compressione:

[Audio id = "8268"]

Fase 2 - Caricamento del compressore
Ora carico Vite compressore standard sul brano che si desidera effettuare. In questo caso il suo synth anche essere di elaborazione e così ho semplicemente lasciato cadere il compressore (come inserto) direttamente in pista synth.
Si può sentire qualche compressione terrà a questo punto. Non preoccupatevi questo è solo l'impostazioni di default compressori e ben cambiare questo nella fase successiva.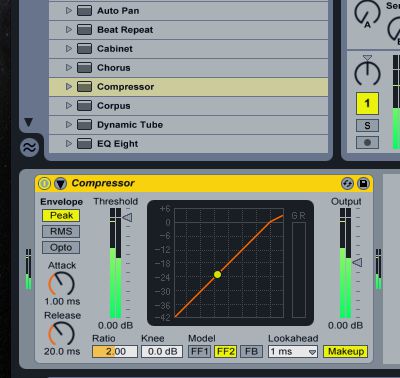 Un compressore è caricato nel canale di synth.
Fase 3 - Le impostazioni Sidechain
Youll ora necessario impostare il routing sidechain, questo è molto semplice e richiede solo un minuto. Vai al tuo compressore e di aprire la sezione attualmente nascoste sulla sinistra. Quando apri questa sezione rivelerà tutti i parametri di sidechain.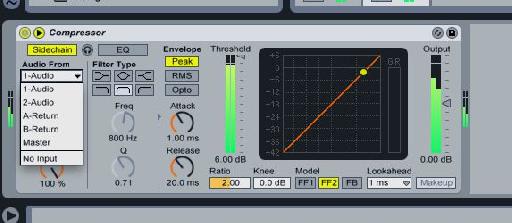 I controlli si rivelano sidechain.
Basta attivare la funzione sidechain e scegliere l'audio che si desidera utilizzare per attivare la riduzione del guadagno. In questo caso ho scelto '1-Audio ', come questa è stata la pista che ospitava il loop di batteria. Non appena si esegue questa operazione il routing sidechain è completa!
Ora basta aumentare il rapporto e parametri di soglia fino a vedere la riduzione di guadagno che si verificano. Si consiglia inoltre di abbassare il tempo di attacco in modo che le cose sono scattanti. Mi piace anche il tempo di rilascio con la pista per un effetto più trasparente.

Le impostazioni utilizzate finale.
L'effetto finale sidechain in azione:

[Audio id = "8264"]

E 'tutto fatto! Ora esperimento con le fonti e destinazioni diverse e vedere cosa si può trovare con. Una volta imparato come instradare questo effetto ci si chiede come hai vissuto senza di essa!
Vuoi saperne di più sul sidechain in Live, compressione e ciò che controlla la Threshold e Ratio effettivamente fare? Controlla Mo Live 8 202 - Live Effects: Plugged In e Olav Basoski diretta di 8 404 - Fare musica dance elettronica .