Sidechaining is used extensively in all styles of music. It can be used to correct a mix, duck out a secondary audio signal or as a creative effect. But first you need to know how to set it.
Sidechaining é uma daquelas técnicas que só continua aparecendo. É algo que você pode usar em qualquer gênero e se você é um usuário Live você será feliz em saber sua acessível a você, também.
Passo 1 - Identificar o áudio para Processo
Seu primeiro trabalho aqui é para decidir sobre o áudio, instrumentos ou loops que você deseja processar. Youll necessidade de escolher um som que irá funcionar como o gatilho para o seu compressor e um som que vai ser compactado.
Essencialmente
Apenas sobre qualquer duas fontes podem ser usados ​​para esta técnica, mas eu tenho ido para o bumbo tradicional e de combinação synth. Isso deve lhe dar uma boa idéia de como lida com a sua sidechaining ao vivo e os resultados que podem ser alcançados.
Abaixo você pode ouvir os dois sons que estamos indo para usar com zero de compressão acrescentou: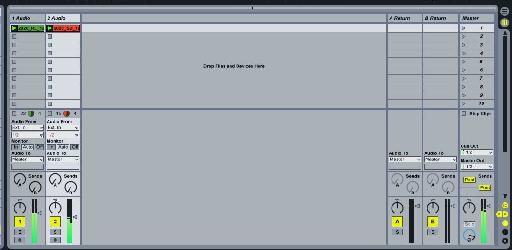 As duas faixas de áudio bem estar usando.
Os dois loops ouvido sem compressão:

[Audio id = "8268"]

Passo 2 - Colocar o Compressor
Agora carregar Lives compressor padrão na faixa que deseja efeito. Nesse caso, sua synth o bem estar de processamento e, por isso tenho simplesmente abandonou o compressor (como uma inserção) diretamente para a pista synth.
Você pode ouvir alguma compressão ocorrem neste momento. Não se preocupe isso é apenas as configurações padrão compressores e muito bem mudar isso no passo seguinte.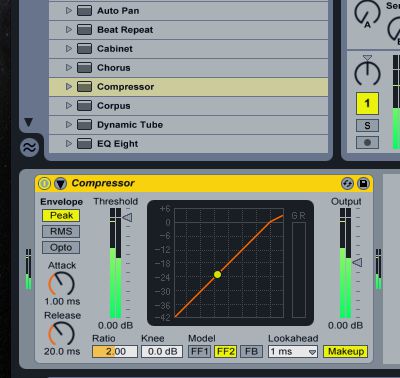 Um compressor é carregado para o canal de synth.
Passo 3 - As configurações Sidechain
Youll precisam agora de configurar o roteamento sidechain, este é realmente fácil e leva apenas um minuto. Vá para o seu compressor e abrir a seção atualmente escondida à esquerda. Quando abrir esta secção irá revelar todos os seus parâmetros sidechain.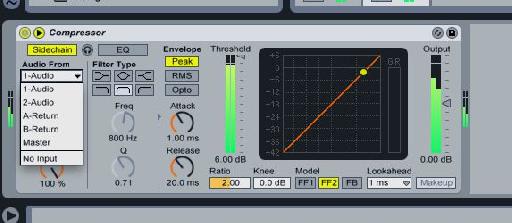 Os controles sidechain são revelados.
Basta ativar a função sidechain e escolher o áudio que você deseja usar para acionar a redução de ganho. Neste caso eu escolhi '1-Audio ", como esta foi a pista que abrigou o loop de bateria. Assim que você fizer isso o seu encaminhamento sidechain está completa!
Agora é só aumentar a taxa e os parâmetros de limite até ver uma redução de ganho ocorrendo. Você também pode querer diminuir o tempo de ataque, para que as coisas estão mal-humorado. Eu também gosto de o tempo de liberação com a trilha para um efeito mais transparente.

As definições finais utilizados.
O efeito final sidechain em ação:

[Audio id = "8264"]

É isso o seu feito! Agora experimentar com diferentes fontes e destinos e ver o que você pode vir acima com. Depois que você aprender como rotear esse efeito que você pode querer saber como você viveu sem ele!
Quer saber mais sobre sidechaining em compressão, Live eo que controla o Threshold e Ratio realmente fazer? Confira ao vivo Mo 8 202 - Efeitos do Live: Plugged In e vivo Olav Basoski de 8 404 - Tornar a música eletrônica .