Working with color schemes in Adobe After Effects will never be the same again. Toby Pitman whiled away many an hour putting the Color Rules plugin by Digital Juice to the test.
ومن المعروف أساسا عصير الرقمية لمجموعاتها الأسهم الممتازة الرسم. حركتهم والادوات مصمم جرافيك ذات قيمة كبيرة وعظيمة ببساطة من أجل المال.
إذا كنت قد استخدمت من أي وقت مضى المصور فسوف يكون على الأرجح على بينة من لوحة الألوان الحية التي تم تقديمها في CS3 (التي تسمى الآن إعادة تلوين العمل الفني) الذي يسمح لك لإعادة تلوين العمل الفني المتجه طبقات على أساس مختلف قواعد الانسجام اللون باستخدام واجهة عجلة الألوان.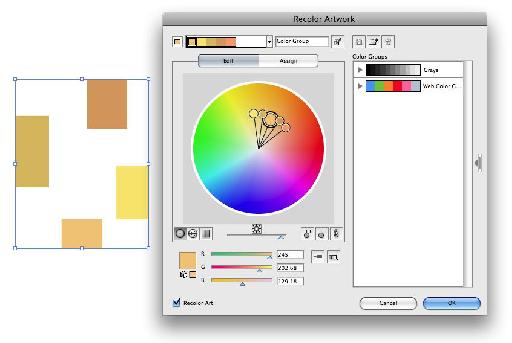 إعادة تلوين العمل الفني.
هذا هو واحد ميزة قوية الكبرى عندما يتعلق الأمر الألوان والحوامل في Illustrator وعصير الرقمية مجرد أنها جلبت إلى After Effects!
القواعد اللون يسمح لك بسرعة لتلوين طبقات بعد تحديد أي تأثير على أساس قواعد مختلفة مثل اللون التكميلية ، المشابهة ، وتكاملي ثلاثي الصوت الرتيب مما يتيح لك طريقة فعالة لاختيار ألوان مختلفة لمشاريعك.
فقط حدد الطبقات التي تريد تطبيق قواعد للون.

اختيار الطبقات.
ثم يدشن سيطرة القواعد وحة اللون. تم العثور على هذه القائمة تحت تأثير ليس في ويندوز.

إطلاق لوحة تحكم قواعد اللون.
عن طريق اختيار قاعدة الانسجام تحريك عجلة نقاط يمكنك إنشاء لوحة سريعة من الألوان. انقر على أيقونة FX لتطبيق التأثير على الطبقات المحددة. وهذا يخلق طبقة قواعد تأثير اللون لكل طبقة منفصلة.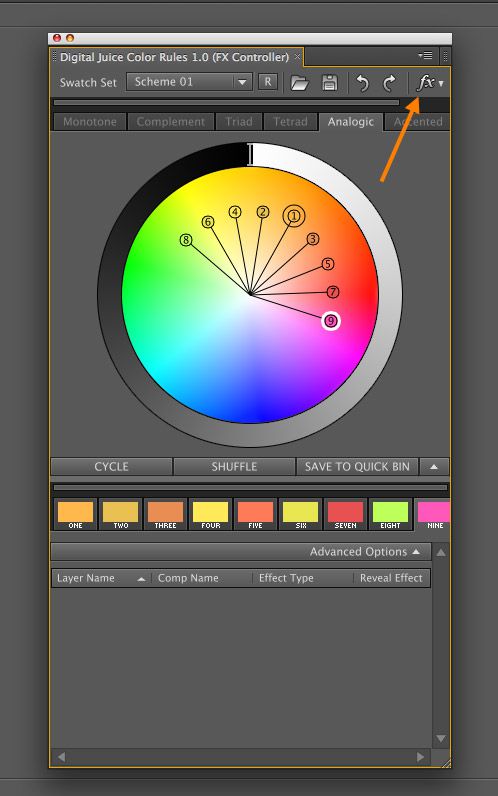 نافذة اللون القواعد.
هناك خياران لتلوين : "التعبئة" و "تلوين" (مشابهة لتأثير هوى والتشبع). "التعبئة" هو أفضل لطبقات الألوان التي تستخدم كتلة مثل الأشكال والمواد الصلبة في حين أن "تلوين" هو الأفضل للصور واللقطات التي لديها تفاصيل.
كلمة تحذير : أنت غير قادر على تلوين أي طبقة صلبة يستخدم فقط أسود أو أبيض لأنها تحتوي على أي لون حتى يوول تحتاج إلى اختيار التعبئة لتلك الطبقات من لوحة تأثير على طبقة.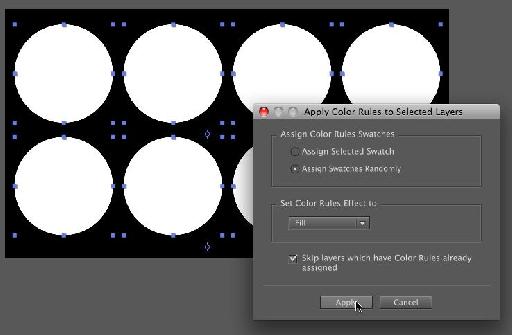 "التعبئة" هو واحد من خيارات التلوين.
اختر الخيار الخاص التلوين وVoil! كل ما تبذلونه من طبقات يعاد الملونة.
يمكنك تغيير قواعد ولون في أي وقت للطبقات التي تستخدم هذه الألوان من خلال تحريك نقاط على عجلة القيادة. يمكنك أيضا من خلال دورة نظام الطبقات وخلط ورق اللعب الذي هو حامل اللون الأساسي مما يتيح لك خيارات لا حدود لها.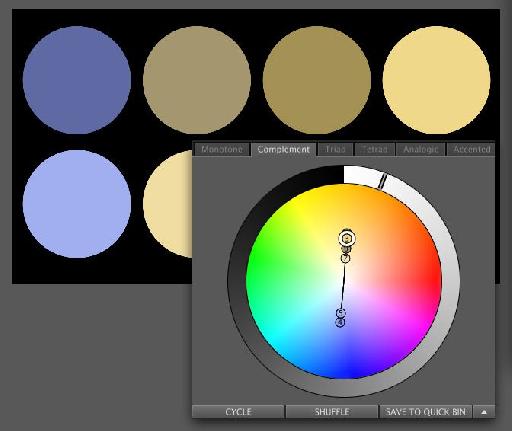 يمكنك تغيير القواعد واللون بعد وقوعها.
يمكنك حتى تعيين مخططات مختلفة لطبقات مختلفة من خلال خلق نظام جديد وإسناد ذلك إلى أي طبقة باستخدام لوحة عن آثار تلك الطبقة.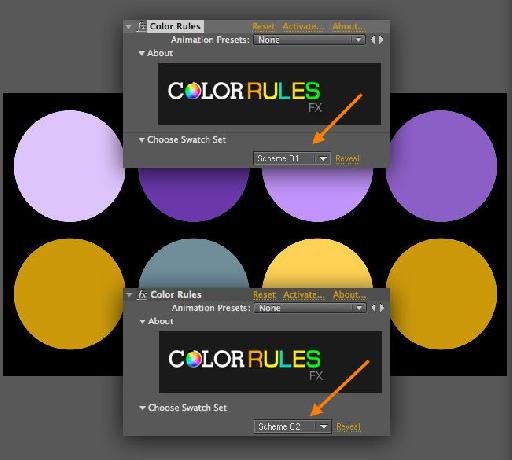 لوحة المخططات.
القواعد اللون كما يوفر مجموعة ضخمة من قبل الصنع حوامل لتحصل على وتشغيلها بسرعة. يمكنك أيضا حفظ حوامل الخاصة بك أيضا.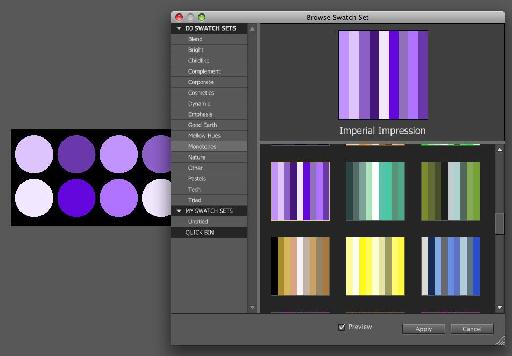 والحوامل.
ببساطة هناك ميزات كثيرة جدا لتغطية هنا كما يمكنك الحصول جميلة المتعمق. هذا الموقع هو متعة ومفيدة للغاية للعب مع وإذا كنت في اللون ولها ثم لا بد منه! ايم تأمل أيضا لنوع من التكامل مع أدوبي Kuler في المستقبل الذي سيكون رائعا!
والبرنامج المساعد للوقت... الدردشة غير متأكد من ذلك فسوف تجد نفسك جالسا هناك مستمرة ، Oooohhh ، وAaahhhh Mmmmmm في جميع النتائج المحتملة لساعات رائعة!
اضغط هنا لمعرفة المزيد حول القواعد اللون (69،95 $ فقط في وقت كتابة هذا التقرير).