Working with color schemes in Adobe After Effects will never be the same again. Toby Pitman whiled away many an hour putting the Color Rules plugin by Digital Juice to the test.
Digital Juice sont principalement connus pour leurs collections de stock excellent graphiste. Leur mouvement et mallettes Graphic Designer est une valeur tout simplement énorme et très bon pour l'argent.
Si youve jamais utilisé Illustrator youll probablement être au courant du panneau Live Color qui a été introduit dans CS3 (maintenant appelé l'oeuvre Recolorier) qui vous permet de couches recolorer des illustrations vectorielles en fonction de divers règles d'harmonie des couleurs en utilisant une interface roue des couleurs.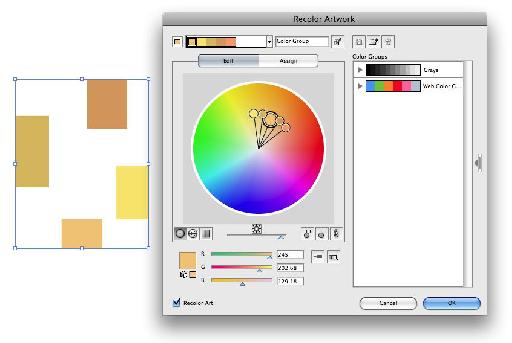 Oeuvre Recolorier.
Ceci est une caractéristique méga puissant quand il s'agit de schémas de couleurs et de nuances dans Illustrator et Digital Juice simplement apporté à After Effects!
Règles de couleur vous permet de rapidement recolorer toute sélectionnées Après couches Effet basé sur des règles différentes couleurs comme complémentaires, analogues, triadiques et monotone qui vous donne un moyen puissant de choisir des couleurs différentes pour vos projets.
Il suffit de sélectionner les couches que vous voulez appliquer des règles de couleur pour.

Sélection des calques.
Puis lancez le panneau de contrôle couleur Règles. Il se trouve dans le menu de Windows n'est pas en vigueur.

Lancement du Panneau de configuration Couleur règles.
En choisissant une règle d'harmonie déplaçant les points de la roue vous pouvez créer une palette de couleurs rapides. Cliquez sur l'icône FX pour appliquer l'effet sur les couches sélectionnées. Cela crée un effet de calque Couleur Règles pour chaque couche séparée.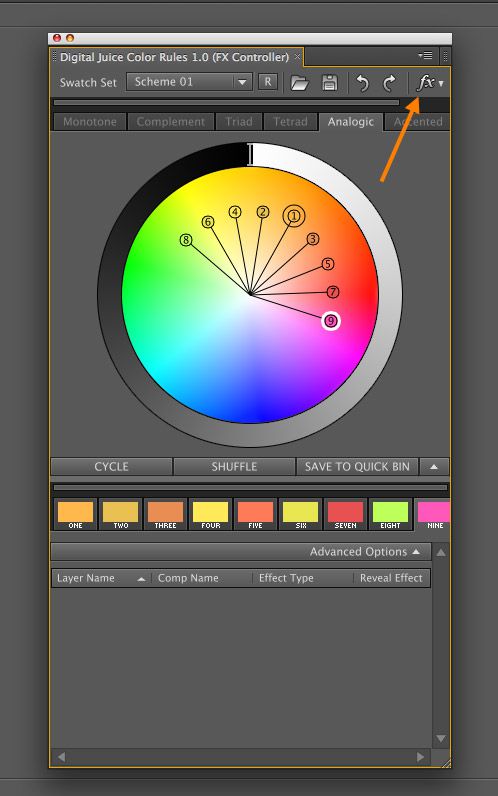 La fenêtre Couleur règles.
Il ya deux options pour la coloration: «Remplir» et «Coloriser» (semblable à la teinte et la saturation d'effet). 'Fill' est la meilleure pour les couches qui utilisent des couleurs comme le bloc de Formes et solides alors que «Coloriser» est le mieux pour les images et les séquences qui ont les détails.
Un mot d'avertissement: vous ne pouvez pas coloriser toute couche qui utilise simplement noir ou blanc comme ils ne contiennent pas de couleur afin youll besoin de choisir de remplissage pour les couches à partir du panneau d'effet sur la couche.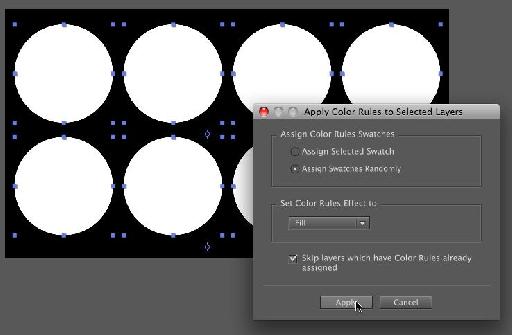 'Fill' est l'une des options de coloriage.
Choisissez votre option de coloration et Voil! Tous vos couches sont re-colorées.
Vous pouvez modifier les règles et les couleurs à tout moment pour des couches qui utilisent ce schéma de couleurs en déplaçant les points sur la roue. Vous pouvez également parcourir le système à travers les couches et shuffle qui nuance est la couleur primaire en vous donnant des options illimitées.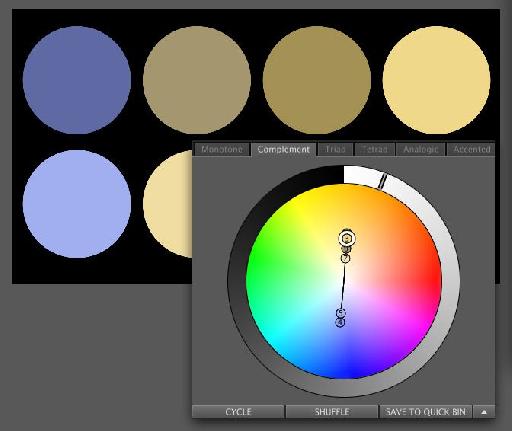 Vous pouvez changer les règles et la couleur après le fait.
Vous pouvez même attribuer différents régimes à différentes couches, en créant un nouveau régime et de l'affecter à n'importe quelle couche en utilisant le panneau des effets de cette couche.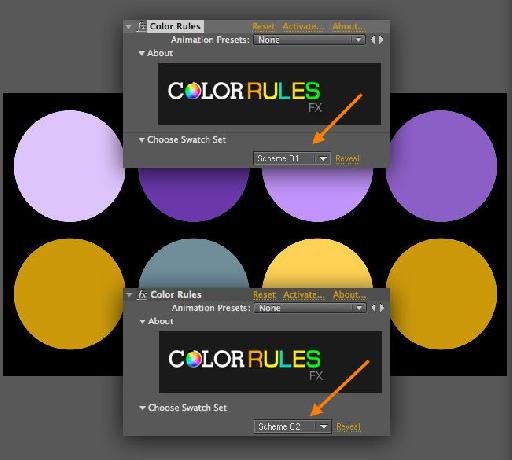 Les régimes palette.
Règles de couleur fournit également un ensemble massif de pré-faites échantillons de vous permettre de démarrer rapidement. Vous pouvez également enregistrer vos propres échantillons, aussi.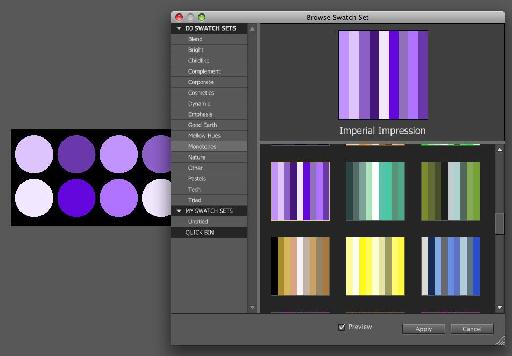 Les échantillons.
Il ya simplement trop de fonctionnalités à couvrir ici que vous pouvez obtenir assez en profondeur. Ce plugin est incroyablement amusant et utile à jouer avec et si vous êtes en couleur, alors c'est un must have! Im a également l'espoir d'une sorte d'intégration avec Adobe Kuler dans le futur, qui serait super!
Comme un plugin timesaving ... Pas si sûr que Im youll vous retrouver assis là va, Oooohhh, Aaahhhh et Mmmmmm à tous les résultats fantastiques possibles pendant des heures!
Cliquez ici pour en savoir plus sur les règles de couleur (seulement $ 69.95 au moment de la rédaction).