Working with color schemes in Adobe After Effects will never be the same again. Toby Pitman whiled away many an hour putting the Color Rules plugin by Digital Juice to the test.
Digital Juice sono principalmente conosciuti per le loro collezioni di grafica eccellente. Il loro movimento e corredi Graphic Designer è semplicemente enorme valore e di grande qualità -prezzo.
Se youve mai usato Illustrator youll probabilmente consapevoli del pannello Colore dinamico che è stato introdotto in CS3 (ora chiamato Ricolora grafica) che vi permette di ricolorare strati di grafica vettoriale basato su regole diverse armonia dei colori utilizzando una interfaccia ruota dei colori.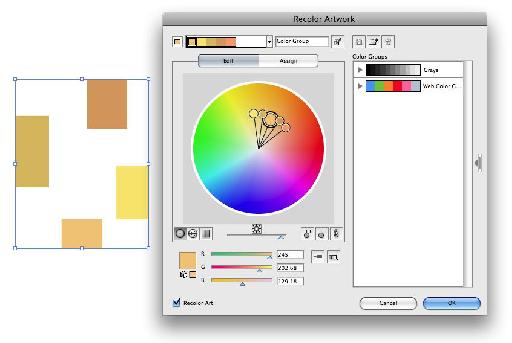 Ricolora grafica.
Questa è una caratteristica mega potente quando si tratta di combinazioni di colori e campioni in Illustrator e Digital Juice appena portato a After Effects!
Regole del colore permette di ricolorare rapidamente qualsiasi Dopo aver selezionato gli strati Effetto sulla base di regole i colori, complementari, analoghi, triadico Monotono e ti dà un potente strumento per scegliere diversi schemi di colori per i vostri progetti.
Basta selezionare il layer che si desidera applicare regole Color.

Selezione dei livelli.
Poi lanciare il colore del pannello di controllo Regole. Questo si trova sotto il menu di Windows non è in effetti.

Avvio del Color Control Panel regole.
Scegliendo una regola armonia spostando i punti della ruota è possibile creare una tavolozza di colori veloce. Fare clic sull'icona FX per applicare l'effetto per i livelli selezionati. Questo crea un effetto di livello Colore Regole per ogni livello separato.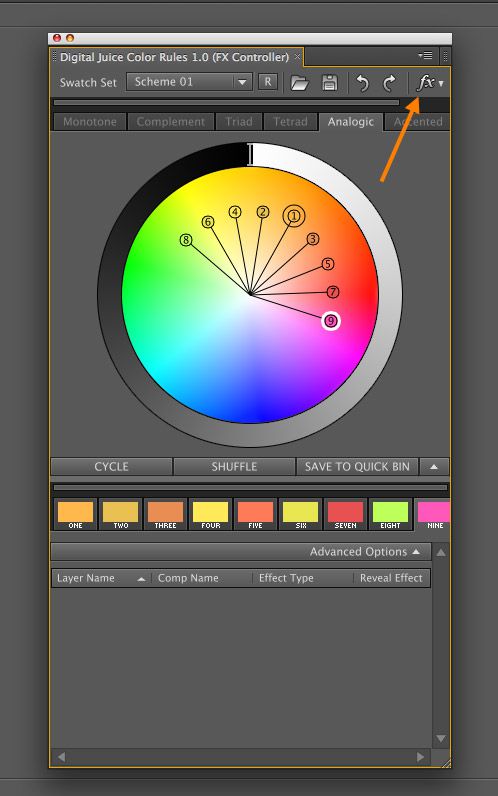 Le regole Window Color.
Ci sono due opzioni per la colorazione: 'Riempi' e 'Colorize' (simile alla tonalità e l'effetto saturazione). 'Riempi' è meglio per i livelli che usare colori come il blocco Forme e solidi, mentre 'Colorize' è meglio per immagini e filmati che hanno dettaglio.
Una parola di avvertimento: non puoi Colorize qualsiasi livello che utilizza solo in nero o bianco in quanto non contengono il colore in modo youll bisogno di scegliere di riempimento per questi livelli dal pannello effetto sul livello.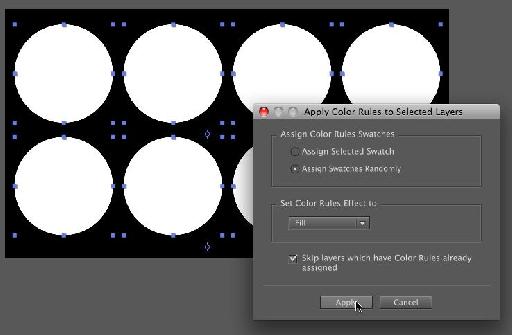 'Riempi' è una delle opzioni di colorazione.
Scegli la tua opzione di colorazione e Voil! Tutti i livelli sono ri-colorati.
È possibile modificare le regole e il colore in qualsiasi momento per i livelli che utilizzare questo schema di colori spostando i punti sulla ruota. È anche possibile spegnere il sistema attraverso gli strati e shuffle campione che è il colore principale che vi offre opzioni illimitate.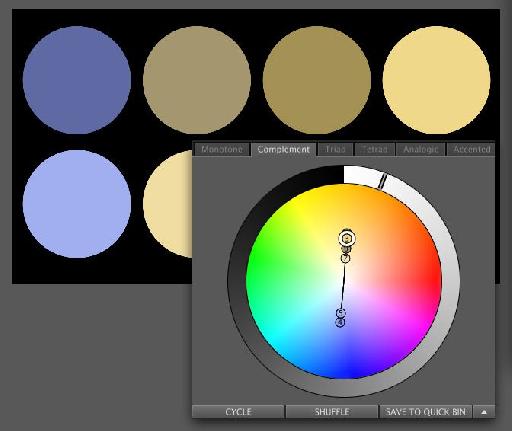 È possibile modificare le regole e il colore dopo il fatto.
È anche possibile assegnare diversi regimi a diversi strati, creando un nuovo schema e di assegnarlo a qualsiasi livello utilizzando il pannello di effetti per quel livello.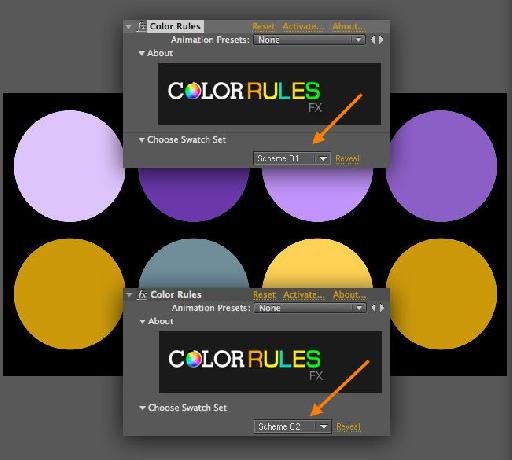 La tavolozza schemi.
Regole colore fornisce anche una serie massiccia di pre-made campioni per farvi rapidamente operativi. È inoltre possibile salvare i vostri campioni proprio, anche.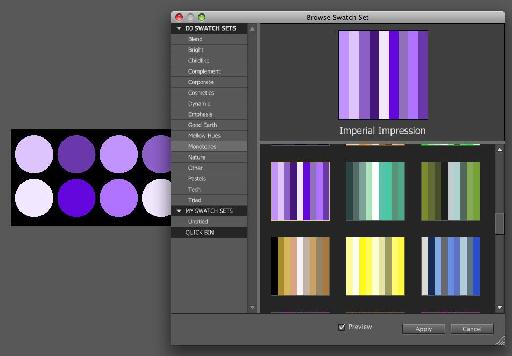 I campioni.
Ci sono semplicemente troppe caratteristiche per coprire qui come si può ottenere molto in profondità . Questo plugin è incredibilmente divertente e utile per giocare e se siete in poi il suo colore un must have! Im anche sperare in un qualche tipo di integrazione con Adobe Kuler per il futuro che sarebbe fantastico!
Essendo un plugin per risparmiare tempo ... Non così sicuro come youll im ritrovarsi seduto lì andando, Oooohhh, Aaahhhh e Mmmmmm a tutti gli esiti possibili fantastiche per ore!
Clicca qui per saperne di più sulle regole del colore (solo 69,95 dollari al momento della scrittura).