Working with color schemes in Adobe After Effects will never be the same again. Toby Pitman whiled away many an hour putting the Color Rules plugin by Digital Juice to the test.
Digital Juice são principalmente conhecidos por suas excelentes colecções de material gráfico. Seu movimento e Toolkits Designer Gráfico valor são simplesmente enorme e grande para o dinheiro.
Se youve já usou Illustrator youll provavelmente estar ciente do painel Live Color que foi introduzida no CS3 (agora chamado Recolorir arte), que permite às camadas recolor arte vetorial baseado em regras de cores diferentes harmonia usando uma interface de roda de cores.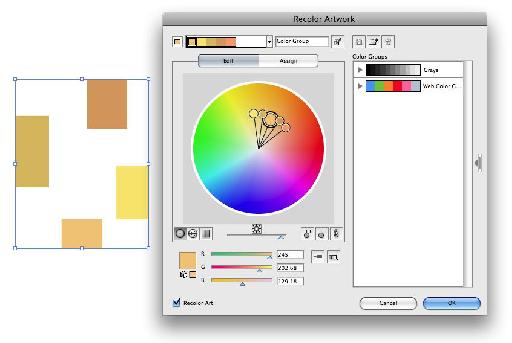 Recolorir arte.
Esta é uma característica mega-poderoso quando se trata de esquemas de cores e amostras no Illustrator e Juice Digital só trouxe-a para After Effects!
Regras de cores permite que você rapidamente recolor qualquer selecionados Depois camadas efeito com base em regras de cores diferentes, como complementares, análogas, Triadic Monotone e dando-lhe uma maneira poderosa para escolher vários esquemas de cores para seus projetos.
Basta selecionar as camadas que você deseja aplicar regras de cores para.

Seleção de camadas.
Em seguida, lançar a cor do painel de controle Regras. Isto é encontrado no menu do Windows não em vigor.

Lançamento da Cor Painel de Controle Regras.
Ao escolher uma regra harmonia movendo os pontos da roda você pode criar uma paleta de cores rápida. Clique no ícone FX para aplicar o efeito para as camadas selecionadas. Isso cria um efeito de camada Cor Regras para cada camada separada.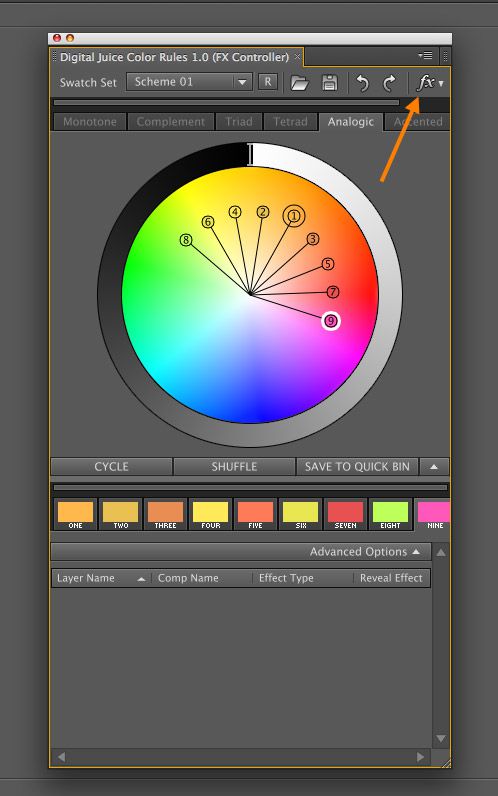 A janela Cor Regras.
Existem duas opções para colorir: 'Fill' e 'Colorize' (semelhante ao Hue Saturation e efeito). 'Fill' é melhor para as camadas que usar cores bloco como Formas e Sólidos enquanto 'Colorize' é melhor para imagens e vídeos que têm detalhes.
Uma palavra de advertência: você não pode Colorize qualquer camada que usa apenas sólida preto ou branco como eles contêm nenhuma cor de forma que você precisa escolher Fill para as camadas do painel de efeito sobre a camada.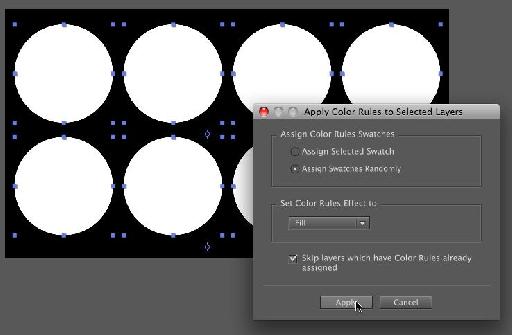 'Fill' é uma das opções de coloração.
Escolha a sua opção de colorir e Voil! Todas as suas camadas são re-colorido.
Você pode mudar as regras e cor a qualquer momento para as camadas que usam este esquema de cores movendo os pontos na roda. Você pode também alternar o esquema através das camadas e shuffle, que é a amostra de cor primária que lhe dá opções ilimitadas.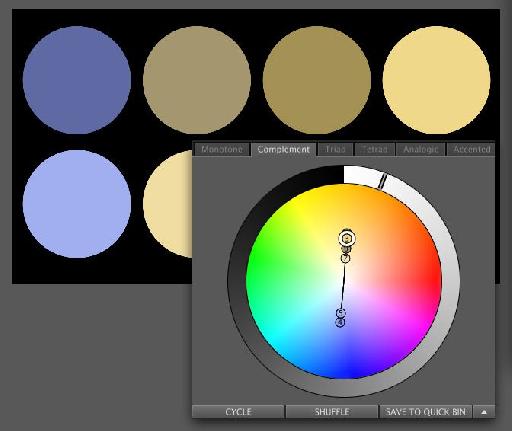 Você pode mudar as regras e cor após o fato.
Você também pode atribuir esquemas diferentes para diferentes camadas, criando um novo regime e atribuí-la a qualquer camada utilizando o painel de efeitos para essa camada.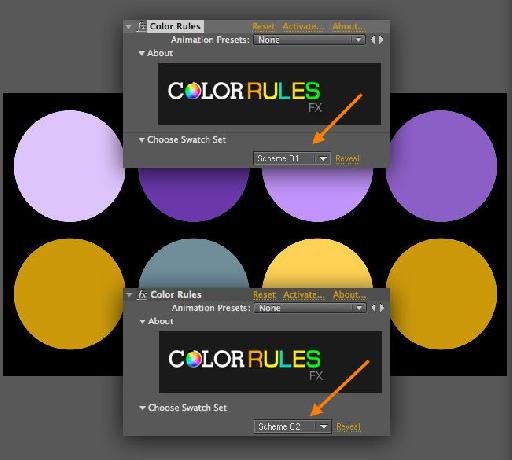 Os esquemas de paleta.
Regras cor também fornece um conjunto enorme de pré-fabricados amostras para chegar até você e funcionando rapidamente. Você também pode salvar suas próprias amostras, também.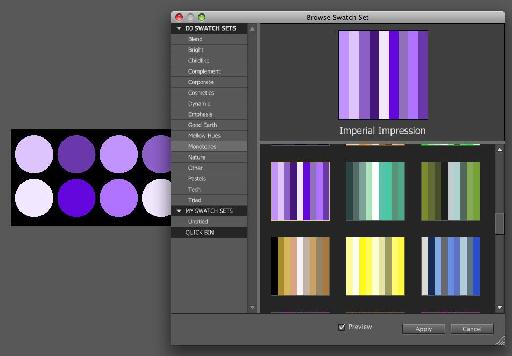 As amostras.
Há simplesmente demasiados recursos para cobrir aqui como você pode ficar muito em profundidade. Este plugin é incrivelmente divertido e útil para brincar e se você estiver em cores, em seguida, um deve ter a sua! Im também esperando por algum tipo de integração com o Adobe Kuler no futuro que seria ótimo!
Como um plugin que economiza tempo ... Im não tão certo quanto você vai encontrar-se sentado lá vai, Oooohhh, Aaahhhh e Mmmmmm em todos os resultados fantásticos possível por horas!
Clique aqui para saber mais sobre Regras de Cor (apenas 69,95 dólares na época da escrita).