So you've got a shiny new Mac, the latest Mac OS running in 64-bit mode. Potentially musicians can utilize almost unlimited amounts of RAM, right? Mo Volans shows how to make the most of 64-bit mode!
The transition to 64-bit might not have been something you have thought about. For many it's a pretty transparent move but there are some things worth thinking about to make sure your system is performing at its best... Plus it's nice to know what's going on under the hood!

1 - Using A 64-Bit Utility
There are a few cool little utilities about that not only tell you if your Mac is 64-bit compatible but they will also let you know if you are currently booted in 64-bit mode. If you aren't you can use these apps to re-boot using either the 32 or 64-bit kernel.
I use '˜Startup Mode Selector' which can be downloaded from MacUpdate here: http://www.macupdate.com/app/mac/32252/32--or-64-bit-kernel-startup-mode-selector
As you can see when this is being run on a Core2Duo MacBook Pro everything is 64-bit and compatible but when an older Mac Pro 2,1 is used there are some things missing. This is useful info and really lets you know what your system is doing.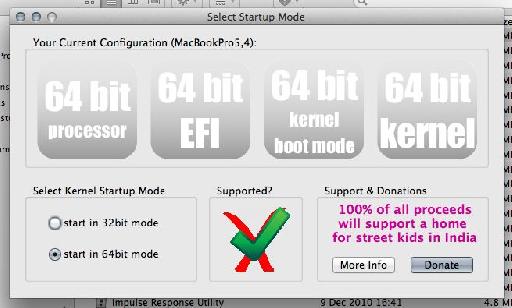 A newer MacBook Pro shows a fully 64-bit system.
With your system booted in 64-bit you can take advantage or 64-bit capable apps and more importantly address more than the 4GB of RAM that 32-bit systems are limited to.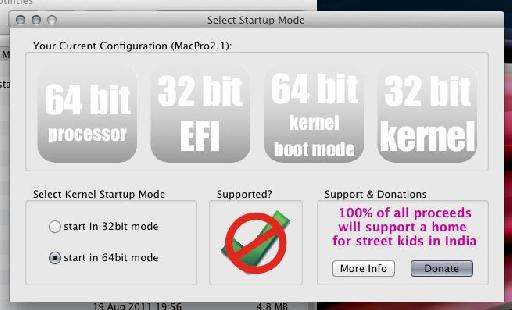 While an older Mac Pro is able to run 64-bit apps it still shows some 32-bit architecture.
2 - Ensuring Your Apps Are Opening In 64-bit
Even if your system is all set up to run in 64-bit and indeed is booted in 64-bit mode, if your apps aren't 64-bit capable or running in the right mode you won't be taking advantage of the possible performance boosts.
The first step is to ensure you are running the very latest version of any app your running. If you are running Logic Pro (or any other Apple app) this will be taken care of through software update, otherwise you'll need to visit the manufactures website.
Once all your apps are up to scratch you can check if they are set to open in 64-bit by selecting the application and going to '˜Get Info'. You should now see an Open in 32-bit mode box. Ensure this is unchecked as sometimes it is checked by default.
Ensuring Logic Pro will open in 64-bit.
Obviously you can tick this box if you ever need to open your apps in 32-bit mode.
32 bit mode can be engaged at any time.
3 - Updating Your Plug-ins
It may seem a little obvious but simply updating your apps won't ensure that any plug-ins and extensions are running in 64-bit. These will have to be updated as well.
Many plug-in manufactures are starting to make the move to 64-bit now, so you might find that some of your favorites are fully 64-bit ready. Native Instruments were pioneers in this area and have already made sure that their whole product line runs perfectly in 64.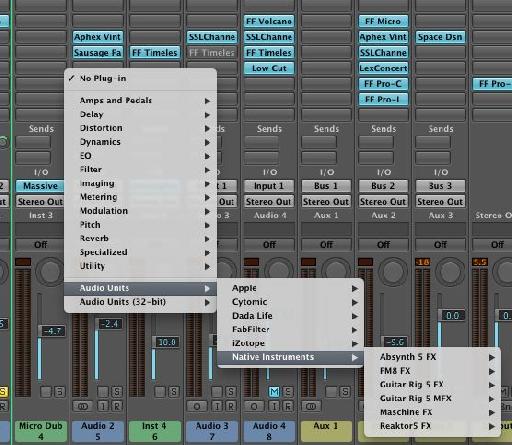 A lot of companies have already updated their products to 64-bit.
If your plug-ins are not yet updated to 64-bit most DAWs feature some kind of 32-bit bridge, allowing you to run the DAW in 64-bit mode but still run 32-bit plug-ins and instruments.

A 32-bit bridge will allow you to run 32-bit plug-ins in a 64-bit environment.
4 - Check What's Running In 64-bit
If you are curious to see exactly which apps and utilities are running in 64 or 32 bit on your system you can use the Activity monitor that is included with OSX. [You can find Activity Monitor in the Applications/Utilities/ folder - Ed] Simply open it and on the far right you see a type column. Here you can view what mode each specific activity is running in: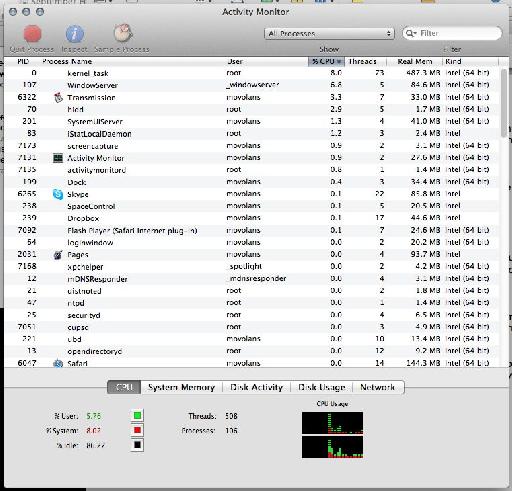 The Activity Monitor will allow you to see exactly whats running in 64-bit.
5 - Now Upgrade Your RAM!
Now that you know what is running in 64-bit (and what isn't), to really take advantage of your updated system you need to be running as much RAM as you can lay your hands on.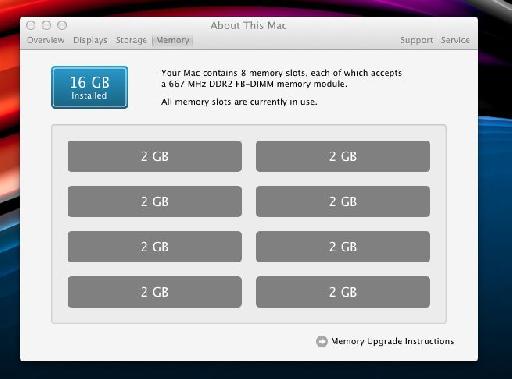 Running as much RAM as possible will help to take advantage of a 64-bit system.
Some apps will benefit more from this upgrade than others but if you run heavy sessions with instruments that use large amounts of samples you should really see and feel the benefit. I went ahead and loaded my Mac Pro with 16 GB and my laptop with 8 GB and have noticed improvements on both using Logic Pro in 64-bit.