Unless you dig a little deeper into Apple's new iOS 8 you may never find some of the more interesting, but unexpected features which may make you smile. Francesco Schiavon shows them off.

iOS 8 is finally here, and like every iOS update it has a number of changes. Chances are that you'll find most of the changes positive, but you may also find some that won't suit the way you use your iOS device(s).

Instead of going through a laundry list of all the major additions to iOS 8 talking about how great they are and how they'll make your life easier, here I expose some of the changes that made me scratch my head. Not because they're bad or good, but rather because I really didn't have specific expectations for them, and when I tried them I was a bit surprised of how I felt using them.

In general the UX (user experience) difference between iOS 7 and 8 is not as dramatic as it was between iOS 6 and 7. If you were using iOS 7 you'll feel at home in iOS 8. At any rate, here are 8 iOS 8 things that made me scratch my head.

1 - Contacts in App Switcher
The first time I got to the App Switcher after installing iOS 8, I was a bit puzzled about the recent contacts at the very top. To tell you the truth I was actually afraid of calling someone by mistake. BTW, once you use the recent contacts from the App Switcher you'll see it's not that easy to tap on someones name and call them by mistake.
If you've added photos to your contacts, it almost feels like your friends and family are watching you as you switch between apps. A bit freaky for me to see their photos above my running apps. But if your contacts don't have photos, it shows just the initials '"a feature from iOS 7 that I never liked because I find it meaningless; I usually don't think of my contacts as a pair of initials.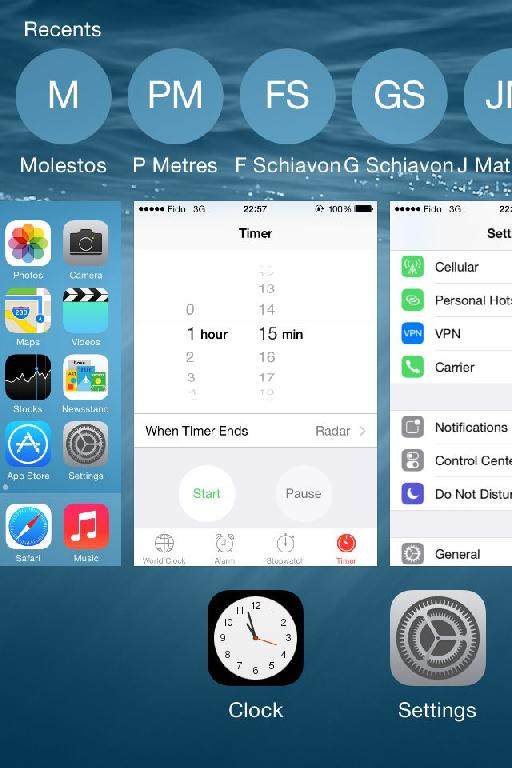 Recent contacts with no photos in App Switcher.
I'm still having a hard time figuring out how iOS 8 chooses which recent contacts to show in the App Switcher. It seems a combination of your recent phone calls, SMS, Messages, FaceTime, and email across your iOS devices. Who knows? Further to my surprise was seeing them on my iPad, which is not a phone, but shows people I've called from my iPhone. Maybe because you can route an audio FaceTime calls from your iPad through your iPhone's cellular line.
2 - Camera Exposure Controls
iOS devices for the most part have pretty good cameras, and the built-in Camera app has also been pretty good. Granted, not the most powerful or customizable settings, but easy to use. Of course there is always room for improvement and iOS 8 does improve.
It was a very nice and useful surprise to find the exposure control in the Camera app. With it you can control how much light to let into the sensor allowing you to take more creative photos. Imagine you're taking a photo of your friend against a backlight. Depending on the lighting in the frame the camera will try to calculate the average which may not work for your friend's face. What you do? Tap on the screen to focus. As the focus square appears you'll see a small sun icon. You don't have to tap the sun icon itself (tapping again anywhere on the screen does the trick), but if you drag up you'll brighten up the scene, and if you drag down it will be darker.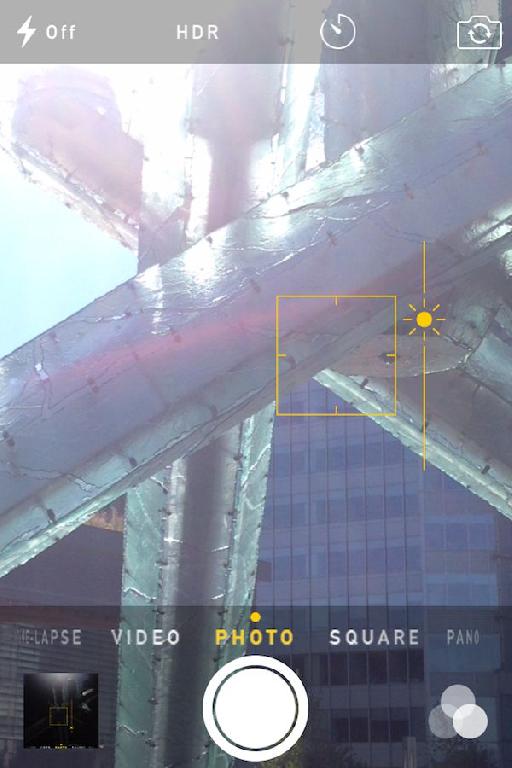 Here I'm overexposing the shot to get a better detail of the Olympic Cauldron.
3 - AE/AF Lock
Another welcome surprise was finding the auto-exposure/auto-focus lock feature in the Camera app. Apart from being able to set the focus and exposure by hand as described above, you can lock both! Here's the catch. You do not set the focus and exposure and then lock them. Rather you first set the focus, lock it down, and then you tweak the exposure:
First tap on the subject you want to focus on.

Without lifting your finger, hold on until the focus square appears to blink or grow 2 times. You'll see a yellow "AE/AF LOCK" indicator at the top of the screen.

Optionally you can now let go your finger and increase/decrease the exposure by scrolling up or down. You should still see the "AE/AF LOCK" indicator.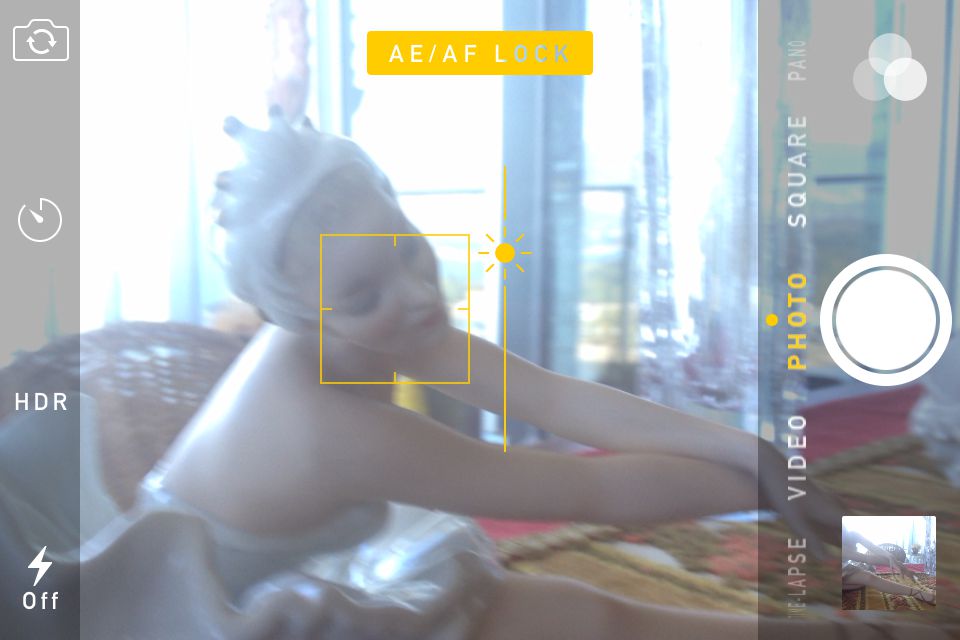 AE/AF Lock.
Now you'll be able to reframe the shot without reseting the focus nor the exposure.
To unlock AE/AF wait a short bit after the last touch on the screen and tap it again. The camera will focus again and the AE/AF LOCK indicator should disappear.
4 - Camera Time-Lapse
As useful as the manual exposure and AE/AF lock are, with the new time-lapse feature I think I'm missing something here. I could not think of a situation (except to show how the feature works) where I would use my iPhone or iPad to take time-lapse video. Probably if I had a tripod for my iPhone or iPad, but I don't. Maybe I should get one now.
With the time-lapse setting, your iOS device will record a video by taking images on an interval. It's not clear to me what that interval is or even if it's consistent or not as Apple says "iOS 8 does all the work, snapping photos at dynamically selected intervals."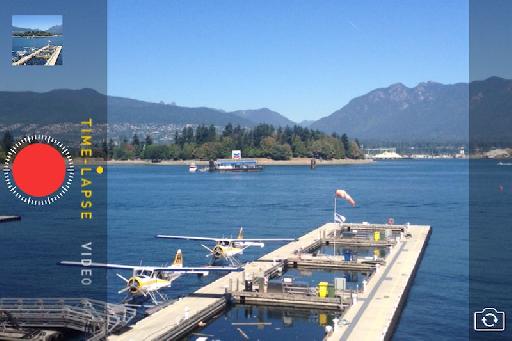 Gotta love Vancouver when the sun comes out.
Don't get me wrong. The feature is super easy to use (you select time-lapse mode and tap the start/stop button) and works really well, but this feature is not for me. To create a good time lapse video you need a steady camera for a long period of time. In my case 1) I won't carry a tripod for my iPhone, and 2) I won't leave my iPhone/iPad sitting somewhere unattended for a few minutes, especially in an interesting place like a busy intersection. Shooting the video above was a bit nerve wracking with people waling around me and leaving my iPhone untouched on a ledge.
5 - Sharing your location with Messages
Sharing your location with Messages was surprisingly useful for me. For someone keen about privacy it took me a bit of convincing and effort to enable location sharing, but once I did, I found it valuable. The neat thing is that you can either "send your current location" or "share your location". The difference is that "sending" your current location just grabs your coordinates, puts them in a maps URL and sends the URL to the recipient so you're in total control of when you send your location and to whom. "Sharing your location" enables the other party to track your location for the amount of time you allow them (for one hour, until the end of the day, or indefinitely) or until you disable it.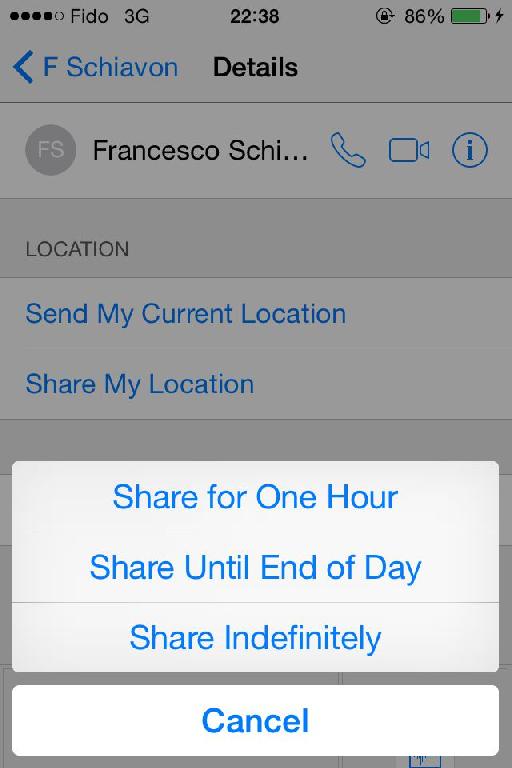 Sharing your location in iOS 8.
Before you can share your location from Messages, go to Settings -> Privacy -> Location Services (make sure it's on) -> Share My Location. In this same buried place you can see the list of contacts who can track your location and for how long.
To share your location via Messages, start a Messages conversation with someone. Once you've started the Messages conversation and Share My Location is enabled, tap the "Details" button at the top right of the message window.
6 - Audio Messages UI
The new Audio Messages feature is neat as it's like sending short voice mails. So far I haven't used it that much but I found the UI (user interface) to be more complex than I would have thought. The reason is that there could be a number of different scenarios in which an audio message could be sent (from an iPhone held with one hand, from an iPad that you cannot just raise to your ear like an iPhone, when using headphones or not, etc.).
Please don't hate me for the following comment, but the basic UI on the iPhone felt a bit Android-ish to me. One way of sending an audio message is by holding on the mic icon to the right of the input field to start recording. Once you're done speaking you flick from the mic icon to the up arrow, and whatever you recorded gets sent immediately.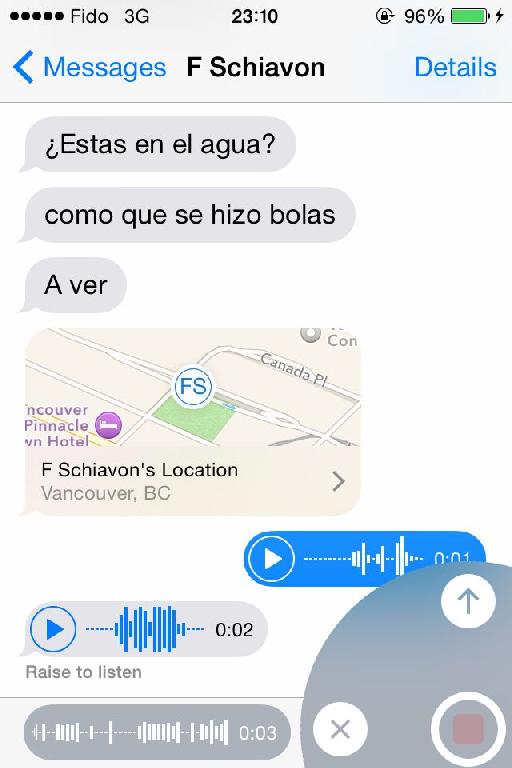 Sending Audio Messages.
It felt somewhat Android-ish to me because this is done by using a new set of gestures (tap and hold the mic icon and then flick up). But, if you're like me, more used to tapping and not flicking, you can tap the mic icon and hold it to record. Then let go your finger from the screen after you're finished speaking. At that point the mic icon turns into a play icon, which allows you to review your recording before you decide to send it. If you're ok with it, then you can tap the arrow facing up to send it, or the "x" icon to dismiss the recording.
7 - Obscure Safari's Private Mode
If you enable to share "Safari" under the iCloud settings, Safari will not only sync your bookmarks across your iCloud enabled devices, it will also keep track of what sites you visit on those devices. This is not new to iOS 8, nor the fact that you can open "private" tabs on both desktop and mobile Safari. What is new is the way you create and access these private tabs in iOS 8. In my opinion the interface and UX is a bit better than in iOS 7, but still it felt a bit confusing at first.
The way Safari works in iOS 8 is by having a private and non-private browsing modes running side by side, and in each mode you can have multiple tabs. At first, this was confusing to me. I thought that individual tabs were either private or non-private and you'd switch between these tabs. The fact is that you get a group of tabs that are private and another group that are not private, and you switch between the groups. Once you're in the private tab group you only see the private tabs in the tab view. To see the non-private tabs, you have to disengage private browsing mode. When you re-engage private browsing mode, you see your private tabs again.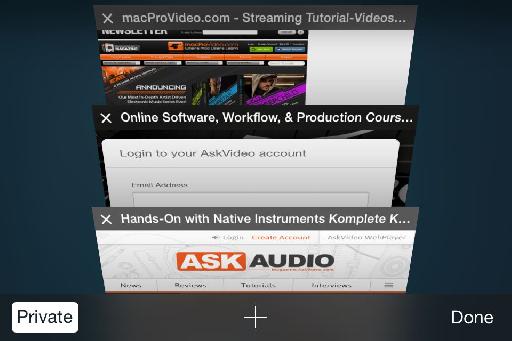 Two tabs in Private Browsing Mode. Note the dark address bars and highlighted "Private" button.
To use private browsing mode, tap the tabs icon in Safari, then the "Private" button. Once you're in private browsing mode, any new tab you create will display a black address bar. To disengage private browsing mode, go back to the tab view and toggle the "Private" button. You should see your private tabs move to the back and the non-private ones coming forward.
Once I figured how private browsing works, I started using it quite a bit and now I'm loving it.
8 - Always-on VPN
It was a nice surprise to find that my iPhone was not disconnecting from the VPN after sleeping. If you use VPN to connect to a remote network, I think you will find Always-on VPN very useful/convenient.
Prior to iOS 8, if your device was not connected to a power supply, it would drop the VPN connection and you had to reinstate it again. No more with iOS 8. Now you can log on to your VPN as always, and even if your iOS 8 device goes to sleep, the VPN connection will not drop (unless dictated by the VPN polices on the server). I just wish I could toggle VPN on and off from Control Center, though.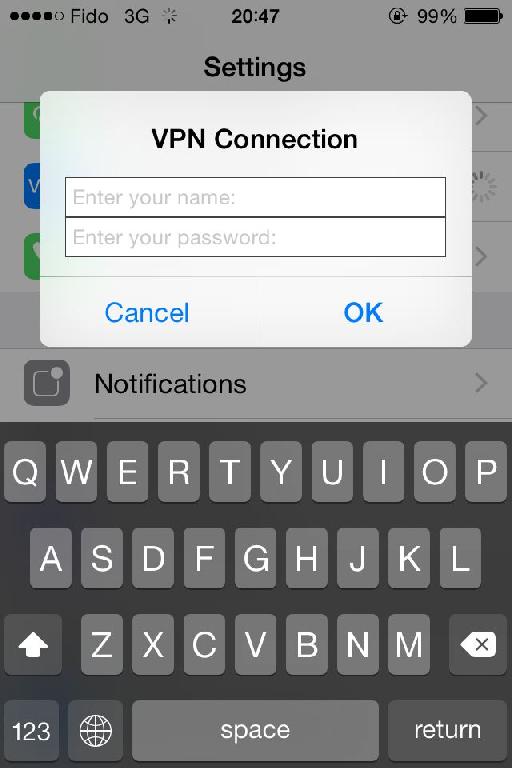 In iOS 8, the VPN connection will not drop even if your iOS 8 device goes to sleep.
Now that VPN is persistent, I shouldn't have to remind you, but make sure your device requires a passcode to unlock it!!
Final Thoughts
These are 8 iOS 8 features that made me scratch my head, at least the first time or first couple of times I used them. Once I got over the initial acquaintance period, they didn't feel that out of place anymore. In some cases, like the recent contacts in the App Switcher, you can turn them off from the Settings app. Others, probably you will never encounter (like the always-on VPN or the Private Browsing in Safari) depending on how you use your device. After all, my objective was to raise awareness about these new additions that brought unexpected UX to me. iOS 8 has a bunch of little new details here and there for you to discover!