Apple's FCP X ruffled more than a few feathers upon its release by omitting certain 'Pro' features. So what does this new free update (10.0.1) include? Is FCP X ready for prime time?
By redefining the video editing paradigm with the introduction of Final Cut Pro X, Apple took much criticism, some fair and some unfounded. Many editors were left perplexed by the omission of certain 'pro' features they relied upon in Final Cut Pro 7. Amidst the furor, Apple promised to address multicam editing and hinted at a solution for XML support in a future update. But, the big question with Apple's release schedule has always been when? Apple is infamous for their application update schedule which is rarely (never) divulged before the fact, leaving professional users unsure what to expect and when to expect an updated feature or bug fix.

So, on to the good news: today Apple released their first free update for Final Cut Pro X. Not only that, they've also released a free trial version of Final Cut Pro X so that potential users can try it out and see whether it fits their workflow. This is a great move by Apple and one I imagine will be well received across the board, especially considering how radically different FCP X is from the versions of Final Cut that preceded it.
Three Big Features in FCP X

In 10.0.1, the developers have employed a unique way to export media stems, albeit without the usual track-based workflow. Using the new Roles tag enables you to label audio clips and export them to a single audio file or even to separate stems. In fact, this also works with video clips.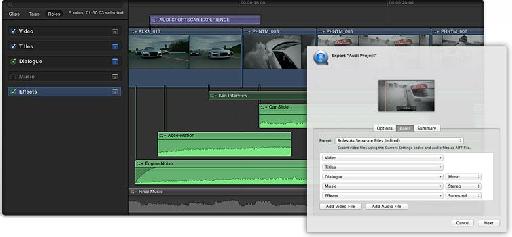 Export Media Stems in Final Cut Pro X 10.0.1
The ability to import and export Rich XML was high on the list of requests from editors when Final Cut Pro X was first released. By supporting this framework Apple has opened the door to a robust interchange format used by 3rd-party applications and workflows such as those offered by Blackmagic, Square Box System and many others.
The final marquee feature in this update is again aimed at the pro market, an indication that Apple does regard their '˜Pro' users as being integral to the future of Final Cut Pro. In 10.0.1 users can now create and edit FCP X projects and events on Xsan. This enables multiple users to access the same source media files while creating individual projects. Perhaps there are some editing houses that may now take a second look at Final Cut Pro X?
The Smaller Details

Along with these three major features, version 10.0.1 has a number of smaller fixes and additions. Projects can now have a custom starting timecode, Lion users can switch FCP X into full screen mode, GPU-accelerated export is now supported for foreground export jobs, one-step transitions can be added to connected clips without creating a secondary storyline, camera manufacturers now have access to the Camera Import SDK, allowing them to create their own plugins for importing media from their cameras directly into FCP X, and a new theme with four animated titles and its own transition has been added.

What's Missing?

Yes. The one missing feature that has quite possibly caused the biggest outcry amongst Final Cut Pro 7 users has still not yet been implemented. Multicam Editing. Broadcast-Quality Video Monitoring is also missing, but on the bright side both these features are slated to be included in an update 'coming in early 2012' according to the Final Cut Pro X software update page.
It's unusual for Apple to openly discuss updates or features for upcoming software or hardware releases, which makes me quietly confident that, where FCP X is concerned, Apple is serious about developing this application for both their professional and prosumer video editing customer base.

Learn more about FCP X with Michael Wohl, co-creator of the original Final Cut Pro in these Final Cut Pro X Video tutorials!