With a number of excellent DJ apps already available for the iOS platform visual DJs need not feel left out! Find out how to turn your iPad into a VJ machine with vjay for iPad by algoriddim.
DJ apps for Apple's iOS platform are pretty commonplace but what you don't see many of, at least not yet, are VJ apps. VJing is of course the art of DJing with videos and though it's been quietly successful on the Mac for years, the processing power required to juggle and manipulate digital video in realtime has meant that it's only now that a full-on VJ app has appeared. You'll need an iPad 2 or 3 (yes I know, The new iPad, but it IS the third iPad model) running iOS 5 or higher so it's a little restricted as far as iOS apps go, but not without good reason. The app is a 280MB download though much of this file size is taken up by the bundled video content. At the time of writing it's on sale for 50% off, making it £6.99 / $9.99 and a bit of a bargain.

First impressions
Vjay isn't a million miles removed from Algoriddim's acclaimed Djay for iPad in its look and feel, with the obvious addition of video support. This isn't quite as incidental an addition as it might sound, since the power requirements for juggling videos are far higher than for audio. Of the few iOS apps that can run more than one video stream at once (iMovie, AVID Studio), even fewer are designed to let you perform with video, rather they simply let you edit it.
When it comes to getting content into the app, Vjay has plenty of options. Into either of its two decks you can load content from the small bundled library, the onboard Videos app, your own Camera Roll, your Music library and from the iTunes Store, which is directly integrated into the browser. There are positives and negatives to mention here. The Videos tab can see any movies you have synced from iTunes and the Camera Roll option lets you record a video directly inside the app, which is excellent. 720p is the highest resolution currently supported, and users report that 1080p video from the iPad 3's rear camera will not work, though I wasn't able to check this. Hopefully 1080 support will be added, though due to processing requirements I wouldn't be surprised if it excluded the iPad 2, which could be why it currently tops out at 720.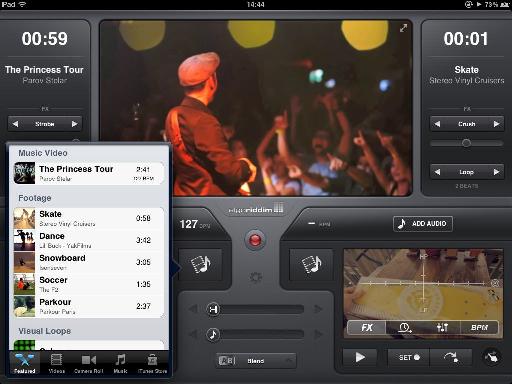 Load video from a variety of locations or record it yourself using the iPad's cameras. 1080p is currently not supported though'¦
Load video from a variety of locations or record it yourself using the iPad's cameras. 1080p is currently not supported though'¦
The Music section of the browser can see any music loaded into your Music app, though if you are using iTunes Match (like me) you will need to manually download the music to the device before it is available in Vjay. iOS 6 is apparently adding streaming to iTunes Match, so this limitation may change in future. You can search by playlist, artist, song and so on, though there isn't a search field for music, which would be a useful addition. Despite these minor issues, loading content is generally very easy and works well.
Video mashup
Once video is in a deck it becomes playable by simply hitting its play button. A crossfader lets you zap between decks and there are a number of transition types like blend, cube, swap, grid, mosaic and push to fade between the content playing in each deck. In the Settings section you can split the video and audio faders, making it possible to mix each component separately which is in many cases much more flexible than doing both at once. Also in Settings you'll find a pre-cueing option that lets you cue songs through headphones independently from the mix that goes through the main speakers for live DJing. For this, you will need a Griffin DJ Cable to split the output.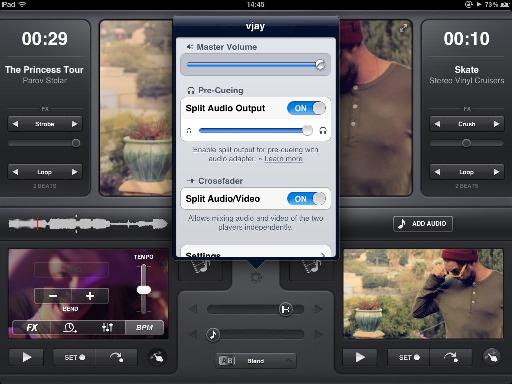 Split cue and program sound with the optional Griffin DJ cable, and split audio and video crossfaders for greater flexibility.
Where a video has sound, it appears as a waveform display. If a video has no sound you can add an audio track separately and in either case, Vjay will analyse the BPM of the music. It manages this pretty well, though as ever with DJ software, it's better with 4/4 dance music and other metronomic stuff. Videos can be scratched either in a deck or the main display window (even in fullscreen mode) by simply rubbing with your finger, which is excellent. In either deck you can add effects '" strobe, twirl, fisheye or crush '" and if there is sound, the effects are applied to that too. Effect intensity is easy to change with a slider and you can loop videos to 2 or 4 bar lengths with a dedicated control.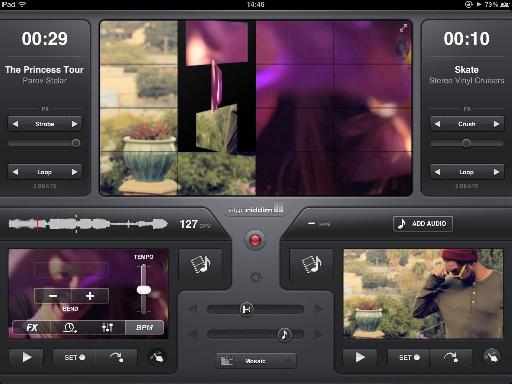 Realtime effects are applied smoothly and accurately and there's TV out over AirPlay or an aApple adapter cable.
Back in the deck you can set markers (which can incidentally be synced via iCloud) and manipulate videos in other ways. The FX button reveals an X/Y grid that lets you manually change an effect in realtime, and the tempo controls have buttons for reverse, slow motion and slice. The two slice options are particularly good fun and the app usually gets the timing just right so you can do stutter effects and when you let go, the track is still at the right point. There's EQ which for sound works in the traditional way and for video changes colour, and finally a BPM slider with a Sync button. You can even record performances and export these to the Camera Roll, though when transferred to the Mac they seem to be at 640x360 regardless of their original size, which is a bit small. YouTube or Vimeo integration could be good to add here, at higher resolutions. On the other hand, the app does support TV out over HDMI, VGA and AV with the relevant adapters, as well as AirPlay to an Apple TV, so you have a fair few options.
Final thoughts
Vjay is a really accomplished performance tool, and responds much more fluidly than you might imagine for an iOS video app, achieving low latency, accurate beat detection and smooth realtime effects and video mixing. Like any DJ software, you'll need a sense of timing and some basic skills to put on a performance, but the app makes the process pretty easy to learn and it's very intuitive once you get going. I'd like to see a few tweaks: online sharing of videos, higher quality export options and maybe a few more effects, but on the whole this is a great program, opening up the VJ world to any owner of a recent iPad. As the technology improves I'd expect to see much more from Vjay'¦