Wes Plate from Automatic Duck promises to bring back the ability to send a sequence from Final Cut Pro X to Motion, so you can take advantage of superior keyframing, 3D workspace and much more...
Those of you who jumped on board with FCP X might not have known the legacy Final Cut Pro ecosystem. Way back then, you didn't just buy one app at a time, you bought Final Cut Studio, including Final Cut Pro, DVD Studio Pro, Soundtrack Pro, Cinema Tools, Motion, and Compressor. While Compressor and Motion survive today, the features of the other tools have become integrated into FCP X itself, or simply dropped.

A casualty of the transition was the round-tripping feature which let you send part of an FCP 7 sequence to Motion, and that's a shame. On one hand, the way which Motion lets you create titles, effects, transitions and generators for instant use in FCP X is seriously fantastic, and unmatched in any other NLE. But on the other, we've lost direct access to Motion's point tracker, to Motion-only behaviors, to a full 3D camera system, and more. Wouldn't it be good to be able to push content the other way too?

Yes. Yes it would.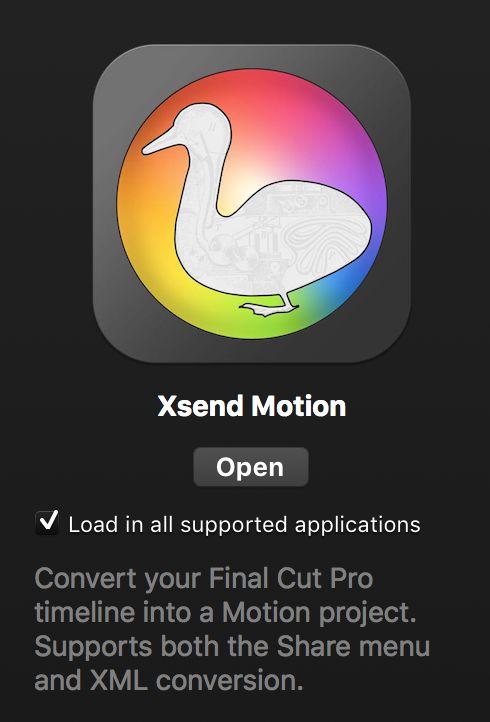 Search in the FxFactory interface to find Xsend Motion
Installation
As an FxFactory app, you'll need to install the FxFactory app and plug-in. Then, launch the FxFactory app, search for "Xsend Motion" and download the package. As well as a dedicated app, Xsend Motion includes a share item preset, which can be installed simply by dragging a provided file into the Share pane of the Preferences window. This crucial part of the process makes it much easier to use, so don't skip it.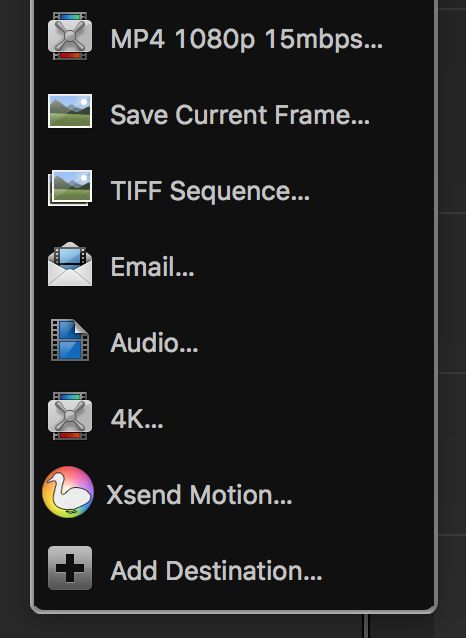 With your project open, just Share to Xsend Motion
Usage
Because Xsend Motion uses XML export to perform its magic, you'll need to convert whatever you need to export to XML. However, after installing the Share preset, sending an entire sequence is easy: just choose Share > Xsend Motion. The XML will be exported and automatically passed to the Xsend Motion app, where you can change a few settings before proceeding.

NOTE: If the content you want to share is less than an entire project, you can convert it into a Compound Clip, but there are limitations if you go this route. You'll need to manually select the compound clip in the Event Browser, export it to XML, and then locate that XML in the Xsend Motion app. I find that it's easier just to make a new Project, move your content across, and share it directly.
Options
Xsend Motion isn't laden with options, but it doesn't need to be. You can control how many layer groups will be created in Motion, how secondary storylines are handled, and if audio is included. You can also control where its intermediate files will be stored.

If you don't care about any of these, tick "Automatically continue from Share menu" and you'll hardly see this window at all. It'll blip up briefly between FCP X and Motion, but that's all.


Results
In Motion, a complex project shared from FCP X appears more or less how you might expect. Items higher up in the timeline appear higher in the Motion layer stack, and most titles, generators and other elements from your sequence are replicated completely. Transform properties, retiming, markers, effects and titles all come across, with their enabled status and any keyframes intact. Even third-party titles and effects come across, which is very handy indeed.

Position, custom titles, custom effects and the clips themselves have all come across — though not everything will

However, not everything will make the transition unscathed. The two programs are very different, and some adaptation is to be expected, so check the help file to discover what's supported and what's not.

Color board corrections, fancy transitions, and compound clips inside multicam clips don't make it. Some complex 3D titles may also need a little bit of tweaking, as the camera/3D setup in Motion is far more complex and capable than the 2D FCP X canvas. Another issue is that compound clips are transformed into Clone layers, which works well, except that they're silent. If you make heavy use of compound clips with audio, consider breaking them apart before sending them to Motion, and [take a look at the manual] if you have a specific workflow in mind.


Round tripping
When you've finished making adjustments in Motion, you can Publish as a Generator to access your work back in FCP X. This is ideal for a project you may wish to revise down the line, but if you need more precise control over Motion Blur or Render Quality, render directly from Motion, then import the resulting file like any other media.


Workflows
Being able to send projects from FCP X to Motion opens up a host of new workflows, including these ideas:

1. Collect many short edited clips in FCP X, send them to Motion, then turn them into a 3D clip cloud that the camera flies through. You could also add a simulation behavior like Vortex. (Why? Dealing with more than a few drop zones in FCP X can be tedious, and Motion isn't good at selecting clips.)
2. Take a single clip from FCP X to Motion, then link up the Audio parameter behavior to pulse the clip in time with some aspect of its audio. (Why? FCP X video filters don't have access to a clip's audio.)
3. Place a generated clip above a regular video in FCP X, then send to Motion and use the point tracker to lock the position of the generator to something in the regular clip. (Why? FCP X has no tracker; you'd need a third-party product like TrackX.)
4. Collect a number of photos or videos in FCP X, send them to Motion, arrange them in 3D space, then use the Framing behavior to move and/or rotate around to each one, with extra control over depth of field to focus the viewer's attention. (Why? FCP X doesn't have the 3D controls you'd need.)
5. Start out with a regular clip in FCP X, then send it to Motion for precise compositing of flame, smoke or other particle effects. (Why? You can't use particle effects or replicators natively.)
6. Start with a video and a complex title in FCP X, then send to Motion to tweak just that specific title in ways the title designer didn't allow for. (Why? Fine adjustments need to be made in situ, and it's much easier to keyframe in Motion.)
7. Prepare a series of clips in FCP X, then send them to Motion for complex masking and compositing. (Why? It's only possible to do simple compositing in FCP X.)


Conclusion
Despite the excellent integration between FCP X and Motion, this critical piece has always been missing and often been requested. Finally, it's here, and while it's maybe not as feature-complete as if Apple had done it themselves, it's very useful, and still under active development by a veteran in this space. Heavy Motion users should grab it now.