Does the world need another analog modular syntheszier? According to Abused Electronics we do! We need a smaller, less pricey, larg sounding modular synthesizer that is accessible for everyone.
Abused Electronics today unveiled their new AE Modular. They describe it as "a true analog modular synthesizer - small in size, small in price, big in sound." And before you ask, AE Modular is not eurorack compatible. Instead the creator, tangible waves, have created a system which they say makes it affordable and smaller than most eurorack format synths.
They've gone for "character" over "perfection" too. "Circuits are sometimes simplified and show their own character in some points - it's intentionally a contrast to the high-polished stuff we get from digital synths / DAWs / plugins. But always the usage as an artistic tool is considered!"
AE Modular certainly looks intruiging and if nothing else could be the perfect gateway into the world of modular synthesis for novices...
"The design style is also a little special: The frontpanels are not (expensively) printed, but rubber-stamped; I like this somehow "unperfect" look - I hope you too! (Don't worry: a special, durable color is used.)"
Here's a video showing the AE Modular playing nice with the Novation Circuit:
And some more video demos to wet your apetite showing AE Modular's oscialltors, filters, FM sync, noise, sample and hold in action:
So how does AE Modular differ from a regular eurorack modular synth?
Modules are not Eurorack compatible
The Oscillators module is not working in 1V/octave standard (due to the roots in the Lunetta approach); but a 1V/octave VCO will be added soon to the modules palette
Patching is done via simple patch-wires and small pin-sockets (not minijack-cables as in the eurorack-world); this cuts the cost drastically and also saves a lot of space on the module. Another advantage: Module outputs are mostly dual or triple, which makes "Multiples" modules obsolete
AE Modular has just launched on Kickstarter. For as little as €385 EUR you can get the Rack 1 of AE modular; this is the rack with one row for up to 16 modules; pre-installed with the following modules: MASTER IO, 2OSC, NOISE, FILTER, ENV, 2VCA, LFO, 2S&H, 2ATT/CV, MIXER4/4, DELAY.
And for just €490 EUR you get Rack 2 of AE modular; this is the rack with two rows for up to 32 modules; pre-installed with the following modules: MASTER IO, 2x 2OSC, NOISE, 2x FILTER, 2x ENV, 2VCA, 2x LFO, 2S&H, LOGIC, BEAT DIVIDER, STEP10, 2ATT/CV, MIXER4/4, DELAY
Whether you opt for the 1-rack or 2-rack, you'll get
A power supply
please note which kind of plug you need (EU, UK, US)
A bunch of patch wires
MIDI breakout cable
A user guide / short introduction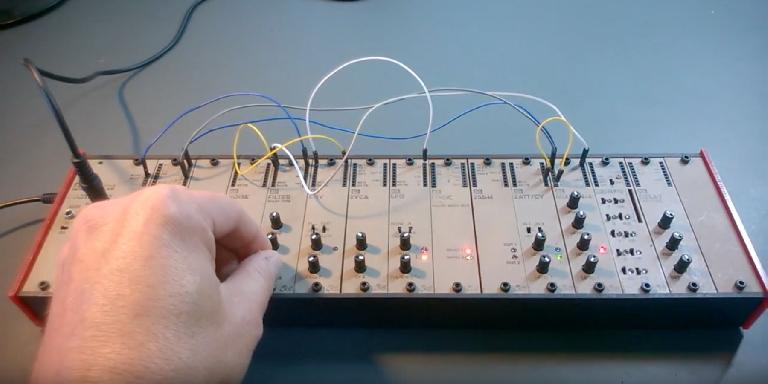 [courses_slider]
There's plenty more about AE Modular on their Kickstarter page. Click the link below to learn more about the spec and further details...