Erica Synths Releases Special Edition Acid Simona VCF Module
Designed as a one-off celebration special edition, this awesome looking VCF module can be yours for a surprisingly affordable price...
Erica Synths has released Acid Simona VCF - a limited edition of its Black Polivoks VCF produced to celebrate the collaboration between Erica Synths and techno opera Spazio Bar. It will cost 165 Euro plus VAT.
Here's what Erica Synths told us:
"The project Spazio Bar brings together composer of academic contemporary music Platon Buravicky and author of the electronic soundscapes Leo LiÌ"cis, for an unprecedented performance joining together seemingly distant though not incompatible fields of music. 2 violins, a viola, 2 flutes and a bassoon together with live electronics will create a stimulating environment for one's imagination to immerse the storyline of the techno opera Spazio Bar. For this special occasion Erica Synths Black Polivoks VCF obtains a fresh look and preserves its treasured sound as a limited-edition Acid Simona VCF module.
Acid Simona VCF (Black Polivoks VCF) is one of the most authentic sounding emulations of the famous Russian synth - the Formanta Radio Factory Polivoks. The original Russian ICs K140UD12 are used in the sound circuit. Several updates were made to adapt the VCF for contemporary modular synth demands. Independently buffered inputs, extended Cutoff knob, eliminated clicks when switching filter modes and output stage added to eliminate signal inversion. As a result much punchier bass sound and very smooth controls are achieved."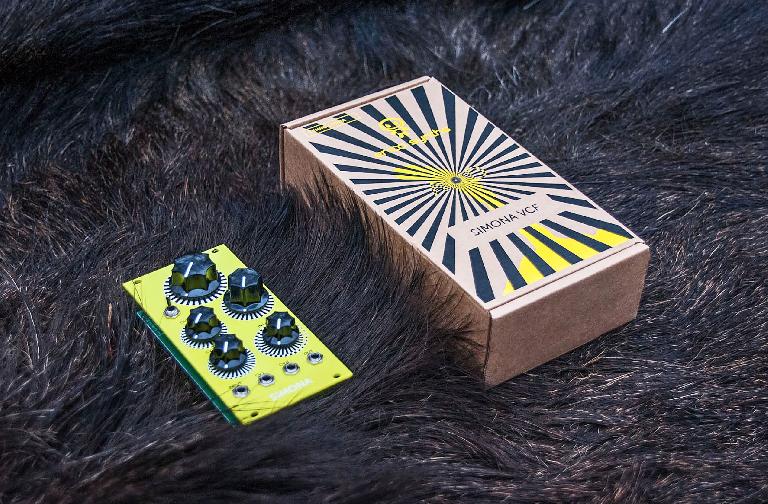 Tech Specs
Input level :

up to 20Vptp

CV input level :

-10V - +10V

Filter modes :

BP(6dB/oct)/LP(12dB/oct)

Power consumption :

+11mA, -11mA

Module width :

10HP

Module depth :

25mm