Exclusive First-Look: Shakmat Modular 4 Brick Rook Quad Trigger Sequence Generator Eurorack Module
Imagine a quad output trigger sequence generator synth module that you can play, record, save and recall sequences... this is Shakmat Modular's 4 Brick Rook. And here's an exclusive 1st look video.
Francois from Shakmat Modular has been in touch with AskAudio and wanted to share news and this sexy teaser video of their upcoming synth module, Four Bricks Rook, which is a Quad Trigger Sequence Generator. Please note the module being used in the video below is a prototype. The Four Bricks Rook will hopefully be available early 2017.
If you've come across Shakmat synth modules already then you'll know they have a particular emphasis on being musical instruments. Designed for musicians by musicians. The Belgian based modular company's mission statement is to create intuitive synth module instruments that musicians will love playing, and though we only have a short video to go on, 4 Bricks Rook looks like a lot of fun!
The Four Bricks Rook is a quad output trigger sequence generator allowing the user to play, record, save, recall and mangle sequences and includes four playing modes.
Watch the rather tasty teaser video here:
While we don't have a price or exact availability to share with you, we do have details on the features!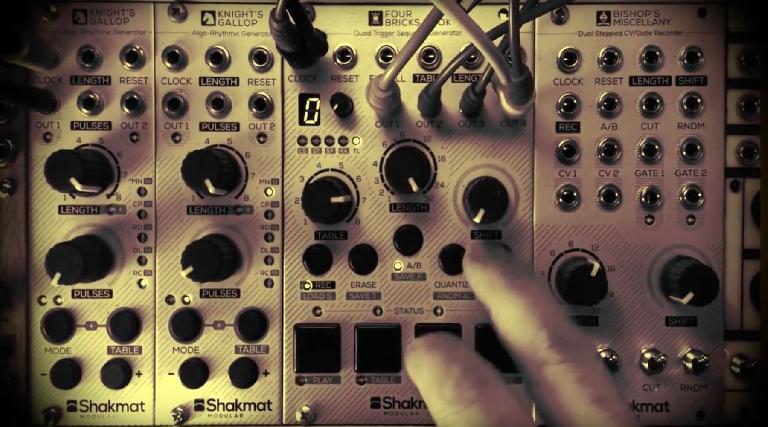 4 Brick Rook Module Features
Variable length sequences (up to 32 steps)

Shift function scanning through different segments of the sequence (*)

Non-volatile memory allowing to store and recall patterns (16 slots of 8 - 4 tracks / 32 steps - patterns)

Potentiometer and CV input for table addressing

Quantize function per track

Two playing buffers A and B

Play Mode allows to play and record your sequence on pads

Table Mode allows to read and load sequences stored in the non-volatile memory

Fill Mode allows to use the tables in a more dynamic way

Mute Mode allows to mute tracks and erase part of the sequences

Random generator allowing to automatically fill the sequence or create random sequences

Adjustable trigger length

Factory tables including pre-programed beats and specials clock divisions such as triplet ones.

Bi-polar (-5V - +5V) CV inputs.

Hi-quality Elektron like push buttons

High quality metal potentiometer with DJTT double rubbered injected knobs

Skiff friendly (26 mm deep)

16 HP Wide
(*) This module uses the same length / shift principle of the Bishop's Miscellany : reducing a 32 steps sequence to 8 steps creates 4 segments. The user can choose the playing 8 steps segment with the shift potentiometer / CV input.
[Via: Francois from Shakmat Modular by email]