Nektar Release Impact LX49+ & LX61+ Next Generation USB MIDI Controller Keyboards
Based on the original Impact LX49 and LX61, Nektar tell us the new models expand on Nektar DAW Integration, delivering more features for supported DAWs and a more transparent workflow.
Nektar MIDI controllers perhaps haven't got the beand recognition they deserve. Their controllers feature in-depth integration with all the major DAWs and so much more. The new LX49+ and LX61+ are no exception and continue that good tradition with new features. Here's what Nektar tell us about the new controllers.
Nektar Inc., Burbank/ California, July 20th, 2016 (ictw) – Nektar today announced the new range of Impact LX+ USB MIDI Controller Keyboards to be available in stores end of July, 2016.
The new Impact LX49+ and LX61+ USB MIDI controllers now are jam-packed with intelligent and expressive performance control not even available from many premium products. The acclaimed Nektar DAW Integration automatically hooks the LX+'s Controllers up to the DAW of choice. Custom designed for Bitwig, Cubase, Digital Performer, FL Studio, GarageBand, Logic, Nuendo, Reaper, Reason, Sonar and Studio One - the integration takes Impact LX+ way beyond functionality normally offered by a USB MIDI controller keyboard. Nektar take care of the hard work so the musicians can focus on their creativity.
IMPACT LX+ CONTROLLER KEYBOARD
The 49 or 61 note velocity sensitive keyboard features a synth action with a medium tension. The full-size, piano-style keys are covered to protect against dirt and dust while also complementing the Impact LX design. With 4 velocity curves gradually increasing in dynamics there is choice for any playing style.

CONTROL CENTER
Nine 30mm faders, 9 MIDI buttons and 8 encoders are at the center of Impact LX49's control panel. Used with Nektar DAW integration, the controls take on a life of their own, providing flexible pre-mapped DAW control giving you the best of both worlds.
Illuminated, light touch PADS
Calibrated to trigger at a light touch, finger drumming is suddenly well within reach with a nice and even velocity response. Each pad can be assigned any MIDI note number or MIDI cc message, for use as MIDI trigger or toggle buttons. But the best part is the "Pad Learn" feature that allows for selecting a pad, play the note or wanted drum sound on the keyboard and the assignment is done.
The 4 color LED illumination not only looks good but also indicates which pad map is currently loaded and can even tell which type of MIDI message each pad sends. With Nektar DAW Integration, the pads are automatically assigned to for example Reason and Bitwig. The two Clips and Scenes buttons are used in Bitwig to trigger... well ... Clips and Scenes. In Reason, a clever control of Reason's location points creates a similar experience with scenes triggering of any song.
VISUAL FEEDBACK
Dedicated LED buttons clearly show if Mixer, Instrument or Preset (for generic USB MIDI control) is selected. In Instrument mode, a new Page button allows switching between a Default and User instrument map page with Default parameters following a common format and clearly screen printed in Blue for every control.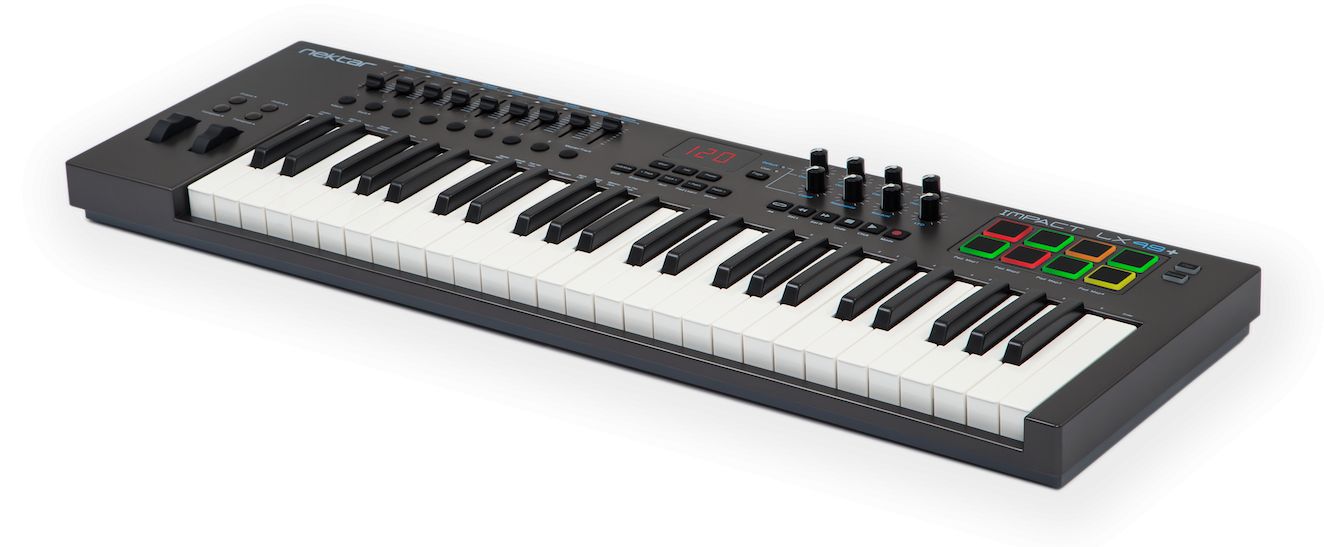 Connectivity – Win, Mac and iOS
As a low powered USB device, Impact LX+ works with all USB devices that feature a Class compliant MIDI driver. That includes all version of Windows from XP and higher, Apple OS X 10.5 and higher plus Linux (as long as a USB MIDI driver package is installed).
Impact LX+ keyboards also connect to an Apple iPad using the iPad's optional USB camera connection kit (optional). Of course the Impact LX is powered by the iPad so you can work away for as long as your iPad remains charged.
BITWIG 8-TRACK included
With the included Bitwig 8-Track, the dedicated Clips and Scenes buttons switch the pads to instant control of clips or scenes with LED feedback showing which clip/scene is currently playing, which contain playable material and if recording has been activated.
Both Impact LX49+ and LX61+ are shipping during the last week of July from all major resellers worldwide for MSRP:
Impact LX49+: $199.99/Euro 179.99/GBP139.99
Impact LX61+: $299.99/Euro 199.99/GBP169.99
The full list of features includes:
Nektar DAW Integration for Bitwig Studio/8-Track, Cubase, Digital Performer, FL Studio, GarageBand, Logic, Nuendo, Reaper, Reason, Sonar and Studio One

49 or 61 note full size, ultra-dynamic velocity sensitive keybed

Pitch bend and Modulation wheels

Octave and transpose buttons

3 digit LED display

9 faders

9 fader buttons

8 pots

Mixer and Instrument buttons with LED indicator for Nektar DAW Integration

Preset button with LED indicator for generic MIDI control

5 user configurable presets

Page button with two LED's for Nektar DAW integration switch between User and Default mapping.

Default Instrument mapping screen printing in blue for Nektar DAW Integration

Dedicated Track and Patch buttons

6 Transport buttons with additional shift functionality

8 hyper sensitive pads, LED backlit with 4 color options

4 pad maps

Clips and Scenes buttons for Nektar DAW Integration

Foot switch socket

Power on/off button

USB connector

USB class compliant compatible with OS X, Windows, Linux and iOS (via camera connection kit)

Full version of Bitwig 8-Track included