This one is for the players. Synth players. Korg Japan have published official details for the new Korg Kronos 88 LS workstation synth. We've translated all the details and features into English here.
If you're Japanese you may already have seen that the Korg Kronos 88 LS (which we spotted in a sneaky photo here along with the Arp Odyssey FS in early November) is now official. At this stage Korg have only published details for their new Kronos workstation synth on their Japanese language website. But, thanks to the joy that is Google translate, we've been able to (roughly) translate the details so you can see this news first.
All info has been taken from the official Korg JP website here. For our Japanese reading audience we've also included the original text. Enjoy!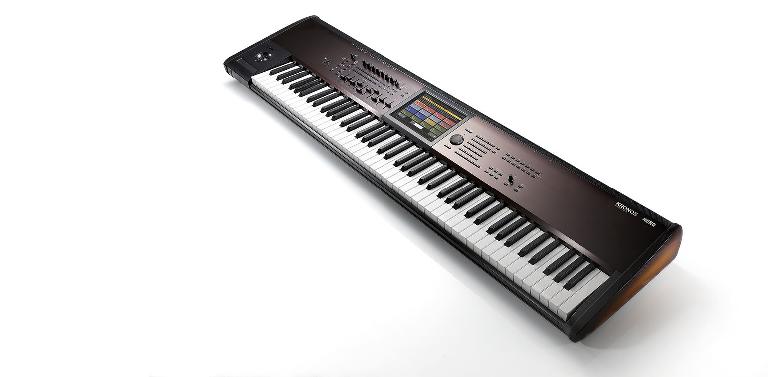 Newly designed LS keyboard with light touch that allows light performance. Casual KRONOS-88 key model
軽快な演奏ができるライト・タッチの新設計LS鍵盤。カジュアルなKRONOS-88鍵モデル
9つの異なる音源を備え、コルグ史上最高の性能を誇るミュージック・ワークステーション、KRONOS。ピアノからオルガン、シンセから物理音源まで、その幅広いサウンドの持つポテンシャルをより引き出すための一つの提案として、ピアノが弾きやすく、オルガンやシンセの演奏に最適な、タッチの軽い88鍵モデルを新たに加えました。
落ち着いた雰囲気のダーク・ブラウンのボディ、楽器を所有する喜びを高めるサンバーストのサイド・ウッドをまとい、これまでのKRONOSとはまた違った歓声をステージ上のあなたに約束します。KRONOS LS、誕生。
KRONOS, a music workstation with nine different sound sources, boasting the highest performance in the history of Korg. From a piano to an organ and a synth to a physical sound source, as one proposal to bring out the potential of its broad sound, it is easy to play the piano, newly adds a light key touch key model suitable for organ and synth performance It was.
The dark brown body in a calm atmosphere, the sunburst side wood for enhancing the joy of owning the instrument, I will promise you a different cheer for you on the stage with KRONOS. KRONOS LS, born.

Adopt new keyboard of light touch to achieve light performance
軽快な演奏を実現する、ライト・タッチの新鍵盤を採用。
オルガンやシンセの速いフレーズやグリッサンドが弾きやすい、軽いタッチの鍵盤をKRONOSのために新設計。鍵盤自体の構造も見直し、従来のライト・タッチ鍵盤(61鍵)よりも、複雑なコードや難易度の高いフレーズの演奏でも、ベロシティのコントロールがしやすくなりました。従来と変わらぬウォーターフォール式の箱型鍵盤のため、すでに確立されているデザイン・バランスを損なうことなく、シンセ鍵盤のライトな演奏感を実現。またセミウェイテッド鍵盤なので、ピアノやエレピなどコードを多用する演奏も、指先にしっかり感のある反応で安心して楽しめます
New design for KRONOS for light touch key, which is easy to play with organ phrases and synth fast phrases and glissando. We also reviewed the structure of the keyboard itself, making it easier to control velocity, even with complicated codes and more difficult-to-play phrases than the conventional light / touch keyboard (61 keys). Because it is a waterfall box type keyboard which is the same as before, it realizes a light performance feeling of synth keyboard without impairing already established design balance. Also, because it is a semi-weighted keyboard, you can enjoy playing with a lot of code such as piano and electric piano with confidence in the reaction with a firm feeling to your fingertips.
Achieved a weight saving of 6.3 kg compared to the 88 key weighted model
88鍵ウェイテッド・モデルに対して、6.3kgの軽量化を達成
新鍵盤採用により、従来のピアノ鍵盤を使用したKRONOS-88鍵モデルに対し、6.3kgの軽量化を実現。同73鍵モデルと比べても3kg以上も軽くなり、楽器運搬やセッティング時の負担を大きく軽減しました。
By adopting the new key, we realized a weight reduction of 6.3 kg compared to the KRONOS-88 key model using the conventional piano keyboard. It is lighter than 3kg even compared with the 73 key model, greatly reducing the burden of carrying instruments and setting.

[courses_slider]
New Features New OS v3.1 including Quick Layer / Split
新機能クイック・レイヤー/スプリットを含む最新OS v3.1を搭載
新鍵盤搭載に伴い、ピアノとストリングスのレイヤー、エレピとベースのスプリットなど、軽いタッチの88鍵盤を活かしたより多彩な演奏が気軽にできるよう、鍵盤の割り振り設定を簡単に行えるクイック・レイヤー、クイック・スプリット機能を加えた最新OS v3.1を搭載。もちろんOSは細部にわたりブラッシュ・アップされており、ストレスのない安定した演奏環境を提供します。
With the new keyboard, Quick Layer, which allows easy assignment of keyboard settings, such as piano and strings layer, electric piano and base split, making it easier to play a variety of performances making use of the light touch 88 keyboards. The latest OS v3.1 with the split function added. Of course, the OS has been brushed up in detail to provide a stable performance environment without stress.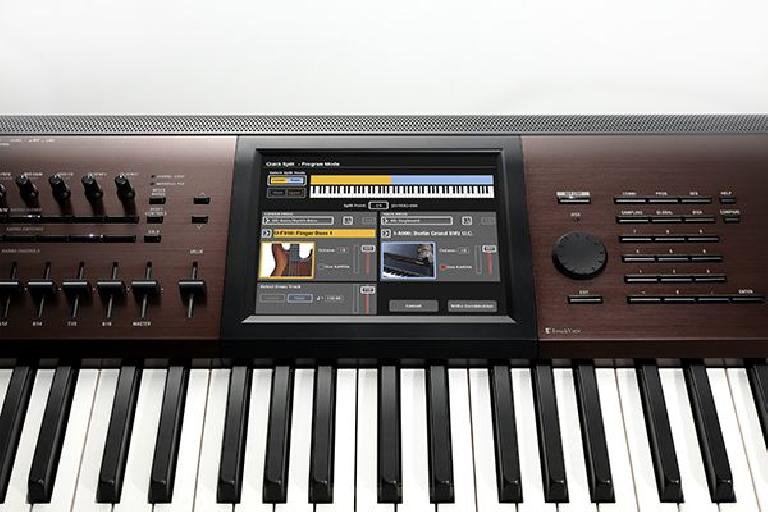 [ad_unit]
New design Dark brown panel, sunburst side wood
新意匠ダーク・ブラウンのパネル、サンバーストのサイド・ウッド
パネルには、KRONOSの精悍さを保ちつつ、落ち着いた雰囲気を醸し出すダーク・ブラウン・カラーを新採用。またサイド・ウッドには「違い」を生み出すサンバースト・カラーを取り入れました。88鍵ライト・タッチのKRONOS LSだけが持つオリジナリティは、数あるハイエンド・クラスのシンセサイザーの中でもひときわ輝きを放ちます。
In the panel, while maintaining the fearlessness of KRONOS, newly adopted dark brown color which brings forth a calm atmosphere. Inside wood also adopted sunburst color which produces "difference". KRONOS LS of 88 key light · touch only has its own originality, which shines outstanding among many high-end class synthesizers.