We got hands-on with the new ROLI Seaboard RISE MIDI controller / instrument... and after extensive testing came to a conclusion that surprised us. Watch the video and read the review here.
If you're a keyboardist, unless you've been living under a rock (or just avoiding the internet in general) then you've probably seen some media about Roli and the Seaboard over the past year or so. Roli has touted the Seaboard as a reimagining of the piano, offering multiple dimensions of touch, continuity, and control with each key. The Seaboard Rise is the next evolution of that, in a smaller, portable format. It's a hot ticket item right now, was nearly impossible to get ahold of early (really, we could tell you how we got one, but then we'd have to kill you), and was well worth the wait. Here's what you need to know about the Seaboard Rise.
Watch the video element of the Roli Seaboard RISE review here:
It Won Me Over, and Quickly
I'm going to be up front about this—I was extremely skeptical about the Rise from the very beginning. I've had the opportunity to work with Jordan Rudess, and I'd seen him do some amazing things with the Seaboard—but to be honest, I've seen him do some amazing things with just about any instrument he ever picks up! I'm very picky about the touch and feel of my pianos, and I just didn't think the Seaboard was anything more than a gimmick. Let me tell you, I couldn't have been more wrong.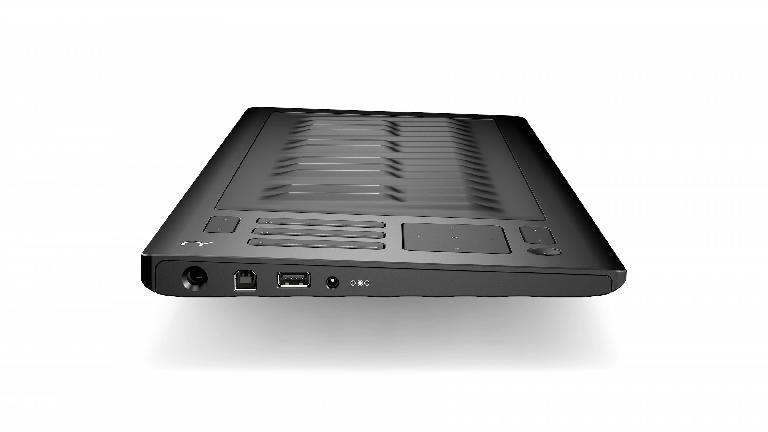 Inspiration Through Design
The faster the Rise can get to local music retailers, the more quickly Roli will take over a large section of the keyboard market. Seeing this thing and touching/playing this instrument are two completely different ball games. From the second you put your fingers on the Rise and start playing sounds with the included Equator software you feel like a composer. It's uncanny. The sheer amount of control and expressiveness that is available to you with the slightest movement of your fingers makes you feel like a violinist playing a Stradivarius. I'm not exaggerating. The design is elegant both in terms of the hardware and the accompanying software.
The aural feedback you can elicit from the various factory sounds in Equator (the custom designed bundled instrument that ships with Rise) with a microscopic finger movement is just staggering. Vibratos and glissandos can be applied tastefully and easily. I think that where I went wrong with my 'pre-judgement' of the Rise is that I looked at it as another piano controller when really it is something else entirely. You can't really compare Rise to any other controller out there. The tactile elegance, rich harmonic control, and new paradigm of sound production is in a class by itself.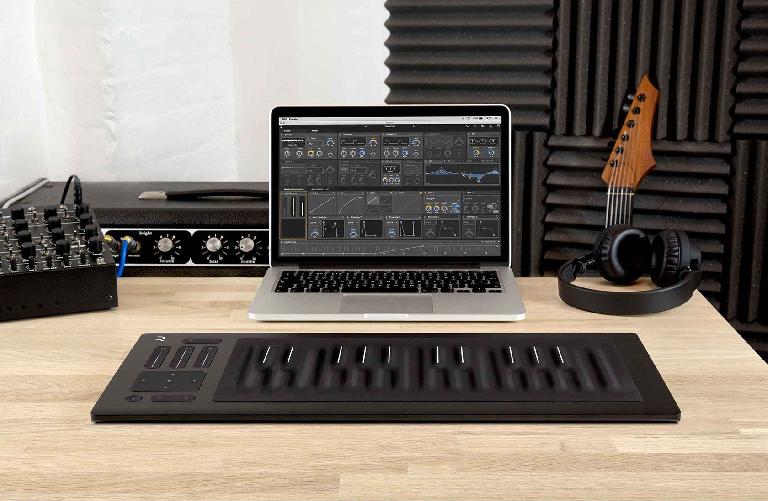 [courses_slider]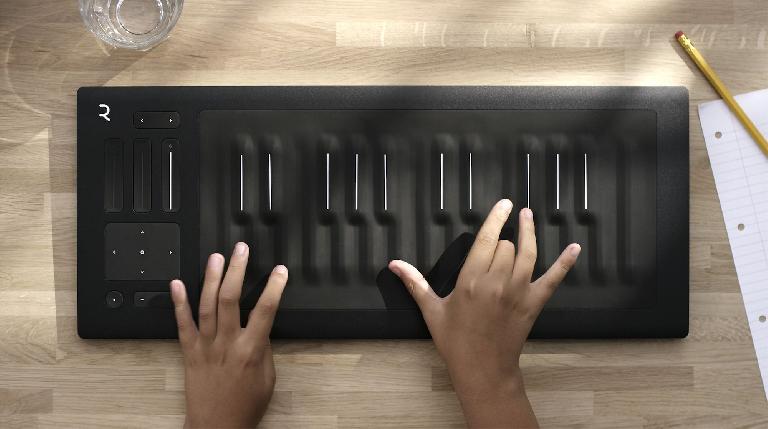 Bells and (Slide) Whistles
The Rise utilizes MIDI over bluetooth or USB to connect to your computer or device. If you're using a computer, you'll get the most out of the Rise by utilizing the included Equator software, although Roli provides some templates to help you design your own responsive sounds in your favorite virtual instrument. If you're using an iOS device, you can quickly and easily pair Rise with Noise. Noise is a new iOS app from Roli that works in a similar fashion to Equator. You can even tweak your sounds a bit without the Rise if you have an iPhone 6S or later as Noise will respond to the 3D touch feature of the latest iPhone.
Rise allows you to be incredibly expressive and creative within minutes of powering it up.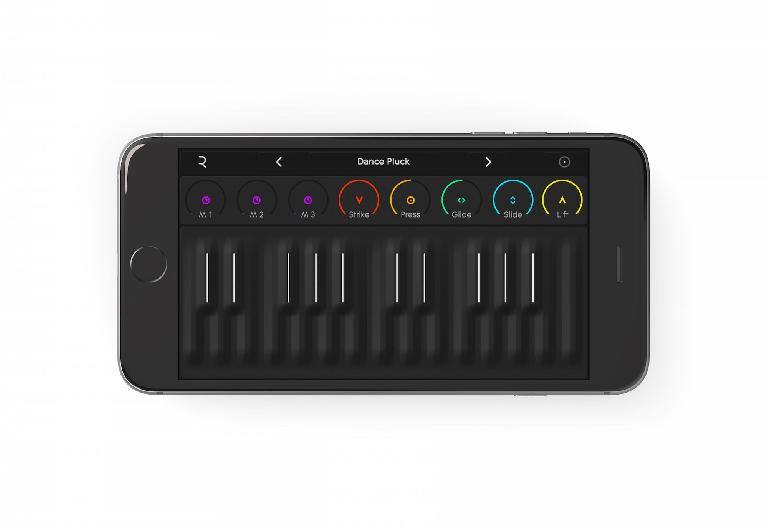 [ad_unit]
Rise has an internal battery that can last you 8-12 hours and I found no issues with that claim. I used Rise for 5 days of testing and tweaking over Bluetooth and only had to charge it once. There are three touch strips on the left side, as well as a multi dimensional X/Y pad. You can change patches directly from the Rise with the patch up/down buttons, as well as shift octaves with the included octave keys.
Conclusion
The Seaboard Rise in an incredibly ambitious concept that pretty much succeeds across the board (pun intended!). Roll is creating their own category of instrument, and the Rise allows you to be incredibly expressive and creative within minutes of powering it up. There's definitely a physical/muscle memory learning curve and although it's arranged in the format of a piano you'll definitely want to practice using it before taking it to the stage. Your practice will pay off in spades, however, as the expressiveness and artistry you can achieve with the Rise is second to none.
Price : $799
Pros : Bluetooth over MIDI works wonderfully, long-lasting battery, great physical build, sturdy, wonderfully expressive, elegant design, excellent included sounds, USB and pedal inputs
Cons : This is a bit nit-picky, but I wish there was a dedicated Bluetooth pairing button rather than the 2-button combo you have to use.