Give yourself (and your studio) the gift of analog with the Korg Volca Bass! Having reviewed Volca Keys and Beats, G. W. now reaches the Volca Bass and finds it the most significant of the three.
Okay, I'm down to the last, and possibly the most significant of the Volca series, Volca Bass. Korg's answer to that missing silver box in the form of hardware, that Roland has seemingly let slip by.
So, how did they do?
Introducing Volca Bass
Like all of the other Volca instruments, the Bass is pretty. In my opinion, perhaps the prettiest. I love the silver faceplate, and couldn't help but wonder why out of all the Volcas, this one was silver. A nod to Roland, again?
Aside from the faceplate, and some of the knobs, Korg built something that is very much its own thing. The sleek, black, semi-clear encasement frames this soon to be classic synth sturdily and protectively. Though, you probably do want some kind of travel case for it, like all the other Volcas, because they are plastic.
One thing I particularly love about how Korg did the knobs would be how they made the Cutoff knob bigger than the other ones. They knew we'd want that! And, though the Peak knob is of the smaller variety, on this Volca piece, the distance apart and so on are ergonomic enough and afford some quality filter tweaking to hands of most sizes.
Though, if you have incredibly big fingers, you'll be happy to know that the Volca Bass (like the other members of the family) does take MIDI in, and that means you can control Cutoff, and other parameters via your DAW or other MIDI devices.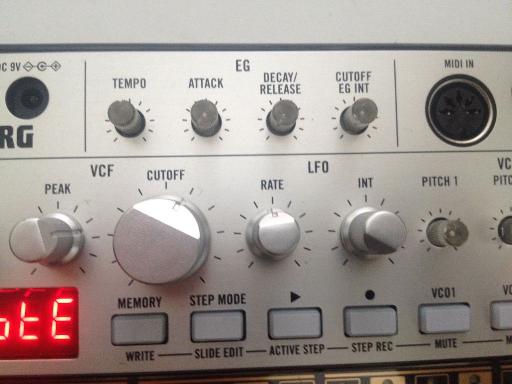 You really can't miss that big Cutoff knob!
Let's Take it for a Ride...
Upon first powering on the Bass, I was in love. It has that sound! Well, in terms of big basses. It can sound like a 303, but you can tell, once you start playing with Volca bass, that Korg wanted to take it up a notch. And, they did.
Unlike a 303, which only has one oscillator that can produce square and sawtooth waveforms that cannot run at the same time, the Volca has three analog oscillators that can be triggered in unison, or individually. Yep, that's right. Technically, you can actually sequence three different oscillators doing three different (small) sequences at once from the step sequencer. Outside of the Volca Beats, this makes Volca Bass the only synth/sequencer capable of multiple parts at once. So, just know that if you purchase Bass, you're getting a couple of instruments.
Now, when you VCO group all of the oscillators at once, well, something special really does happen. You get a very, very thick bass that you can detune the hell out of and even play in intervals, so you can have some nice house-ish chords going on, or some driving basslines that no one can't say aren't thick. For $150, this is seriously a very hardcore little synth. No, you won't be able to make piano, or piccolo sounds on it. But, if you like dirty, gritty electronic basses, this is it.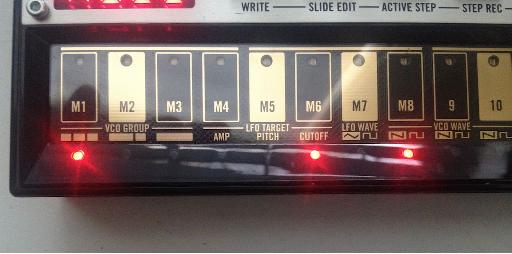 Group all the oscillators together to get a really fat sound.
Sync and Output
Like the other Volca kids, the Bass syncs via MIDI, or Control Voltage. Personally, I've taken to using MIDI sync. Control Voltages work on these devices, but there is some bleed. But, there again, the old school instruments that these devices emulate had quirks of their own. So, I'm willing to cut some slack.
You can play Volca Bass via MIDI, using an external controller. It works wonderfully in this regard for sequencing either on the internal sequencer, or using a DAW. I will say that I tend to use the internal sequencer more often than merely making it a MIDI slave. It's incredibly adept at coming up with killer basslines quickly using some of the sequencer functions we should talk about... Now.
Slide and Active Step
Modifying timing and play order of notes has always been a favorite way to mix up melodies and grooves and create new ones. The active step functionality found on all the Volcas is a way to shut off individual notes within the 16-part sequence. This changes up the timing and allows you to quickly get some great variations. This function is particularly cool on the Volca Bass, as its thick, punchy basses react nicely to the change ups, especially when in unison.
One thing that differentiates the Bass, sequencer-wise, from the other Volcas would be its slide ability. When in slide mode, you're able to, similarly to the 303, make some wicked bass slides that you can control. You simply click the steps that you slide, and don't select the ones that shouldn't. Again, this is a function that you can bet, like Active Step, is going to be used for a lot of live performances.
Envelope and LFO
Korg was, again, very clever with the route-ability of the Volca Bass. For example, the EG Envelope functionality acts by default as a filter envelope. By pressing FUNC+12, you can also switch the envelope over so that it works as an Amplitude Envelope instead. This opens things up for two types of synth expression.
The LFO can also be routed to control either Amplitude, Pitch, or Cutoff. This, again, sets the Volca Bass up as a very versatile synth, as you can use it for crazy wobbles, slow, ethereal filter sweeps, over time, and some crazy, noisy synth sounds, to boot.
Oscillators
On the Volca Bass, there are three VCO buttons that allow you to switch between focusing on the three different oscillators. These buttons also act as Mute buttons, when coupled with the FUNC button. Being able to mute, enable and sequence different parts this easily is unheard of with a synth of this price. You can even switch each different oscillator from sawtooth, to square wave, individually. This means you can have a square wave playing one part, while the sawtooth is playing another part, all on one Volca. Very cool!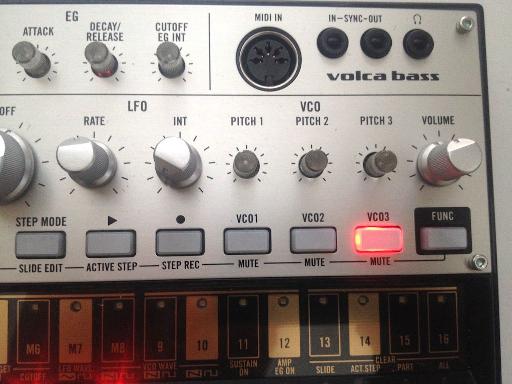 Switch beween the three oscillators with the VCO buttons, or use them together with the FUNC button to mute parts.
Conclusion
Out of all of the Volcas, the Bass is my favorite. It's the beefiest, and in my opinion, the most well rounded. And, it's still got that good ol' Volca price. Out of all the Volcas, I think this one is going to be the classic. All the Volcas, though, in my opinion, are going to be classic for one reason or another. Time will tell. In the meantime, good luck ordering one online or at a music store. They sell out fast!