Looking for a portable synth with excellent organ sounds, built-in speakers which is fun to play and perform with? Then look no further than Yamaha's reface YC. Find out more in our video review.
A portable combo organ that is battery powered, has 9 physical drawbars, built in speakers, and emulates 5 different classic organs from various time periods? Sign me up! The Yamaha reface YC is one of 4 keyboards that is getting Yamaha a ton of well-earned attention. I had a chance to play with all 4 of them, and here's my take on the YC.
Watch our video overview of the Yamaha Reface YC in action:
[courses_slider]
The Sound
The YC can model an American tonewheel organ, a British transistor organ, an Italian transistor organ, a Japanese transistor organ, as well as the Yamaha YC-45D. This means you'll get all the Hammond, Vox, and Farfisa sounds that you can shake a (pitch) stick at. The YC sports 128-note polyphony so there's really no chance of voice stealing or dropouts here. You've also got all the traditional modulation aspects that you'd expect on an organ. Drawbars, percussion, vibrato, chorus, and rotary speaker emulation are all here. You can also add distortion and reverb in the effect section.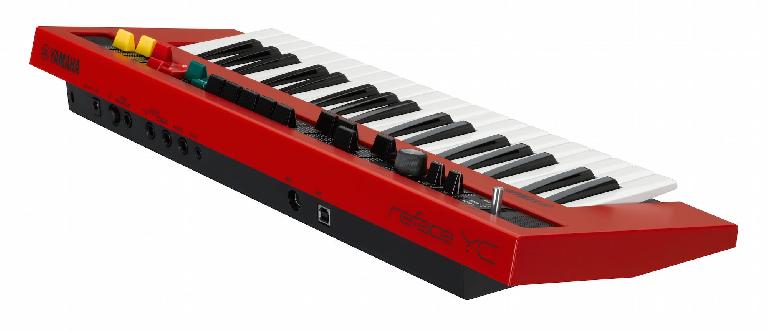 There are no 'presets' on the YC. Yamaha's portable little wonder is a 'what you see is what you get' type of keyboard. The sounds you get out of it will reflect wherever the drawbars and effect/modulation switches are. It behaves like a traditional organ, at about a tenth of the size. The keys are small in order to fit the 'super portable' profile, but they feel sturdy and of a good quality. The built in speakers are the typical 2 watt 3 cm speakers that come with the entire reface line, but they are certainly usable for practice and sound design. As with the other reface keyboards, I had no problem designing sounds in my bedroom using the built-in speakers, and then translating those sounds to the stage by plugging the reface YC into my amp.
The Fit and Finish
The YC sports a sleek red finish and feels extremely durable. The sliders and switches definitely give off a retro feel. The styling reminds me of the legendary Yamaha CS-80 as well as some of the Hammond home organ models of the late '70s–'80s. Yamaha definitely focused quite a bit on the aesthetic with the entire reface line, and the YC is no exception to this.

There is USB onboard for MIDI connectivity to a computer or iOS device. There are dual 1/4" outputs, a headphone output, and a 1/8" audio 'passthrough' that will allow you to hear a mobile device mixed in with the instrument output for practice purposes.
[ad_unit]
Conclusion
The entire reface series put a huge smile on my face. These keyboards are just so… fun! Sometimes, working in this industry we can get extremely focused on the details and specs behind every little piece of gear. The Yamaha reface keyboards are a good reminder of just how FUN it can be to own keyboards, and it does a good job of making different types of keyboards accessible very quickly. You can pick this thing up, sit on the couch, flip it on, and start noodling. You can bring it on tour to practice with in the hotel room, and you can even put it on top of a piano when playing live to give yourself a good organ sound for a few songs. The YC is a big win for Yamaha, and an even bigger win for anyone lucky enough to pick one up.