Smart & Modular MIDI Controller, Specialwaves Mine, Preview, Features & Kickstarter Info
Here's a scoop on the latest news for the modular MIDI controller, Mine, from Specialwaves first revealed in late November 2016. Interest was astronomical, so we spoke with the team who reveal more.
We were the first site to break the news on the innovative Specialwaves Mine modular MIDI controller. Need to jog your memory? Check out our original story on Specialwaves Mine & MineS here.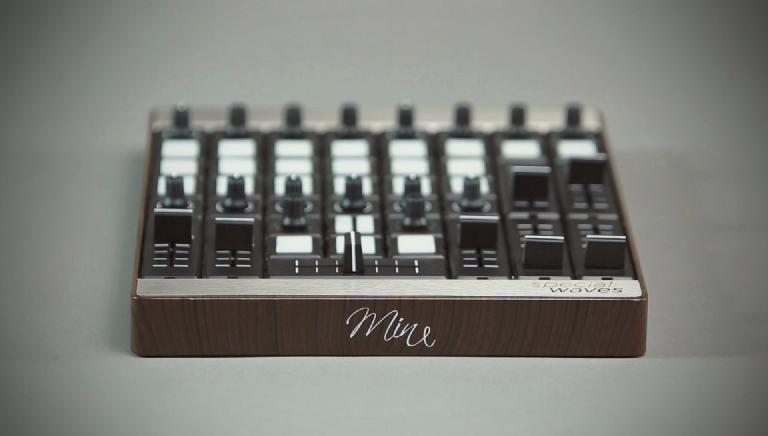 Briefly, Specialwaves have created the lego or mechano (children of the 80s know what I'm talking about) of MIDI controllers. But, it goes further than being a DIY controller you build yourself. Specialwaves, based in Milan, have designed a customisable controller system so you can swap out modules to create the ideal layout for your needs. Change your mind or workflow? You can change the layout of Mine or MineS to suit. Need to switch from studio to stage? Go customise Mine. What if you break or damage a single fader or rotary encoder, etc? No problem. Replace just that module.
The idea is that Mine could be the only MIDI controller you'll ever need. And judging by the populartiy of our original article on Mine (one of our top 10 most read of 2016) there is a definite market for a fully customisable controller.
In late December 2016, the Specialwaves team came to Bristol to visit us at AskAudio and showed us the prototypes of Mine and MineS. I got hands on with both and had a chance to discuss the origins and concept of the controller, even looking through Riccardo's impressive thesis and research on music controllers. I came away with a better understanding of the stand out features, for example, that each module is 'smart' and can remember its mapped function even when removed from the base.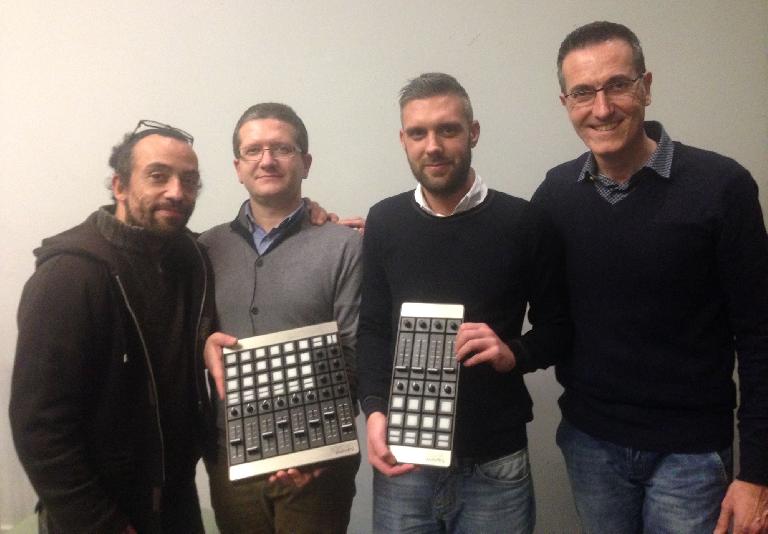 Pic: Specialwaves team in Bristol, UK. (L to R): Max, Livio, Riccardo, Diego.
I was also impressed with their future developement plans through additional hardware modules, in-house software editor, and scripts for Ableton Live being made by Isotonik Studios.
Of course, we looked at the different modules that will be immediately available for Mine and MineS: pad, 2 button, encoder, pot, slider, and blank module. But, we also discussed future modules that producers, musicians and DJs would potentially love, including, LED displays, joypads, touchstrips, motorized faders, XY pads, and Jog wheels (that would likely be the size of four modules).
I'm not at liberty to reveal other private details from our conversations... at least not yet. What I can say is that all musicians, producers and DJs have good reason to be excited by the controller Specialwaves have designed. Perhaps, very excited. And, now Specialwaves are on the verge of launching Mine and MineS on Kickstarter - on the 25th January 2017!
Today, although Specialwaves aren't releasing the pricing details, they have revealed that the Mine will feature connectors for MIDI in and MIDI out, there's a new blank module, and they've collaborated with Isotonik Studios to create a basic script for Ableton Live uers.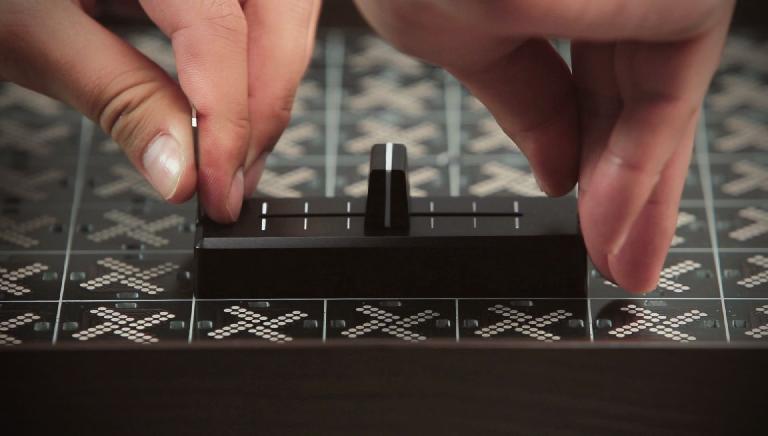 [ad_unit]
Here's the official details which the Specialwave team want to share with the AskAudio audience before anyone else as a thank you for the level of support and interest you all showed back on 26th November 2016!
Specialwaves Mine Launching On Kickstarter Soon...
25th January 2017– the new Italian start-up, Specialwaves, will launch Mine on Kickstarter, the most popular crowdfunding platform that helps creative projects come to life.

Mine is designed for DJs, VJs, producers and musicians who are looking for a highly customizable, expandable and reconfigurable product. Mine is a modular midi controller composed by a case which is suitable to accommodate modules. These modules are built by single electronic interfaces in order to offer the maximum flexibility in the creation of your own configuration.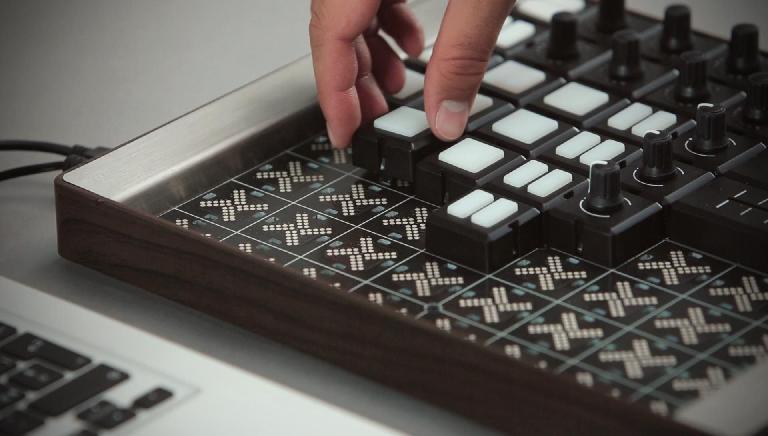 Modules can be inserted into the case or removed at will: in this way you can create a larger number of possible configurations. Right now we have six designed modules: Pad, 2 Buttons, Pot, Encoder, Fader and Blank module. The distinctive trait, never seen before, is the continuous evolution and upgrade of the product: in fact new modules can be designed according to suggestions from the "Mine community". Each module can be placed in both horizontal and vertical position allowing more flexibility of use.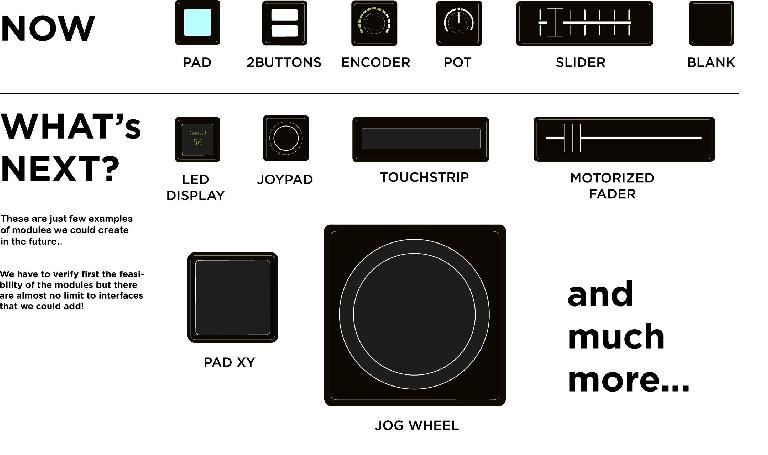 Currently two versions of controller are available: Mine and MineS. Mine consists of a matrix of 8 rows × 8 columns, that allows the insertion of a maximum of 64 modules; while MineS is a matrix of 8 rows × 4 columns and it can accommodate up to 32 modules.
Mine - up to 64 modules
1 USB for power/connection to Mac or PC
1 power supply connector 12V DC for extra power
2 connectors for expansion
2 connectors for MIDI in & out
Dimensions (mm): 330 x 270 x 30
Mine S - up to 32 modules
1 USB for power/connection to Mac or PC
1 power supply connector 12V DC for extra power
1 connector for expansion
2 connectors for MIDI in & out
Dimensions (mm): 330 x 138 x 30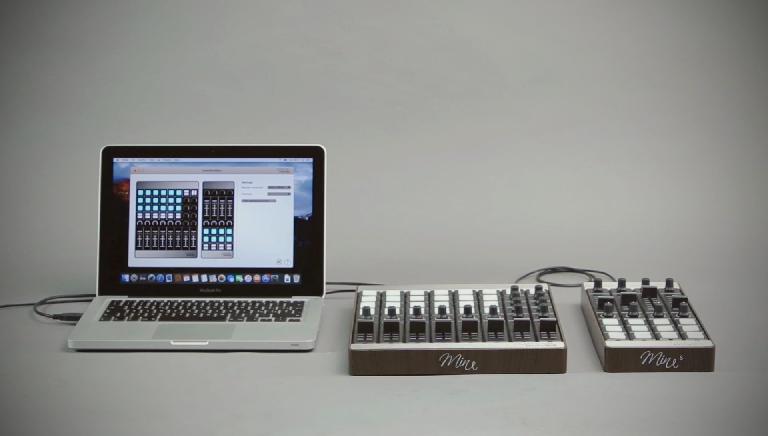 No drivers are needed. Both Mine and Mine S are full-MIDI class compliant; this will allow you to play on all platforms and operating systems. The dedicated controller editor software is the easiest way to configure Mine and Mine S. It will automatically recognize the type of module, its position and orientation. Thus, the Mine configuration is very simple. It's also possible to modify the parameters of each individual module and save the settings directly on the module.
The user can connect one device to the other and build it up as one bigger control surface. In this configuration, the controller editor software will recognize Mine and MineS as a unique control surface.
We are proud to announce the new collaboration with Isotonik Studios that will allow all Ableton Live users to use a basic-function script for free!
Darren Cowley, founder of Isotonik Studios, told AskAudio, "we're really excited about the Mine project. Since we started our journey we've been searching for the ultimate setup, the trouble is each time we think we've found it we get bored... just like Scalextric... the Specialwaves project may just be the quench to our thirst for MIDI controller perfection."
Why Choose This Modular Controller?
The main characteristic and advantages that diversify Mine from all the other controllers and DIY controllers already on the market are:
CUSTOMIZATION

: users can choose their own configuration and place the modules (built by single electronic interface) inside the case to best suit their needs. In fact, Mine is the controller that adapts itself to the user, not the the other way round! This is the meaning of MINE: being able to create your own personal controller.

EXPANDIBILITY & CONTINUOUS EVOLUTION

: The six available modules are only the starting point. The distinctive trait of this product is the possibility to design and create new modules in the future. New modules will be designed according to suggestions coming from the "Mine community". Users can both add new modules and link one or more units together.

RECONFIGURABILITY & LESS OBSOLESCENCE

: The user can reconfigure its layout over and over again by extracting and reinserting the various modules in the desired position and orientation. The different kinds of Music software are evolving and are adding new features year by year. This is why djs, vjs, producers and musicians have to evolve their style along their carrier as well as their approach to the instruments. With commercial controllers djs, vjs, producers and musicians have to buy new instruments according to their needs. With Mine the user can adjust the controller without changing it.

DIY CONTROLLER WITHOUT ANY ELECTRONICS KNOWLEDGE

: Mine is also suitable for users that want to build a customized controller but they have no electronics knowledge.

SMART MODULES

: Every module has a "brain" which is able to communicate with the mainboard of Mine. The brain inside the module allows the mainboard to recognize position, orientation and IDs (i.e. what type of control they are). In addition the user can set up some parameters and save them directly in the modules (e.g. speed of the encoder).

FIRMWARE UPGRADABILITY

: Even the technology that controls Mine has the flexibility to change in order to follow innovative ideas. For this reason it can be easily updated.

DESIGN

: The case of Mine is made of high quality aluminum. The resilience and lightness of this material is perfect for stability and transportation of the product. Even the carter is made up of aluminium covered by a walnut pattern.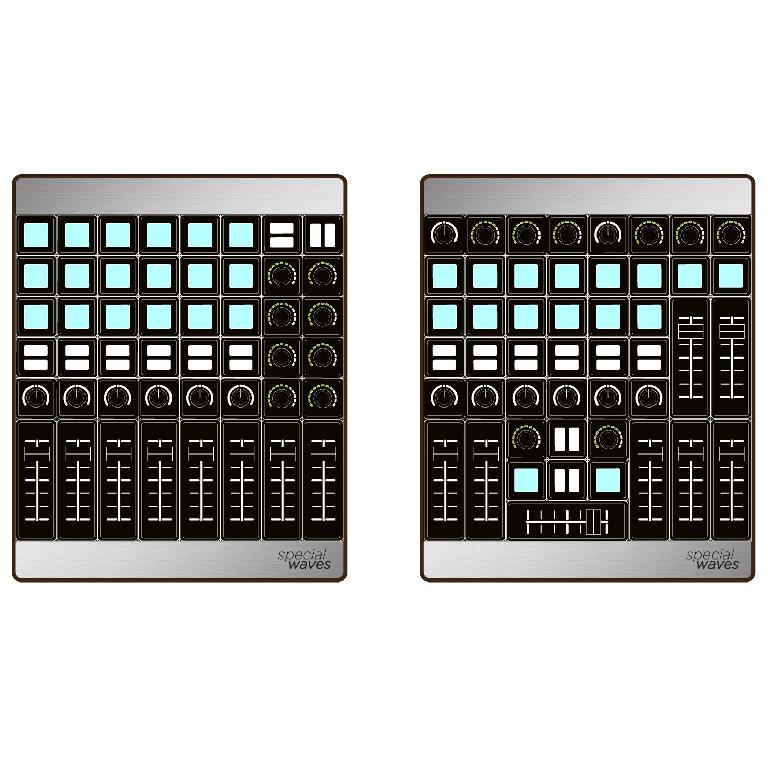 [courses_slider]