Suitable for recording on Apple Mac, Windows PC and iPhone and iPad, the new US-1x2 audio interface from Tascam is ideal for high-quality mobile recording on a budget.
Montebello, CA-August 2017... The newest member of TASCAM's US series of USB 2.0 recording interfaces, the US-1x2 delivers high-quality, 24-bit, 96 kHz desktop recording at an amazingly low price point. An excellent choice for singer/songwriters, podcasters, and small home studios, the compact US-1x2 interface is highly portable and can be USB bus-powered for mobile operation with a Mac or Windows laptop. A secondary 5 VDC mini-USB power input is provided for iOS devices and for standalone operation in practice sessions.
The US-1x2 can record from virtually any source thanks to its selection of inputs. The unit's XLR microphone input employs TASCAM's high-end Ultra-HDDA mic preamp, which uses discrete components and features an impressive -125 dBu EIN rating and 101 dB signal-to-noise ratio, meaning the noise level is so low it's almost inaudible. The Ultra-HDDA preamp's 57 dB gain range and the interface's switchable +48V phantom power make the US-1x2 a great choice for use with almost any type of microphone, including dynamic, condenser, or ribbon mics.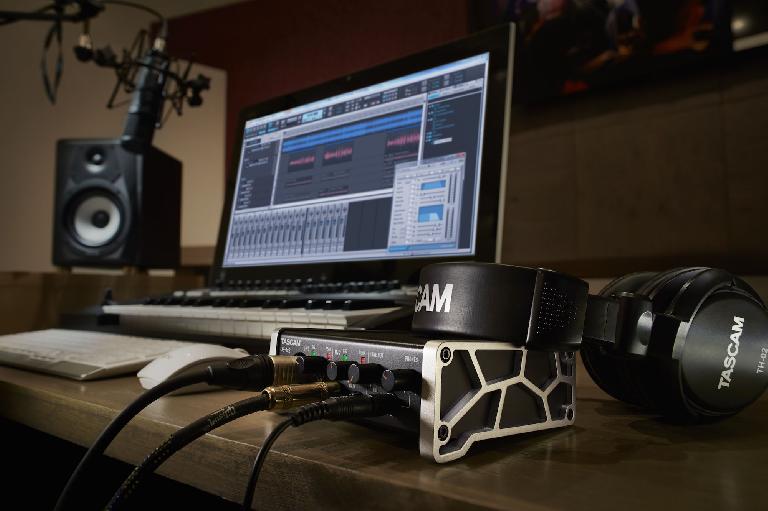 Input 2 can be switched between front- and rear-panel jacks. The front panel sports a switchable, 1/4-inch line/instrument input that enables recording a mono line-level signal (say, from a synth or mixer) or capturing a guitar or electric bass without needing a direct box. On the unit's rear, a pair of RCA line inputs admit signals from stereo consumer audio devices, such as tape decks and media players.
Stereo line-level outputs are provided on RCA connectors, and the line outputs and 1/4-inch stereo headphone output have independent output level controls. The headphone out is plenty loud, thanks to an 18 mW/channel amplifier. Front-panel LEDs indicate signal present, peak/clip, phantom power active, and USB active.
Zero-latency direct monitoring can be enabled with a rear-panel switch or in the included Settings Panel software for Mac and Windows. The Settings Panel also accesses the stereo/mono input monitor, input mute, and audio source output.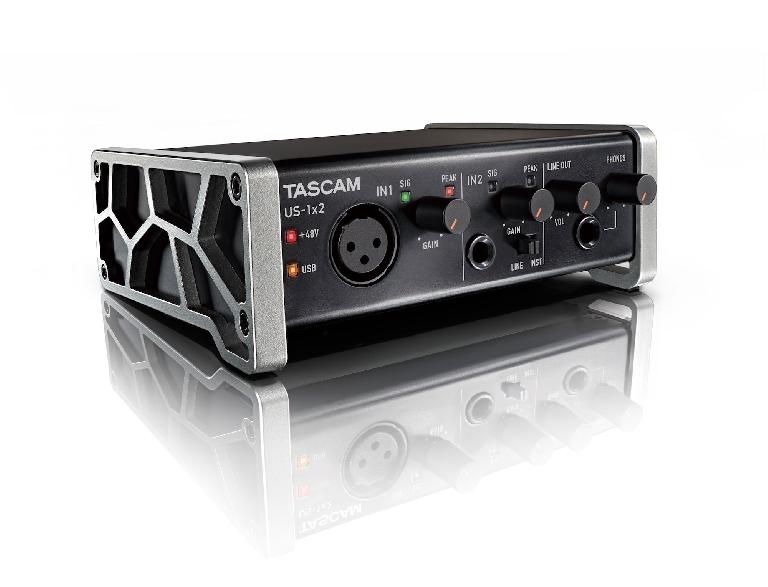 US-1x2 Main Features
One high-quality Ultra-HDDA (High Definition Discrete Architecture) microphone pre-amp with ultra-low noise (EIN: –127 dBu)
Recording at up to 96 kHz / 24 bits
Support for Windows, Mac and iOS operating systems
2-in/2-out audio streaming from a PC connected via USB 2.0
One XLR microphone input with phantom power supply
Wide input gain range of 57dB for dynamic microphones
One 6.3-mm TRS analogue input selectable between line and instrument level
Stereo RCA analogue inputs and outputs
Zero-latency monitoring (direct monitoring)
Headphones output delivering 18 mW per channel
Independent level controls for line and phones outputs
Input signals can be monitored in stereo or mono
Input can be muted on the software settings panel
USB bus-powered for mobile recording
USB Audio Compliance 2.0 for iOS connection
Standalone operation for practice sessions (requires an external power source)
Notification function keeps you updated with the latest information for your product
Automatic update notification helps you to keep your software and firmware up to date (you can install new updates with the press of a button)
Bundled with Cubase LE including Cubasis LE
Rugged aluminum body
Angled industrial design for ease-of-use on a desktop
As with other US-series interfaces, the US-1x2 boasts an attractive industrial design. The new interface is housed in a black powder-coated metal chassis with TASCAM's unique, detachable Bio-Cell side panels, which angle the interface from the desktop for easier access.
The US-1x2 is class compliant for macOS and is compatible with Windows PCs using an easily installed ASIO driver. You also can record and play back with iOS devices such as an iPhone or iPad, using an Apple Camera Connection Kit. Steinberg's Cubase LE DAW for macOS and Windows and Cubasis LE DAW for iOS are included free so you can start recording immediately.
Price: $99
Availabile: Now