Looking for a new Kontakt instrument? Impact Sounds have released Archtop: Hollowbody Electric Guitar featuring a Jim Hall model of said guitar performed by Josh Workman and comprising 9,000 samples.
Sample developer Impact Soundworks released today Archtop: Hollowbody Electric Guitar, their latest virtual instrument for the Native Instruments Kontakt platform. Archtop features an exhaustively sampled Jim Hall model archtop guitar by Sadowsky, outfitted with custom electronics and performed by Josh Workman. The library is compatible with the free Kontakt 5 Player, and is available for special introductory pricing through January 15, 2014.

'¨Archtop is designed to suit a wide variety of musical genres, from jazz, blues, and funk, to R&B, pop, and rock; as it was recorded completely clean with two blendable pickups, the instrument can be used in virtually any context. A range of vital articulations are included, such as thumbed octaves, picked sustains, hammer-on and pull-off legato, portamento (glissando), tremolo, harmonics, and more.
Impact Soundworks was founded in 2007 by composers Andrew Aversa and Will Roget, II with the goal of creating innovative, affordable and unique sample libraries 'designed with composers in mind.'

'We were thrilled to collaborate with Josh to create this instrument,' said Aversa, lead designer of the library. 'Thanks to his extensive experience as a session player and performer, we were able to capture and include all the essential techniques and nuances that make the end result great.'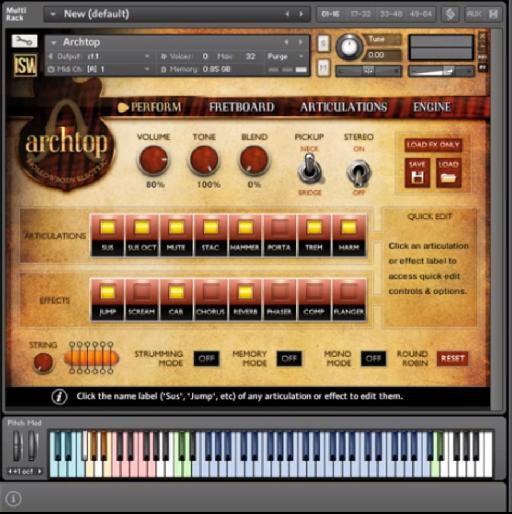 The sound content of Archtop includes nearly 9,000 24-bit stereo samples, with up to 4 dynamic layers and 8 round robins per note. It also features a detailed, custom user interface allowing total control over instrument mapping, fretting, effects, and engine settings.

'The goal for Archtop was for it to sound great out of the box with a very gentle learning curve. Keyswitches and MIDI CCs are not required, and any articulation can be toggled or remapped with just a few clicks. Adding effects or changing presets is a snap, and advanced users will find the engine settings to be quite detailed!' explained Aversa.

Archtop: Hollowbody Electric Guitar is available now at Impact Soundworks for a discounted intro price of $139 (list price: $159). Owners of the Shreddage 2 library can crossgrade for an intro price of $119. This deal expires January 15, 2014. For more info and to purchase, please visit:

Web: http://impactsoundworks.com/products/guitar-and-bass/archtop-hollowbody-electric-guitar/