Who wants a FREE Logic Pro Environment for remapping notes?'¦ It's not a tough choice when you see what our resident Logic genius, Peter Schwartz, has created specially for you!
Welcome to another MPV FREE Stuff!

Imagine if Logic Pro had a note remapper... you know, so you could use your MIDI keyboard to play one pattern and have Logic generate different notes... well, imagine no longer! Peter Schwartz has been sculpting away deep inside Logic's environment and created something rather special for all of us: The Logic Pro Note Remapper.


Why Remap Notes?
Remapping the notes on your MIDI controller to generate other notes is a really useful trick with multiple applications. Here are just a few:
In a sampled drum kit where there's only one snare sound -- assigned to, say, D1 -- having multiple keys available to output D1 then makes it easy to play in snare rolls, flams, or ghost strokes using that one sound.

When using drum pads to play scales or melodic patterns from a synth plugin, the notes generated from the pads can be remapped to other notes that then trigger the desired pitches from the synth.

When simulating harp glissandi by swiping along a keyboard's white keys, remapping those notes lets you determine what scale will be produced

Remapping notes to play other pitches can make it easier to play difficult scales, or to produce artificial or new scale types.

Here's what it looks like: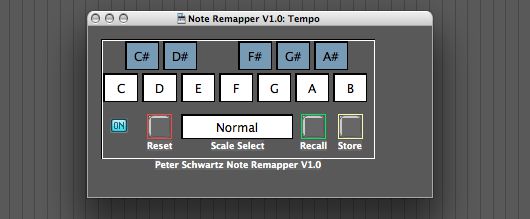 Instructions
On/Off Switch: activates or bypasses the remapper
Keyboard: menus for each of the 12 chromatic notes of the octave. Click, hold, and scroll to change the pitch of a note. Remapping a note will affect all other notes of the same pitch across the keyboard, but they will transpose to their proper octave.
Example: remap C to C#. All C's will now output C#'s in their respective octaves. Thus, Middle C (C3) will produce C#3, C4 will produce C#4, etc.
Notes can be altered up to 1 octave above or below their original pitch in 1/2 step increments
Scale Select: a flip menu for selecting and naming 13 available memory locations for storing and recalling custom note remappings.
Programming Scales, Memory Store and Recall
Regardless of which memory location you've selected, changes you make to a note map will immediately be written to the displayed memory location. But if you don't want to
disturb the settings for a particular scale, select the first item in the menu called "Sandbox". This is a memory location intended to let you experiment with different settings, after which you can store the map in one of the other 12 memory locations.
To store the currently displayed note map to a new location:
select the desired memory location

click Store

To recall a saved note map:
select the desired memory location

click Recall

To rename a scale:
double-click directly on the Scale Select menu

enter text in the appropriate text field

Reset: instantly resets the notes of the currently selected memory location (including the Sandbox) to normal chromatic notes. Use with caution!
Download Note Remapper V1b