There's something wonderfully intuitive & fun about making music with a Step Sequencer. Sign-in to download an Exclusive & Free Step Sequencer (with Randomizer features) built-in Logic's Environment.
Logic's Environment can be a place of wonder and amazement. It's a place where you can build some truly interesting instruments and musical machines, from simply connecting multiple channel strips or going as far as to build awe-inspiring live performance rigs with arpeggiators, delay lines, chord memorisers, etc. And what I really love is that with a couple of simple objects, a few ideas and some time to spare you can create some fairly complex environments that can make your music productions stand out from the crowd.

My interest in building strange contraptions in Logic is down to being inspired by Environment guru, SteveH, and his Logic TNT 3 series. He's certainly partly responsible for the resulting Step Sequencer I'd like to share with you!
(Download link at end of article.)
What is it?
It's a cross between the Step Sequencer in Ultrabeat and the Hyper Editor, built entirely inside Logic's Environment! It features a couple of interesting randomization modes, too. I decided to build a Step Sequencer in Logic's Environment while experimenting with creating rhythmic patterns and textures that can randomly evolve in real-time.

It's not designed to replace either the Hyper Editor or Ultrabeat's sequencer! It is designed to be fun, functional, random and real-time.
So, How Does it Work?

Basically, it's a real-time sequencer powered by Logic's MIDI Click object (which feeds the metronome). The Click must be ON and Logic's Transport MUST BE IN PLAY MODE for the step sequencer to work.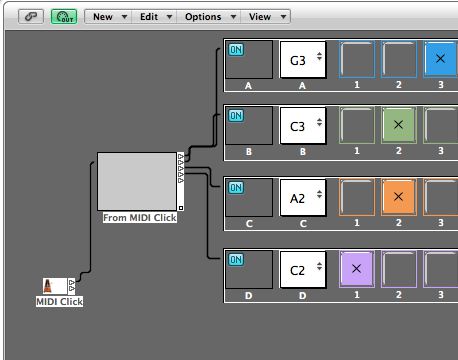 Logic's Click object must be cabled to the Step Sequencer(s).
Note: You can mute/unmute the Click track in the Mixer layer if you wish.
The output of the environment is routed to the Sequencer Input (Click & Ports layer), so the selected Software Instrument track (or tracks) in '˜Record Ready' mode will be triggered.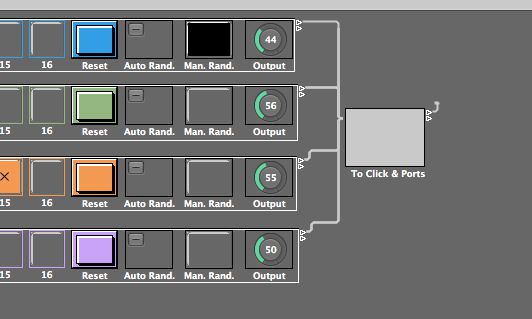 The Output of all Step Sequencers must be routed to a Software Instrument Channel Strip or the Sequencer object on the Clicks & Ports Layer.
If you wish to capture this pattern to a MIDI region in the Arrange area simply use Logic's Record button in the Transport bar!
Lots of Buttons. What do they do?
Each row of the 16-Step Sequencer is independent. So, let's focus on one: Row A.
Disable the ON buttons (far left) for rows B, C and D. These buttons turn the Step Sequencer Row on or off.

The white button is the pitch selector menu for that row.

The central area of each row consists of 16 buttons. Click inside a button to insert a step. When it is highlighted a step is present, when it's grey, no note will be triggered.

The Reset button turns off all steps for that row.

Auto Rand. will automatically randomize all steps for that row.

The Man. Rand. button does what it says on the tin. Hit this button to manually randomize the steps on that row immediately. (This button will display a black square if Auto Rand. mode is enabled.)

Finally, there's the Output rotary knob. Use this to determine the overall velocity level for that row. This works in real-time and is very fun to play with!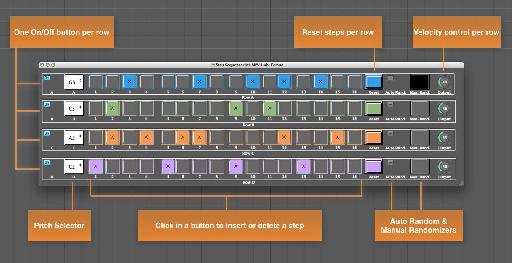 Can I Use the Step Sequencer with Multiple Channels and/or Route it to Individual Channel Strips?
Yes. Shift-click on the '˜Record Ready' button in the track header to send the MIDI notes from the Step Sequencer to those tracks.
If you want to use Row A with Inst 1 and Row B with Inst 2, for example, then drag the output cable from the row directly to the desired channel strip in the Environment's Mixer layer. Lots of potential possibilities!
Nice! Can I Add More than 4 Rows?
Sure you can. Just Option-Drag a row and make sure it is cabled up from Midi Click and its output is cabled to the 'To Clicks & Ports' or the Software Inst Channel strip in the Mixer of your choice. Switch to Screenset 2 for easier access to amend the Step Sequencer.
How Does it Work Again? Can I Look Inside?

Of course! Check out Screen Set 2. Copy one of the rows and double-click inside the background of the row itself to unpack the macro. Take a peek. Yes, there are lots of cables and objects, but the basis of this environment is the delay line object...

Double-click in an empty area of the Macro to unpack it and peek inside!
I'd highly recommend asking questions on the macProVideo.com forums and checking out the Logic 304 TNT3 series. There are some excellent Logic based tips and tricks there. All the ideas and know-how involved in constructing this first version is in this Tutorial-Video series!
What's Missing?

The one area I haven't had time to work on is mapping the knobs and buttons to a MIDI Controller. It's very possible to do (see my Cameo in the Logic TNT3 on creating a visual metronome.)
Please feel free to add this functionality!
Anything Else I Should Know About?

Yes. This Step Sequencer is free to use and modify. If you share it, I'd love you to acknowledge me by name and/or link back to this article on The MPV Hub as the source.
(Feel free to tell the world about it too: Like it on Facebook & Tweet it using the relevant buttons on this page!)
If you modify it please do share on the MPV Forums and drop me a comment here. Sharing environments is a great way to collaborate and learn more about Logic.
Thank You and Enjoy :)
**DOWNLOAD THE LOGIC 9 STEP SEQUENCER (Exclusive to MPV Hub) HERE**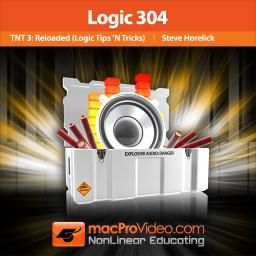 Learn how to do create your own interesting Environment in Logic: Logic 304: Logic TNT3