If you're a composer with Kontakt and not heard for Spitfire Audio BML series you're in for a treat! MURAL, Volume 2 is here and features carefully sampled strings recorded at AIR Studios, London.
LONDON, UK: compositional tools creator Spitfire Audio is proud to announce availability of MURAL - VOLUME 2 — the second instalment in its new gold standard-setting, deeply-sampled symphonic strings collection for THE BRITISH MODULAR LIBRARY (BML), boasting fundamental articulations — as of May 21...

With MURAL - VOLUME 2, its latest sample instrument collection for Native Instruments' KONTAKT 4 or 5 (Mac OS X 10.7 or higher and Windows 7 or later), Spitfire Audio ably picks up where it inventively left off with MURAL - VOLUME 1... shaping the ultimate symphonic-sized, detailed strings collection as part of its broad-ranging BML range, a longterm project to create the greatest-sounding, deepest sampled, and ultimately future-proofed living orchestral virtual instruments on the planet today!

Like its predecessor, the MURAL - VOLUME 2 collection collectively makes masterful use of its Mural namesake, a large symphonic string section comprising 16 1st Violins, 14 2nd Violins, 12 Violas, 10 Cellos, and eight Basses. All are professionally performed by some of the finest players in London with each section carefully captured in situ by award-winning producer/recording engineer Jake Jackson at Lyndhurst Hall within London's legendary AIR Studios via the finest ribbon mics and Neve 'AIR Montserrat' preamps through the world's largest Neve 88R console onto a meticulously maintained Studer two-inch tape machine — making BML the only orchestral sample library on the market to be firstly recorded to tape — then finally to 24-bit/96kHz digital audio via high-end Prism AD convertors combining to produce a stunning sound.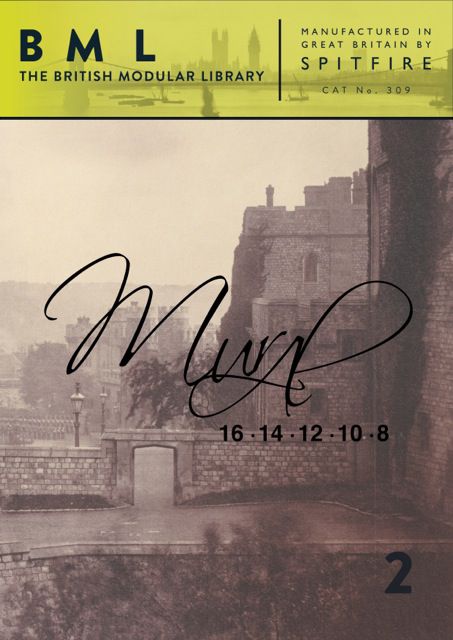 Recorded deeply with up to eight round robins and numerous dynamic layers and controls, including vibrato and intelligent legato switching, the remarkable results can all be controlled totally independently within MURAL - VOLUME 2 by the end user. As always, meticulous mixing and precise perspective and placement lock together with each and every BML module as if they were all in the same room when recording. Why? Well, when you start putting sections together, it simply works — no mixing, panning, or careful manipulation of reverbs required!

Moreover, MURAL - VOLUME 2 features a carefully curated selection of articulations to compliment MURAL - VOLUME 1, providing perceptive professionals with open access to even greater sound colours, detail, and depth of expression with some simply stunning have- to-be-heard-to-be-believed must-haves thrown in for good measure! Marvel at articulations galore, including fully-functional — albeit requiring access to MURAL - VOLUME 1 — legato, portamento, and détaché; methodically measured 1'0 and 0'5 shorts; col legno — striking strings with the stick of the bow, rather than drawing hair of the bow across the strings; greater emotion and expression with longs molto vibrato (molto expressivo) — an extra degree of vibrato; haunting longs sul pont — 'dampening' notes or chords by bow or hand; longs sul pont con sordino — with mute; searing longs sul pont distorted; and heartbreaking longs sul tasto — bow kept over fingerboard to produce a soft, thin tone; together with must-have measured trems and trills.

And as if that wasn't enough to be getting on with, MURAL - VOLUME 2 also includes a selection of outstanding FX, curated, produced, and orchestrated by award-winning composers with 'tense' longs worth the price of admission alone! Articulative gaps in MURAL - VOLUME 1 have been further filled in with bartok pizzicato — a strong pizzicato where the string is plucked vertically by snapping and rebounds off the fingerboard; harmonics; and unmeasured trems for the 2nd Violins and Violas.

Says the Spitfire Audio team themselves: "We feel this instalment of our symphonic range makes the MURAL library the first-go comprehensive collection of samples any discerning composer would reach for."

For MURAL is not an epic, dirge-ridden sludge of trailer-making strings, but rather pure in its detail and beauty... a beautiful combination that positively encourages its users to write better orchestral music, whenever and wherever the need arises.

MURAL - VOLUME 2 can be purchased and downloaded directly from Spitfire Audio for an introductory promotional price of £339.00 GBP rising to £399.00 GBP on June 1, 2014 (subject to VAT within the EU) from here: http://www.spitfireaudio.com/products-page (Note that this will require a full version of Native Instruments KONTAKT 4 or 5 to run.)

For more detailed info and an awe-inspiring audio demo visit the MURAL - VOLUME 2 webpage here: http://www.spitfireaudio.com/bml-mural-volume-2

Watch Spitfire Audio co-founder Paul Thomson's telling MURAL - VOLUME 2 video walkthrough here: