If you're looking for ways to create rhythmic and melodic parts in the clip editor in Ableton Live then Isotonik Studios have you covered with MIDI Modulators. Here's info about the Max4Live device.
Imagine being able to bring some of your favorite MIDI workflows from Cubase or Logic Pro to Ableton Live. Thanks to Isotonik Studios you can. Here's what they tell us about the update they've issued for the already impressive Chaos Cultures MultiClip Editor (which made it possible to edit more than one MIDI clip in the same Piano Roll).
14 January 2017–We released Chaos Cultures MultiClip Editor to critical acclaim in 2016. It solved an age old feature request for Ableton Live users being able to edit multiple MIDI Clips from Arrange and Session View in the same Piano Roll...
Based on user feedback we enhanced the package to include a number of rudimentary MIDI editing features that emulated some of the workflow enhancements available in other DAW's like Cubase and Logic...
With this latest release we've updated and refined further the Modulators and made them available as a separate device to work on one clip at a time...
Simply select the notes you want to edit and then choose your Modulator Option and dial in the variables, it's so simple even i can do it!
Available Modulators:
Transform loop

: Loops all or only selected notes. The time selection, which can be changed in the timeline, can be used to use as a reference. Pitch and velocity can be offset per iteration

Transform stretch

: Stretches all or selected notes by multiplying or dividing their positions and lengths to a custom value. The note lengths can be ignored.

Quantize time

: Quantizes all or selected notes to the current grid. Additionally to the default quantization note end positions or lengths (relative to start position) can be quantized as well. Amounts and rounding rules can be set to minimize quantization errors.

Quantize scale

: If a scale is active (settings) the pitch of all or selected notes will be quantized to fit the scale.

Chord inversion

: This modulator will go through chord inversions to get as close as possible to a custom MIDI pitch value. This also works with microtonal scales.

Utility pitch limit

: All or only the selected notes will be transposed (per octave by default) to fit into a custom pitch range. Microtonal scales are also supported.

Utility velocity limit

: Limits the velocity of all or selected notes to a custom range. Curve options are available as well.

Utility seamless loop

: Finds notes that are overlapping with the start and end positions of the clip or the time selection and copies them to the other side to create a seamless loop.

Selection (Pitch / Velocity / Clip / Random)

: The Selection modulators will select or deselect notes. You can replace, add, subtract and intersect similar to picture manipulating applications.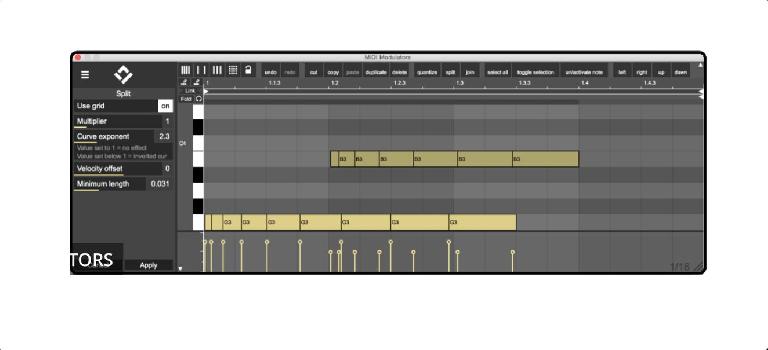 There's a complete range of videos showing how easy it is to quickly and creatively edit the contents of your MIDI clips on our product page by clicking below...