We love teasers. Today, Wave Alchemy have revealed a new Revolution instrument for Kontakt Player (free) coming later this year. There's some excellent new features... here's the info we can share.
The big news for music instrument lovers or late has been mainly in the hardware realm. Arturia's DrumBrute, Roland's new Boutique TB-03 and TR-09, and Korg Monologue are just some of the recent ones that have had music makers swooning (or groaning?) But, there's awesome software instruments available too which shouldn't be overlooked. And frankly, we're pretty excited by Wave Alchemy's upcoming Revolution instrumentthat will be making its way to a DAW near you in time for Christmas 2016.
On their Facebook page, Wave Alchemy have shown us the drop-dead sexy interface and answered a few questions. Now, I should point out we have been in contact with Wave Alchemy and knew about the impending release of the new instrument... but, I'm not going to spill the beans and spoil this Christmas surprise until Wave Alchemy are ready to announce all the details officially.
What I can say (again?) is we're REALLy excited.
Here's some details that have been revealed already:
The new instrument is a powerful drum machine and sampler and will be a Kontakt Player licensed instrument, meaning it runs inside the Free Kontakt Player. Plus, it will also be fully NKS ready (fully setup for Komplete Kontrol keyboard controllers).
Although Wave Alchemy are keeping tight-lipped about the price, we understand there will be a very reasonble upgrade path for those who already own any of their current Revolution instruments (Transistor Revolution, Digital Revolution, Revolution-606).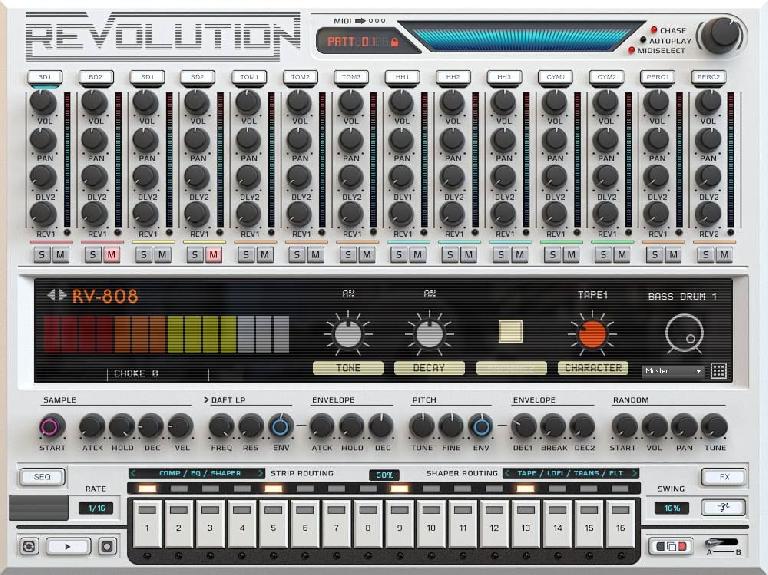 Dan from Wave Alchemy tells us, "The new instrument has been totally redesigned and is a MASSIVE improvement over Transistor Revolution - it's an absolute breeze to use. Not only that - there are MANY drum machines included in the new instrument, not just the 808/909 + tons of amazing new features which we'll be announcing over the coming weeks."
If you're not even slightly excited please check your pulse.
If you're curious about just how good Wave Alchemy instruments are, check out our reviews of Transitor Revolution & Mutate.