After all this time the MPC still holds its own. If you're out to get that MPC feel via software then Cubase 6 has something for you. Mo Volans gets looping in Groove Agent.
In den vergangenen Artikeln haben wir eine ganze Reihe MPC lookalikes erforscht. Instrumente wie Kong und Maschine sind in der Lage, in Scheiben geschnitten Proben und Wiedergabe Drum-Hits aus ihrer 16 Pads Karte aber nur wenige DAWs gehören ein Instrument wie dieses als Standard.
Cubase 6 kommt allerdings mit einem Instrument namens Groove Agent. Dies ist ein wirklich tolles virtuelles Gerät und wenn Sie ein Cubase Besitzer sind seine Existenz kann bedeuten, dass Sie nicht alle Produkte von Drittanbietern müssen MPC wie Ergebnisse zu erhalten.
Loading Proben in den Groove Agent
So gut wie jeder Ton oder Probe in die Groove Agents Pads geladen werden. Samples, Drum-Hits, Loops und sogar Gesang kann hier eingesetzt werden und sie können geladen werden, indem Sie einfach mit Cubase Drag-and-Drop-System. Die Proben können per Drag & Drop von fast überall in der Anwendung.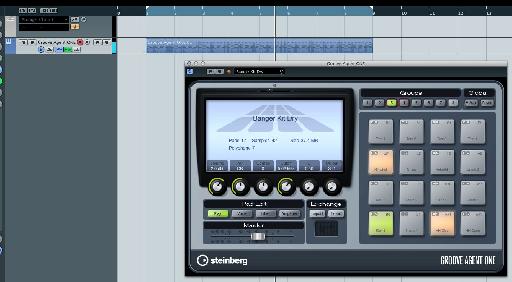 Ein Kit in Groove Agent geladen werden.
Groove Agent Proben aus der Media Bay, Audio-Tracks und sogar von Ihrem Desktop oder Ordner innerhalb Ihres Betriebssystems zu akzeptieren. Obwohl es wirklich gut als One-Shot-Drum-Machine oder Sample-Playback-Einheit führt, würde Ich mag auf seiner Fähigkeit, Karte und Wiedergabe multipart Loops konzentrieren.
Eine einfache Programmierung schlagen mit Groove Agent als Drum-Modul:
[Audio id = "10372"]

Ähnlich wie ein MPC ist Groove Agent in der Lage, jeden Teil eines geschnittenen Schleife zu einzelnen Pads Karte und spielen Sie sie zurück in ihre ursprüngliche Form. Dies ist ein großer Trick für Remixer und DJs, sondern ist ebenso nützlich für jeden, der Arbeit mit Grooves und Loops liebt.
Ziehen Sie einfach eine mehrteilige Schleife (dh eine Schleife, die in Transienten wurde in Scheiben geschnitten) mit einem Pad in der Groove Agent und die Schleife wird automatisch über die 16 Pads überbrückt werden. Jede Scheibe der Schleife kann dann wieder in der gleichen Weise, single shot Drum-Samples wäre gespielt werden.
Generieren Midi From The Groove Agent
Nachdem die Scheiben Ihres Schleife über Groove Agent-Pads überspannt ist groß, aber idealerweise wollen wir in der Lage sein, um die Wiedergabe der Schleife in seiner ursprünglichen Form. Dazu brauchen wir eine MIDI-Datei, die jeden Teil löst genau zur richtigen Zeit.
Das Erstellen einer solchen MIDI-Datei in Groove Agent ist wirklich einfach. Mit Ihrer multipart Schleife zum 'Exchange' Bereich geladen, in der unteren linken Bereich des Groove Agent-Schnittstelle. Jetzt packen das kleine Rechteck und ziehen Sie es an einen verfügbaren MIDI-Spur. Der Teil, dass dies zu produzieren in der Lage ist die Wiedergabe Ihrer geschnittenen Nut in seiner ursprünglichen Form.
Midi ist von Groove Agent in einer Cubases MIDI-Spuren gezogen.
Eine Nut-Schleife spielt vom Groove Agent von der MIDI generiert ausgelöst:
[Audio id = "10428"]

Natürlich wird nicht nur das MIDI-Part-Wiedergabe Ihrer Schleife in seinem eigenen überarbeiteter Form, aber Sie können auch die Daten, wie Ihre Nut spielt verwandeln. Vom einfachen Bearbeitungen vollständige Transformation kann hier erreicht werden, so nehmen Sie ein wenig Zeit, um zu sehen, was Sie können von beweglichen Teilen um zu erreichen.
Mit The Groove Agents Internal Synth-Engine
Groove Agent ist nicht nur eine Wiedergabe-Gerät bietet aber auch eine grundlegende Synth-Engine für jeden Teil. Dies ist das perfekte Werkzeug für die Erstellung von fein abgestimmten Custom-Kits. Jeder Treffer gefiltert und behandelt werden können mit Umschlägen, kann dies auch ermöglichen es Ihnen, einfache Drum-Sounds in Synth ähnliche Effekte zu verwandeln.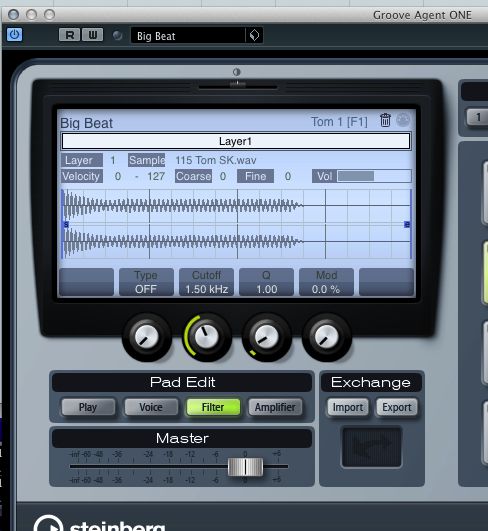 Die Groove Agents internen Synth-Parametern in Aktion.
Zur Verwendung des internen Synth-Parametern wählen Sie einfach einen Block und wählen Sie den Bereich, den Sie bearbeiten möchten, mit den Tabs unter dem großen Display-Bereich. Diese Einstellungen werden mit dem Kit gespeichert und angezeigt jedes Mal, wenn ein bestimmtes Pad sein.