The Chord Track in Cubase 7 is a powerful new feature designed to help you transfrom your music quickly. Hollin Jones introduces some timesaving tips and hints in this tutorial.
La piste d'accords dans Cubase 7 est une nouvelle fonctionnalité remarquablement puissant qui peut aider tout le monde, des débutants aux joueurs plus expérimentés pour créer une musique au son plus avancé et professionnel. Permet de jeter un oeil à quelques conseils pour gagner du temps et des conseils d'initiés pour vous aider à tirer le meilleur parti de celui-ci.
Astuce 1
Un projet peut contenir qu'un seul Chord piste à la fois parce que les liens de piste sur une piste MIDI-triggered, qui doit finalement avoir les accords copiés dans l'ordre pour vous de commencer la programmation d'un nouvel instrument MIDI en utilisant la piste Chord. Vous pouvez cependant assigner une piste Chord à jouer n'importe quelle piste MIDI déclenché dans un projet en l'envoyant à une piste donnée. Ou choisissez utiliser des pistes surveillé pour envoyer à n'importe quel piste actuellement suivi hs activée.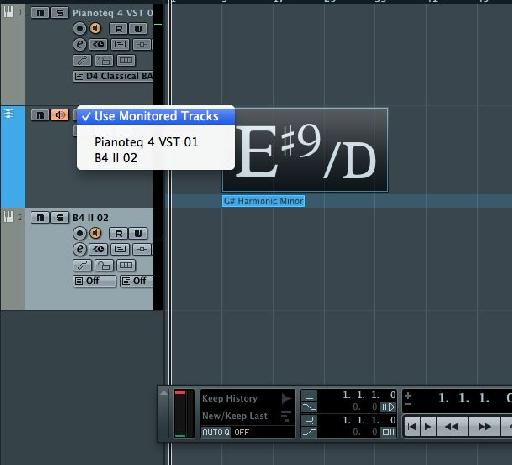 Astuce 2
Les blocs de données dans un Chord Track obéir aux projets s'enclenchent paramètres si vous voulez faire se chevaucher, vous devrez choisir un réglage plus fin comme ou 1/16 ou bien désactiver l'alignement complètement enfoncée et faites glisser événements d'accord autour. Vous pouvez sélectionner les événements et quantifier en utilisant les paramètres de quantification du projet, comme vous pouvez le faire avec toutes les données, donc si vous vous trompez le moment son facile de corriger cela avec un couple de clics.
Astuce n ° 3
La fenêtre de Chord possède une section Assistant Chord et si vous cliquez dessus, il va utiliser ce qu'il sait sur les accords existants pour proposer de nouveaux qui pourrait bien fonctionner dans une séquence. Utilisez la barre de complexité pour passer de suggérer de base à des accords plus avancés, et le menu du mode d'accès sous-contrôles musicaux encore plus détaillées pour la création d'accords.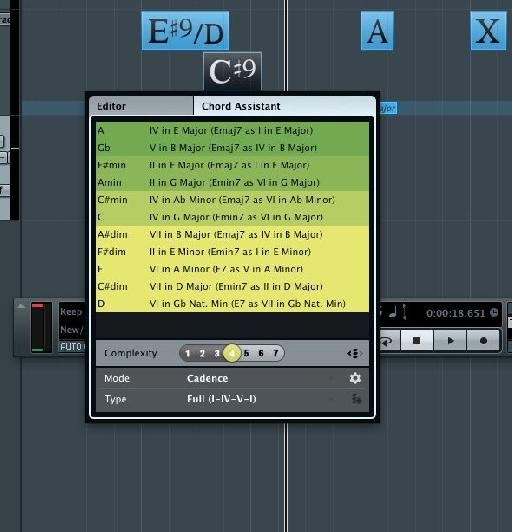 Astuce n ° 4
Dans la section de l'éditeur de la fenêtre de Chord ya encore une possibilité d'entrée MIDI. Lorsque cette fonction est activée, vous pouvez spécifier les notes à utiliser pour la corde en appuyant sur les touches de votre clavier MIDI. Donc, vous savez peut-être pas nécessairement ce qu'est un accord, c'est quand vous jouez dans Cubase, mais allez-vous dire. Vous pouvez ensuite le modifier en ajoutant ou supprimant des notes à l'aide du clavier à l'écran.
Astuce n ° 5
Pour convertir un Chord Track à conteneurs MIDI, il suffit de faire glisser et déposer tout ou partie des événements d'accord sur une piste MIDI dans un projet. Vous pouvez répéter cette opération autant de fois que vous le souhaitez, de sorte que son facile à reproduire un ensemble d'accords sur plusieurs pistes MIDI. Rappelez-vous que lorsque vous avez fait cela, les accords originaux seront toujours sembler si vous aurez besoin de couper la piste Chord ou le débrancher de l'instrument, il joue pour éviter les notes de doublage.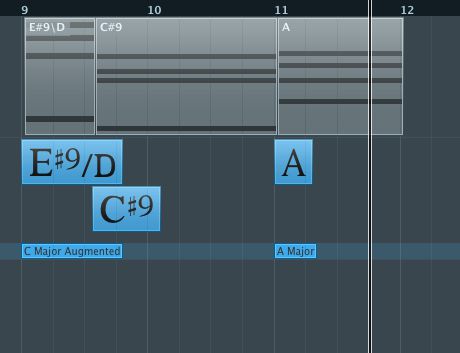 Astuce 6
Le Chord Track peut être affecté à n'importe quel instrument virual mais il aide à configurer correctement un instrument piano, guitare ou générique, pour obtenir les voicings droit. Vous pouvez le faire en allant dans le panneau Inspecteur à la gauche de la piste et l'assigner à un type d'instrument. Dans chacun vous obtenez également un menu d'options pour adapter les accords à différentes échelles et de genres musicaux.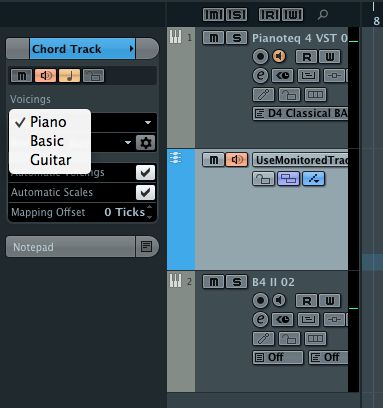 En savoir plus de conseils sur Cubase 7 ici: