The Chord Track in Cubase 7 is a powerful new feature designed to help you transfrom your music quickly. Hollin Jones introduces some timesaving tips and hints in this tutorial.
La traccia Chord in Cubase 7 è un nuovo straordinariamente potente caratteristica che può aiutare tutti, dai principianti ai giocatori più esperti di creare musica che suona più avanzato e professionale. Diamo un'occhiata ad alcuni suggerimenti per risparmiare tempo e suggerimenti insider per aiutarvi a ottenere il massimo da esso.
Suggerimento 1
Un progetto può contenere solo una traccia Chord per volta perché i collegamenti traccia in una traccia MIDI-triggered, che devono finalmente avere le corde copiati in modo per voi di iniziare a programmare un nuovo strumento MIDI utilizzando la traccia Chord. Tuttavia è possibile assegnare una traccia Chord per riprodurre qualsiasi traccia MIDI-triggered in un progetto con l'invio a una determinata traccia. Oppure, scegliere Usa tracce monitorate per inviarlo a qualsiasi traccia di monitoraggio hs abilitato.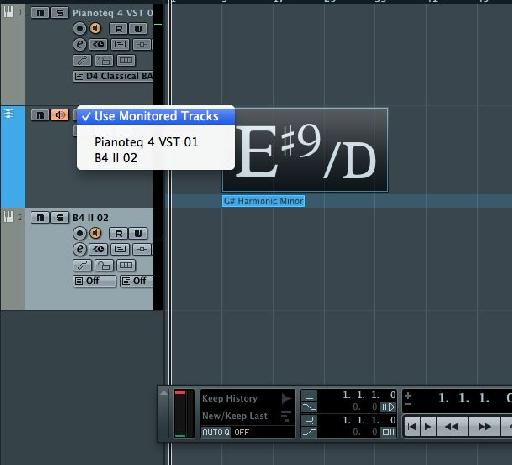 Suggerimento 2
Blocchi di dati in una traccia Chord obbediranno i progetti scattano impostazioni, quindi se si vuole fare loro sovrapposizione è necessario scegliere un'impostazione più fine come o 1/16 o anche disattivare snapping del tutto durante il trascinamento degli eventi di accordi in giro. È possibile selezionare gli eventi e quantizzare utilizzando impostazioni di quantizzazione di progetto, come è possibile con tutti i dati, quindi se sbagli i tempi la sua facile correggere con un paio di clic.
Suggerimento 3
La finestra Chord ha una sezione Assistente Chord e se si fa clic su questo, userà quello che conosce gli accordi esistenti per suggerire nuovi che potrebbero funzionare bene in una sequenza. Utilizzare la barra di complessità di muoversi dal suggerire di base per accordi più avanzati, e il menu della modalità per accedere subcontrols musicali ancora più dettagliate per la creazione di accordi.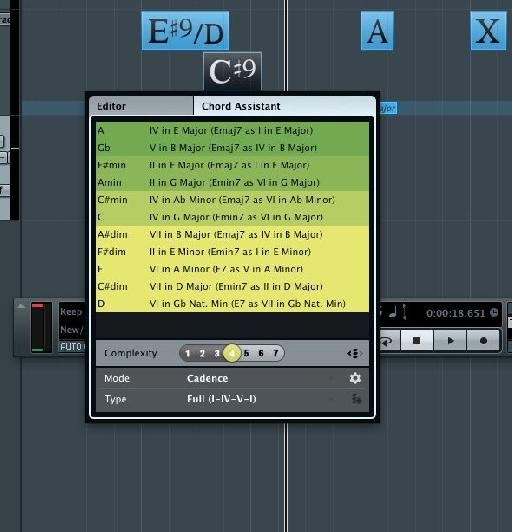 Suggerimento 4
Nella sezione Editor della finestra Chord theres una opzione di ingresso MIDI. Premendo questo tasto, è possibile specificare le note da utilizzare per l'accordo premendo i tasti sulla tastiera MIDI. Quindi, non si può sapere che cosa necessariamente un accordo è quando si gioca in Cubase, ma vi dirà . È quindi possibile modificarlo aggiungendo o rimuovendo le note usando la tastiera su schermo.
Suggerimento 5
Per convertire una traccia Chord per le parti MIDI, è sufficiente trascinare e rilasciare uno o tutti gli eventi Chord in una traccia MIDI in un progetto. È possibile ripetere questo tutte le volte che si vuole, quindi è facile duplicare una serie di accordi su più tracce MIDI. Ricordate che quando avete fatto questo gli accordi originali saranno ancora suonare quindi sarà necessario per disattivare la traccia Chord o scollegarlo dalla strumento si sta giocando per evitare note raddoppio.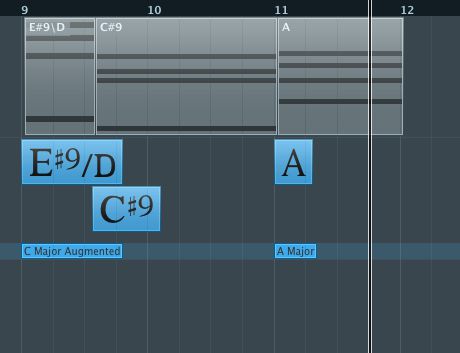 Suggerimento 6
La traccia Chord può essere assegnato a qualsiasi strumento virual ma aiuta a configurarlo correttamente per uno strumento pianoforte, chitarra o generico, per ottenere i voicing destra. Potete farlo andando al pannello Inspector a sinistra della pista e lo assegni ad un tipo di strumento. All'interno di ciascuno di essi si ottiene anche un sottomenu di opzioni per adattare gli accordi di diverse scale e generi musicali.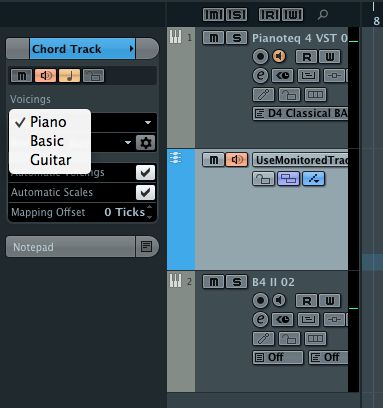 Per saperne di più consigli su Cubase 7 qui: