The Chord Track in Cubase 7 is a powerful new feature designed to help you transfrom your music quickly. Hollin Jones introduces some timesaving tips and hints in this tutorial.
A trilha Chord em Cubase 7 é um novo recurso extremamente poderosa que pode ajudar a todos, desde iniciantes até jogadores mais experientes para criar música que soa mais avançado e profissional. Vamos dar uma olhada em algumas dicas que economizam tempo e dicas privilegiadas para ajudá-lo a tirar o máximo proveito dela.
Dica 1
Um projeto pode conter apenas uma faixa de acordes em um momento porque as ligações pista para uma pista MIDI acionado, o que deve eventualmente ter os acordes copiados para ele a fim de você começar a programar um novo instrumento MIDI usando a faixa de acordes. No entanto, você pode atribuir uma faixa Chord jogar qualquer pista MIDI acionado em um projeto enviando-o para uma determinada pista. Ou, escolha Use Tracks monitorado para enviá-lo para qualquer faixa atualmente monitoramento hs habilitado.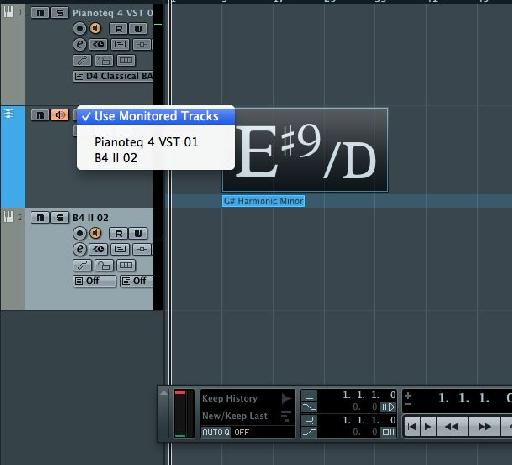 Dica 2
Blocos de dados em uma faixa Chord obedecerá aos projetos tirar configurações então se você quiser fazê-los se sobrepõem você terá que escolher um ajuste mais fino ou como 1/16 ou mesmo desligar tirando completamente enquanto arrasta os eventos em torno da corda. Você pode selecionar eventos e quantificar-los usando as configurações de quantização projeto como você pode com todos os dados, por isso, se você mexer o tempo até a sua fácil corrigi-lo com um par de cliques.
Dica 3
A janela Chord tem uma seção de Assistente Chord e se você clicar sobre isso, ele vai usar o que sabe sobre os acordes existentes para sugerir novos que podem funcionar bem em uma seqüência. Use a barra de complexidade para se deslocar de sugerir básica de acordes mais avançados, e no menu do modo de acessar subcontroles musicais ainda mais detalhadas para a criação de acordes.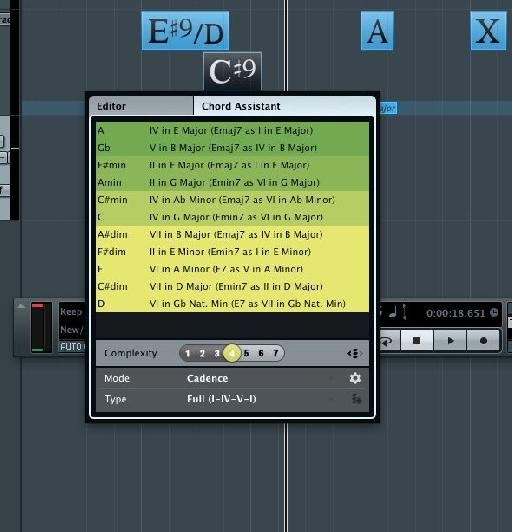 Dica 4
Na seção Editor da janela do Chord há uma opção de entrada MIDI. Quando este é pressionado, você pode especificar as notas a serem usadas para o acorde pressionando as teclas em seu teclado MIDI. Assim, você pode não necessariamente sabe o que é um acorde é quando você reproduzi-lo em Cubase, mas vou te dizer. Em seguida, você pode editá-lo adicionando ou removendo notas usando o teclado na tela.
Dica 5
Para converter uma faixa Chord às partes MIDI, basta arrastar e soltar qualquer ou de todos os eventos de acordes em uma trilha MIDI em um projeto. Você pode repetir isso quantas vezes quiser, por isso é fácil de duplicar um conjunto de acordes em toda a várias faixas MIDI. Lembre-se que quando você tiver feito isso, os acordes originais ainda vai soar assim que você vai precisar para silenciar a faixa Chord ou desconectá-lo do instrumento que está tocando as notas para evitar duplicação.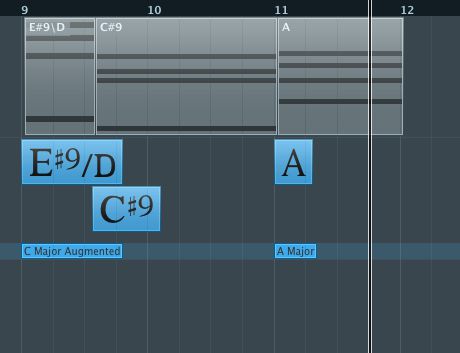 Dica 6
A trilha Chord pode ser atribuído a qualquer instrumento virual mas ajuda a configurá-lo corretamente para um instrumento piano, guitarra ou genérico, para obter as aberturas direita. Você pode fazer isso indo ao painel de Inspector à esquerda da pista e atribuí-la a um tipo de instrumento. Dentro de cada um você também terá um submenu de opções para adaptar os acordes de diferentes escalas e gêneros musicais.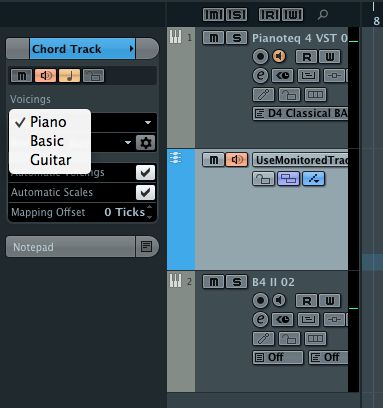 Saiba mais dicas sobre como Cubase 7 aqui: