Not as proficient with the keyboard as you'd like to be? Or perhaps just looking for compositional inspiration? Cubase has the cure with its MIDI generative tools. Hollin Jones jumps right in.
Cubase ist eine hervorragende MIDI-Sequenzer, aber selbst wenn youre nicht ein erfahrener Spieler kann man noch machen Musik dank seiner eingebauten MIDI Erzeugung Werkzeuge. Einfach Haken ihnen bis zu einem virtuellen Instrument und schon kann es losgehen.
Legen Beat Designer
Erstellen Sie ein Projekt, und legen ein Tempo. Laden Sie jetzt ein virtuelles Instrument: hier bin ich mit der üppigen 101-Synthesizer mit einer Trommel Patch geladen. In dem Titel Inspector Panel, mit dem MIDI-Inserts Tab und klicken Sie dann in einen Schlitz, der Wahl, um eine Instanz von Beat Designer laden.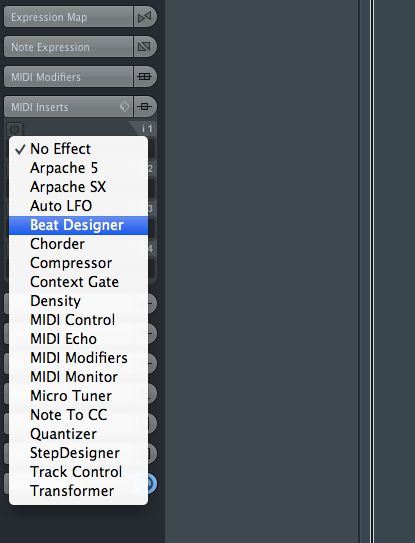 Gestalten Sie Ihre Beat
Klicken Sie in der Planquadrate um Beats zu erstellen, um sicherzustellen, youre Wiedergabe des Projekts, vorzugsweise mit Looping eingeschaltet. Sie können zuweisen eine der Step-Sequenzer Kanäle, jede MIDI-Note, indem Sie auf den Namen, um das Menü der verfügbaren Notizen zeigen, wählen Sie dann einen neuen zu spielen. Seit Schlagzeugschläge zu MIDI-Tasten zugeordnet sind, können Sie die Zuordnung leicht anpassen. Wenn Sie mit dem Programmieren melodische Muster sind, die Noten zu herkömmlichen Noten entsprechen.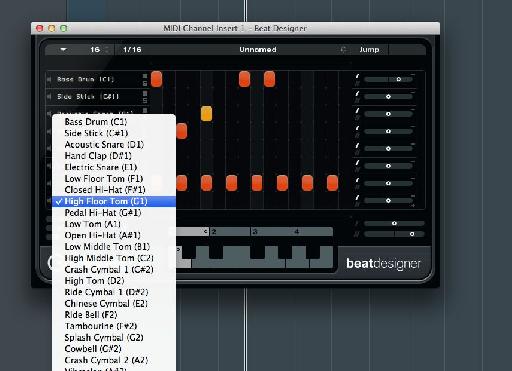 Legen Sie Ihre Schlag in das Projekt
Wenn für Inspiration youre stecken, auf dem Menü klicken Sie in der oberen linken Ecke der Beat Designer und verschieben das Muster um oder umkehren. Sie können auch durch Zugabe von Humanisierung slide zu einem der Gitter-Kanäle mit Schiebereglern. Um ein Muster zu Ist-Daten mit dem Sequenzer-Spur umzuwandeln, wählen Sie eine der Einfügen-Optionen. Sie können zum Beispiel wollen die Stromschleife mit dem Muster zu füllen, ist das eine schnelle Methode, um knock einen Beat oder eine Bassline und bekommen es in einem Projekt.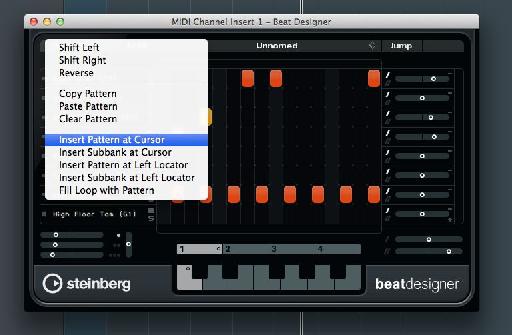 Step Designer
Sie können eine ähnliche Sache mit mehr Präzision mit der Step Designer tun. Dies kann in der gleichen Weise wie im vorherigen Schritt eingesetzt werden, ist aber besser, melodischen Sequenzen geeignet und unterstützt CCs wie Geschwindigkeit. Versuchen Sie, einen Synthesizer und Malerei in einigen Anmerkungen zu sein Netz, um ein Muster zu erzeugen.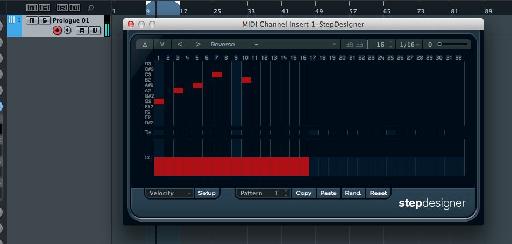 Rollen Sie die Würfel
Zur Inspiration können Sie erneut versuchen, die Randomize-Taste, und auch in einigen Kurven zu zeichnen in den CC-Bereich an der Basis des Fensters. Jedes Instrument wird reagieren unterschiedlich auf diese, und Sie können Dinge wie Geschwindigkeit oder Filter Cutoff leicht zu steuern durch die Malerei Werte in. Kopieren und Einfügen von Mustern zwischen Presets über die Bedienelemente an der Basis des Fensters.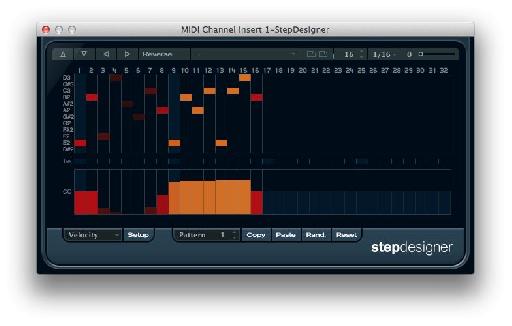 Arpeggieren
Mit MIDI-Daten in einem Clip in einer Spur-Sequenzer, können Sie leicht anwenden Arpeggiator, indem Sie auf dem MIDI-Menü Einfügen und Hinzufügen einer Instanz von Arpache 5 oder Arpache SX, von denen beide haben verschiedene Möglichkeiten für die Wiederholung gehaltenen Noten in interessante und komplexe Weise.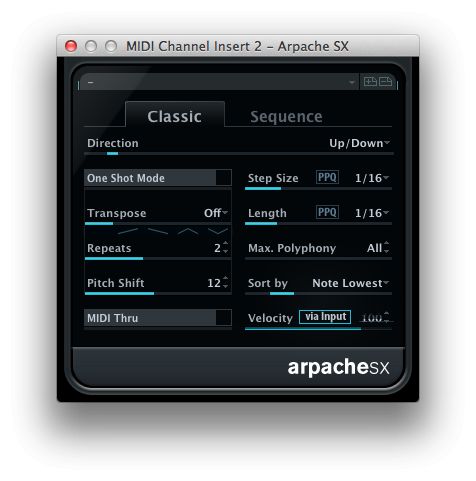 Verarbeiten Sie die MIDI-Daten
Wenn Sie etwas in gespielt haben, aber es ist nicht ganz in der Zeit oder anderweitig geändert werden muss, können Sie natürlich quantisieren es. Sie können auch wählen Sie den Clip und dann weiter mit dem MIDI-Menü und wählen Sie aus den verschiedenen Funktionen gibt, die verwendet werden, um MIDI-Daten durch die Anwendung bestimmter Regeln zu verarbeiten werden können. Dies ist nicht ganz dasselbe wie die Erzeugung des MIDI in erster Linie aber es funktioniert können Sie mit ihm kreativ zu arbeiten.