Not as proficient with the keyboard as you'd like to be? Or perhaps just looking for compositional inspiration? Cubase has the cure with its MIDI generative tools. Hollin Jones jumps right in.
Cubase es un excelente secuenciador MIDI, pero incluso si no youre un jugador consumado puede seguir haciendo música gracias a su gran función de la generación de herramientas MIDI. Basta con conectarlos a un instrumento virtual y ya está.
Inserte Batir Diseñador
Crear un proyecto y establecer un tempo. Ahora carga un instrumento virtual: aquí estoy usando el sintetizador Lush-101 con un parche de tambor cargado. En el panel Inspector de pistas, vaya a la pestaña Inserta MIDI y haga clic en una ranura y elija cargar una instancia de Beat Designer.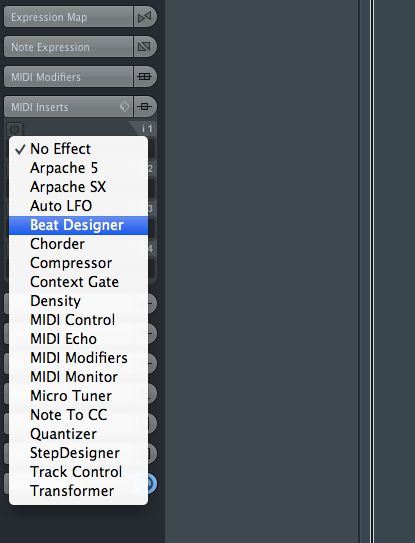 Diseña tu ritmo
Haga clic en las casillas de la cuadrícula para crear ritmos, asegurándose de que youre la reproducción del proyecto, preferiblemente con looping encendido. Puede reasignar cualquiera de los canales de secuenciador por pasos para tocar cualquier nota MIDI haciendo clic en su nombre para que aparezca el menú de notas disponibles, a continuación, elija una nueva. Desde golpes de tambor se asignan a las teclas MIDI, puede personalizar el mapeo fácilmente. Si está programando patrones melódicos, las notas corresponden a las notas convencionales.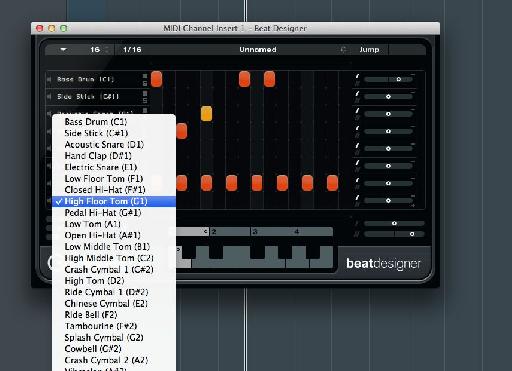 Inserte su ritmo en el proyecto
Si usted está atascado en busca de inspiración, haga clic en el menú en la esquina superior izquierda de Beat Designer y cambiar el patrón alrededor o revertirla. También puede crear humanización añadiendo diapositivas de cualquiera de los canales de la red utilizando controles deslizantes. Para convertir un modelo a los datos reales en la pista del secuenciador, seleccione una de las opciones de inserción. Si lo desea, por ejemplo, para llenar el circuito de corriente con el patrón, que es una forma rápida de llamar a un golpe o una línea de bajo y ponerlo en un proyecto.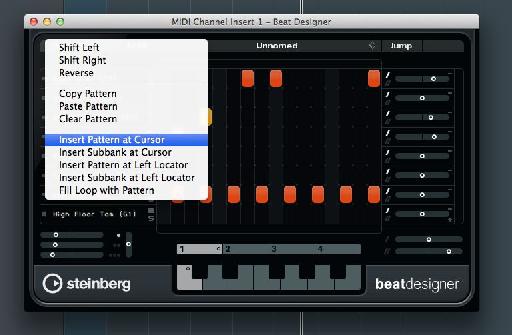 Diseñador Paso
Usted puede hacer algo similar con mayor precisión mediante el Diseñador de Paso. Esto puede ser insertado en la misma forma que en el paso anterior, pero es más adecuado para secuencias melódicas, y soporta CC como la velocidad. Trate de añadir un sintetizador y la pintura en algunas notas a su red para generar un patrón.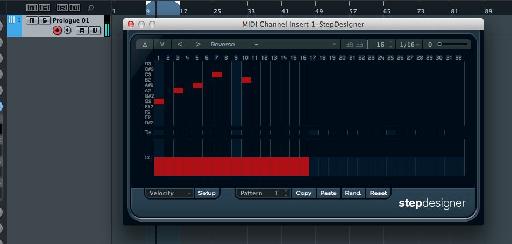 Tira los dados
En busca de inspiración puede volver a probar el botón Randomize, y dibujar en algunas curvas en la zona de CC en la base de la ventana. Cada instrumento responde de manera diferente a esto, y usted puede controlar las cosas como la velocidad o el corte del filtro con facilidad por la pintura de los valores in patrones copiar y pegar entre presets usando los controles en la base de la ventana.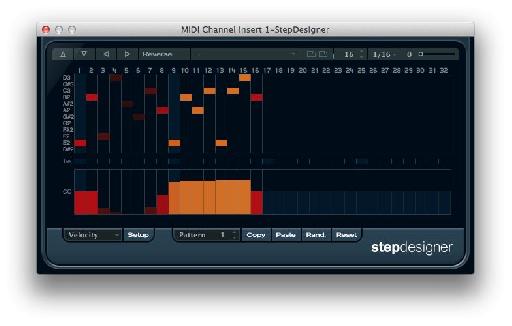 Arpegiar
Con los datos MIDI dentro de un clip en una pista del secuenciador, puede aplicar fácilmente arpegios, vaya al menú Insertar MIDI y agregar una instancia de Arpache 5 o Arpache SX, los cuales tienen varias opciones para repetir las notas sostenidas de manera interesante y complejo.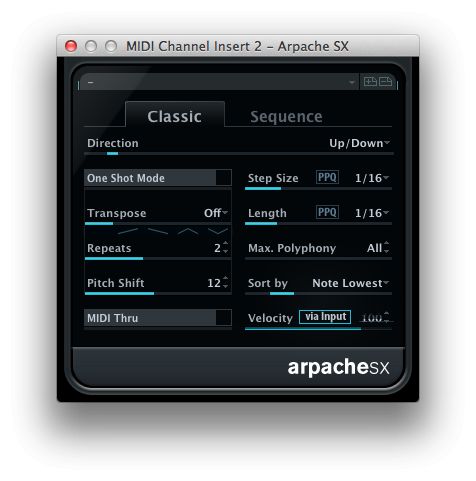 Procesar los datos MIDI
Si has jugado a algo, pero no es bastante en el tiempo o de lo contrario debe cambiar, por supuesto puede cuantificar ella. También puede seleccionar el clip y luego ir al menú MIDI y elegir entre las diferentes funciones allí, que pueden ser utilizados para procesar los datos MIDI mediante la aplicación de ciertas normas a la misma. Esto no es exactamente lo mismo que la generación de la MIDI en el primer lugar, pero no le permiten trabajar con él de forma creativa.