Not as proficient with the keyboard as you'd like to be? Or perhaps just looking for compositional inspiration? Cubase has the cure with its MIDI generative tools. Hollin Jones jumps right in.
Cubase est un excellent séquenceur MIDI, mais même si vous n'êtes pas un joueur accompli, vous pouvez toujours faire de la musique grâce à sa grande intégré dans les outils de production MIDI. Il suffit de les brancher à un instrument virtuel et vous partez.
Insérez Battre Designer
Création d'un projet et définir un tempo. Maintenant charger un instrument virtuel: j'emploie ici le synthé Lush-101 avec un patch de batterie chargée. Dans le panneau Inspecteur des pistes, allez à l'onglet Inserts MIDI, puis cliquez dans une fente, en choisissant de charger une instance de Beat Designer.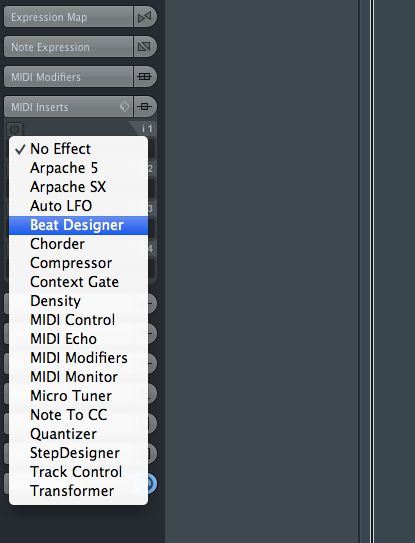 Concevez votre rythme
Cliquez dans les cases de la grille pour créer des beats, en s'assurant youre la lecture du projet, de préférence avec bouclage en marche. Vous pouvez réaffecter une des voies du séquenceur pas à pas pour jouer n'importe quelle note MIDI en cliquant sur son nom pour afficher le menu de billets disponibles, puis en choisir un nouveau. Depuis coups de batterie sont affectés aux touches MIDI, vous pouvez personnaliser le mappage facilement. Si vous programmez motifs mélodiques, les notes correspondent à des billets.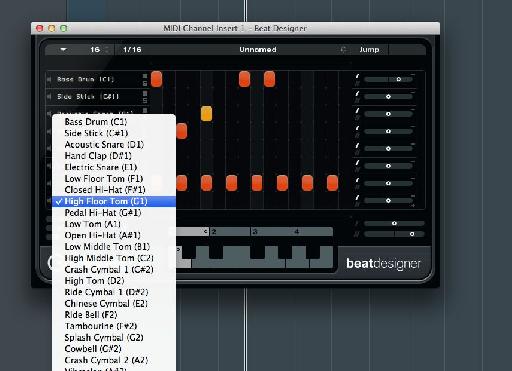 Insérez votre rythme dans le projet
Si vous êtes en panne d'inspiration, cliquez sur le menu dans le coin supérieur gauche de Beat Designer et déplacer le motif autour ou l'inverser. Vous pouvez également créer humanisation en ajoutant diapositive à l'une des chaînes de la grille à l'aide de curseurs. Pour convertir un modèle de données réelles sur la piste du séquenceur, choisissez l'une des options d'insertion. Vous pouvez par exemple remplir la boucle de courant avec le modèle, ce qui est un moyen rapide de frapper un rythme ou une ligne de basse et le faire dans un projet.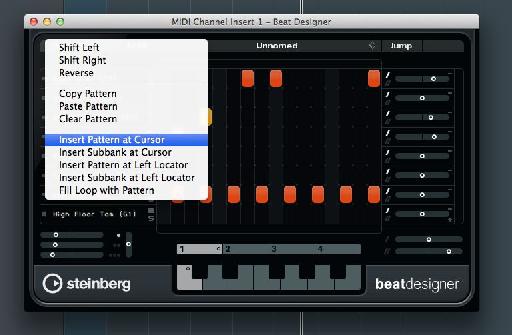 Step Designer
Vous pouvez faire la même chose avec plus de précision en utilisant le Step Designer. Cela peut être inséré dans la même manière que dans l'étape précédente, mais est mieux adaptée à des séquences mélodiques, et soutient CC comme la vitesse. Essayez d'ajouter un synthé et de la peinture en quelques notes à son réseau pour générer un motif.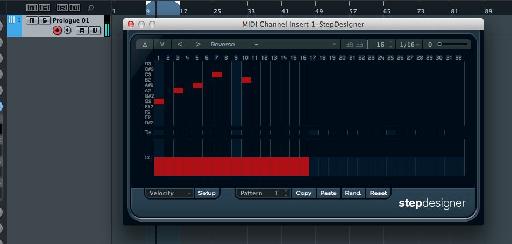 Rouler les dés
Pour vous inspirer, vous pouvez essayer de nouveau sur le bouton Randomize, et d'en tirer également dans quelques courbes dans la zone de CC à la base de la fenêtre. Chaque instrument réagit différemment à cela, et vous pouvez contrôler des choses comme la vitesse ou la coupure du filtre facilement en peignant des valeurs po Copier et coller des modèles entre les préréglages en utilisant les contrôles à la base de la fenêtre.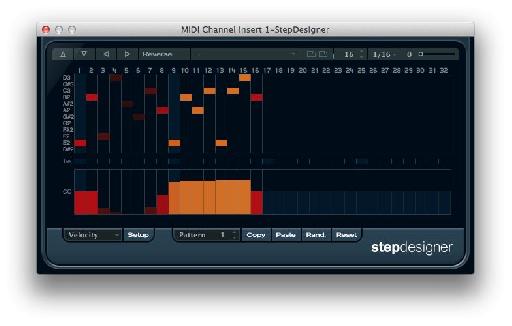 Arpéger
Avec les données MIDI à l'intérieur d'un clip dans une piste du séquenceur, vous pouvez facilement appliquer arpèges en allant sur le menu Insertion MIDI et l'ajout d'une instance de Arpache 5 ou Arpache SX, qui ont tous deux différentes options pour répéter notes tenues de manière intéressante et complexe.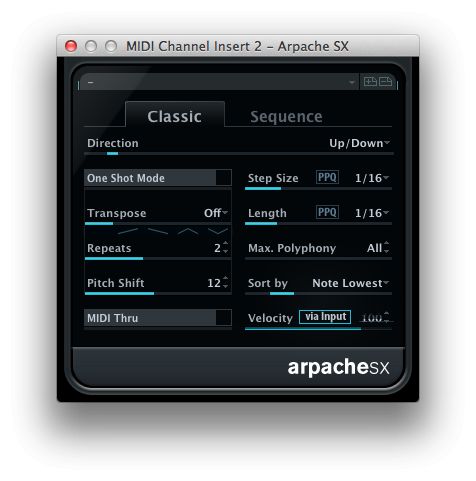 Traitement des données MIDI
Si vous avez joué dans quelque chose mais ce n'est pas tout à fait dans le temps ou autrement évolution des besoins, vous pouvez bien sûr quantifier cela. Vous pouvez également sélectionner le clip, puis allez dans le menu MIDI et de choisir parmi les différentes fonctions là -bas, qui peuvent être utilisés pour traiter les données MIDI en appliquant certaines règles à elle. Ce n'est pas tout à fait la même que la génération du MIDI en premier lieu, mais il ne vous permettent de travailler avec elle de façon créative.