Not as proficient with the keyboard as you'd like to be? Or perhaps just looking for compositional inspiration? Cubase has the cure with its MIDI generative tools. Hollin Jones jumps right in.
Cubase é um excelente sequenciador MIDI, mas mesmo se você não é um jogador realizado que você ainda pode fazer música, graças à sua grande built-in ferramentas geradoras de MIDI. Basta conectá-los a um instrumento virtual e você vai longe.
Insira Bata Designer
Criar um projeto e definir um tempo. Agora carregar um instrumento virtual: aqui eu estou usando o synth exuberante-101 com um patch tambor carregado. No painel Inspetor de faixas, vá para a aba Insere MIDI e, em seguida, clique em um slot, optando por carregar uma instância de batida Designer.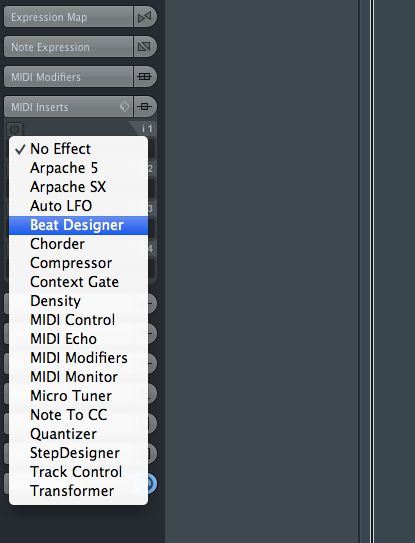 Projete sua batida
Clique nas quadrículas para criar batidas, certificando-se você está jogando de volta o projeto, de preferência com looping ligado. Você pode transferir qualquer um dos canais de seqüenciador passo a passo para jogar qualquer nota MIDI clicando no seu nome para revelar o menu de títulos disponíveis, em seguida, escolher um novo. Desde batidas de tambor são mapeados para chaves MIDI, você pode personalizar o mapeamento facilmente. Se você está programando padrões melódicos, as notas correspondem às notas convencionais.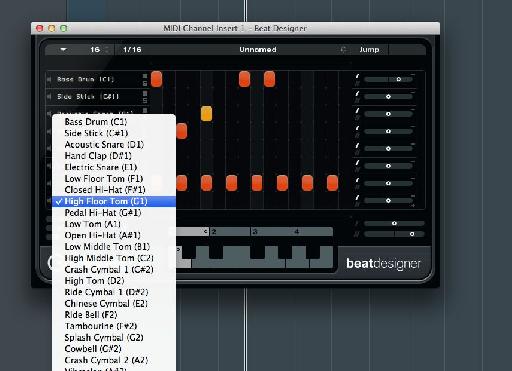 Insira sua batida no projeto
Se você está preso por inspiração, clique no menu no canto superior esquerdo do Designer Beat e mudar o padrão ao redor ou revertê-la. Também é possível criar humanização adicionando deslizante para qualquer um dos canais de grelha, utilizando barras. Para converter um padrão de dados reais sobre a pista sequenciador, escolha uma das opções de inserção. Você pode querer, por exemplo, para encher o circuito de corrente com o padrão, que é uma maneira rápida para bater uma batida ou uma linha de baixo e colocá-lo em um projeto.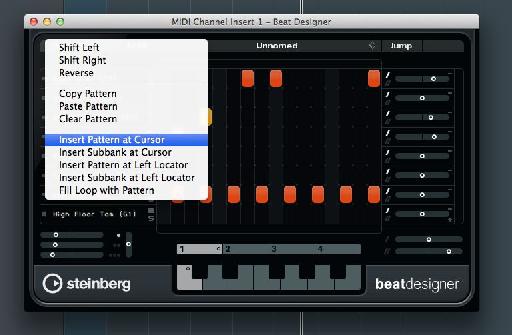 Designer de Passo
Você pode fazer uma coisa semelhante com mais precisão usando o Designer Step. Isto pode ser inserido na mesma maneira como no passo anterior, mas é mais adequado para sequências de melodia, e suporta os CCs, como de velocidade. Tente adicionar um synth e pintura em algumas notas para sua grade para gerar um padrão.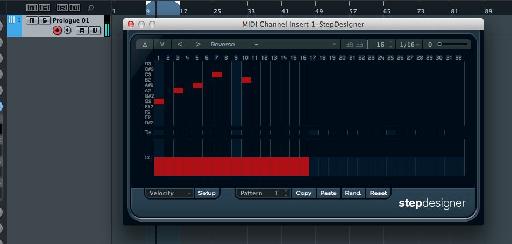 Lançar os dados
Por inspiração pode tentar novamente o botão Randomizar, e também em algumas desenhar as curvas para a área de CC na base da janela. Cada instrumento vai responder de forma diferente a isso, e você pode controlar coisas como velocidade ou de corte do filtro facilmente pintando valores pol Copie e cole padrões entre presets usando os controles na base da janela.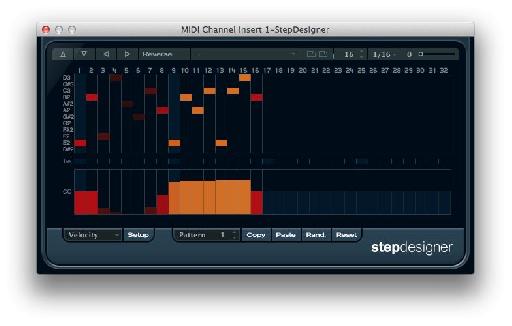 Arpeggiate
Com os dados MIDI dentro de um clipe de uma música sequenciador, você pode facilmente aplicar arpejo, indo ao menu Insert MIDI e adicionar uma instância de Arpache 5 ou Arpache SX, sendo que ambos têm várias opções para repetir notas portáteis de maneira interessante e complexo.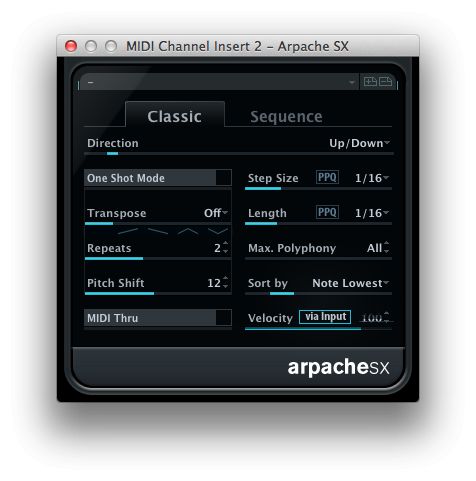 Processar os dados MIDI
Se você já jogou algo no mas não muito no tempo ou não precisa mudar, você pode, naturalmente, quantificar isso. Você também pode selecionar o clipe e, em seguida, ir para o menu MIDI e escolher entre as várias funções lá, que podem ser usados ​​para processar dados MIDI através da aplicação de certas regras a ele. Isso não é exatamente o mesmo que a geração do MIDI no primeiro lugar, mas não deixá-lo trabalhar com ele de forma criativa.