Despite Ableton Live being an awesome studio DAW, it's always still considered by many as the ultimate digital DJing platform. Find out whether DJ & producer, Noah Pred, shares this belief and why.
In den zehn Jahren, seit es zum ersten Mal gestartet haben Künstler aller Couleur Ableton Live für seine improvisatorischen Vielseitigkeit und robuste Konfiguration angenommen. Mit seiner berüchtigten Netzschnittstelle erinnert an eine Tabellenkalkulation Ableton Live nicht optisch, aber in Wirklichkeit hat das Potenzial, zu einem der mächtigsten DJ-Plattformen auf dem Markt ausgeübt werden.
Konzipiert als eine Live-Performance Medium, ist es nicht der Sport ein traditionelles DJ GUI mit 2-4 Kanäle durch einen Standard-Satz von Sample-Bänke begleitet und Wirkung steuert la Traktor oder Serato. Stattdessen sind die einzigen Grenzen für die Höhe der Tracks, Schichten, Muster und Effekte, die Sie in einer Live-powered DJ-Set zu verwenden können die Daten Ihres Computers und Ihrer eigenen Phantasie. Ebenso gibt es keine Begrenzung für die Arten von Controllern Sie mit Ableton oder den Anpassungen unter der Haube zu einem wahrhaft einzigartigen DJ Rig alle Ihre eigenen erstellen zu können verwenden können.
Warp-Antrieb
Pre-Digital-Disc-Jockeys wird gut mit dem Prozess der Beat-Matching vertraut sein: Anpassung der Tonhöhe eines neuen Track über Kopfhörer Cue, um das Tempo der letzten für einen eventuellen glatte Mischung zwischen den beiden passen. Mit Ableton Live, kann dieses Verfahren auch in Echtzeit erfolgen, wird aber wahrscheinlich besser im Voraus über Ihre Leistung gehandhabt, zumindest bis Sie die Technik des Warping beherrschen Ihre Spuren sehr schnell.
Ähnlich wie bei Traktor die Beat Grid-Verfahren wird hier der Schlüssel Einstellung Ihrer Warp-Marker. Ein integraler Bestandteil der proprietären Time-Stretching von Live-Methode bieten Warp-Marker Anweisungen, um die Software, wie, wann und wo die Beats eines Songs auszurichten. Durch die Einstellung der Warp-Marker im Voraus stellen wir sicher, dass alle richtig Warped Titel werden wiedergegeben in Synchronisation mit dem globalen BPM (Pic 23) des Live-Set, und als Folge, in der Zeit zu bleiben mit anderen Warped Tracks als gut. Während ein gewisses Risiko, ohne die Möglichkeit einer Mischung außer Kontrolle in Echtzeit verloren gehen könnten, ist die Idee hier, dass durch die Pflege dieser Berechnungen im Voraus, DJs auf mehr erweiterte Programmierung konzentrieren, Looping, Effekte und Natürlich bewegt ihren Tanz während ihrer Performance. Warping voller Lieder ist einfacher als je zuvor in Live 8 vor allem wenn sie schon immer elektronisch mit einem konstanten Tempo produziert. Werfen wir einen Blick darauf, wie es gemacht wird.
Schritt 1: In der Record / Warp / Launch Bereich des (Live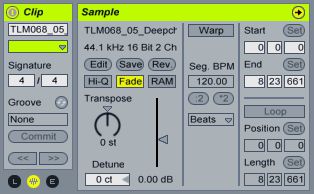 Schritt 4: Aktivieren Sie Warping durch manuelles Anklicken des Warp-Taste im Sample-Eigenschaften Bereich der Clip-Ansicht.
Schritt 5: Zoom (indem Sie oberhalb der Wellenform, in der Zeitleiste Bereich, in dem das Vergrößerungsglas-Symbol erscheint, und ziehen Sie nach oben oder unten zu verkleinern) in den ersten Takt der Spur und doppelklicken Sie auf die Transienten-Marker (graues Dreieck) darüber einen Warp-Marker zu schaffen.

PRO-TIPP: Halten Sie die Umschalttaste gedrückt, während Sie den Warp-Marker zu rutschen oder Feinabstimmung ihrer Platzierung in Bezug auf die Wellenform.
Schritt 6:

Schritt 7: Rechtsklick auf den Warp-Marker Sie gerade erstellt haben, und wählen Sie Warp from Here (Straight) aus dem Kontext-Menü. An diesem Punkt sollten Sie nun die Bassdrum in der Wellenform mehr oder weniger Futter korrekt mit dem Timing Netz.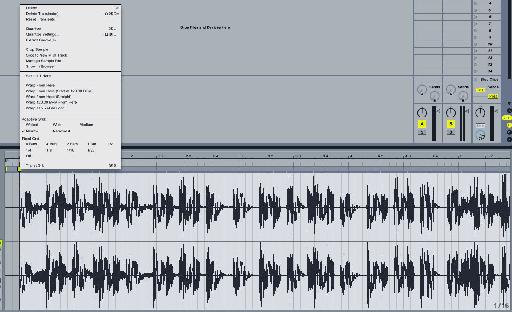 Schritt 8: Unsere letzte Schritt ist, um auszuzoomen bis zum Ende der Strecke und eine leichte Anpassung für jeden Drift in der algorithmischen tempo Berechnung. Verwenden Sie den Clip Makro-Ansicht in der unteren rechten Ecke der Detailansicht und klicken Sie am Ende der Wellenform bis zum Ende des Songs auf der aktuellen Vergrößerung überspringen ohne Zoomen hin und zurück in.

Konzentrieren Sie sich jetzt auf einem Kick-Drum oder anderen starken Schlag, Sie werden feststellen, es ist etwas früh oder spät in diesem Fall ist es ein bisschen zu früh, fällt kurz vor dem 225. bar.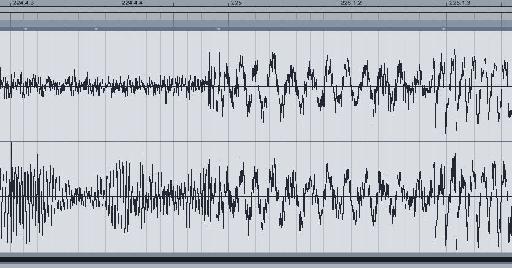 In der Transient bar, um einen neuen Warp-Marker genau erstellen zu Beginn des driftete Beat die Sie anpassen möchten Doppelklick, und ziehen Sie es an die richtige Zeitintervall.
Diese leichte Anpassung wird ripple ganzen Strecke, Korrektur einer früheren Drift. Wenn das Seg. BPM-Bereich im Sample-Bereich Eigenschaften liest nun eine gerade Anzahl (dh 123,00 statt 123,45), sind Wahrscheinlichkeiten Sie haben es genagelt.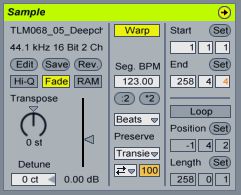 Um es zu testen, entweder auslösen Clip zusammen mit dem Metronom oder Verkleinern im Clip Wellenform-Ansicht und lösen verschiedene Punkte in der Spur über den Scrub-Bereich mit dem kleinen Lautsprechersymbol, mit jedem neuen Teil startet am weltweiten Einführung Quantisierung Intervall ( standardmäßig auf 1 bar), wenn verzogene richtig, sollte alles synchron bleiben, egal wo Sie lösen die Wiedergabe innerhalb der Datei.

PRO-TIP: Wenn alle Ihre Warp-Marker gesetzt wurden, zusammen mit allen anderen grundlegenden Probe Anpassungen (Lautstärke, Transposition, Warp-Modus, etc.), klicken Sie auf die Schaltfläche Speichern im Sample-Bereich Eigenschaften, so dass, wenn Sie bringen die gleiche Datei in ein neues Live-Set, behält es die gleiche Warp und andere Einstellungen.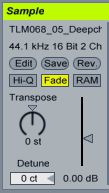 Mit dieser Methode können wir schnell Beat Match unsere Spuren im Voraus mit nicht mehr als zwei Warp-Marker fühlen Sie sich frei, dies auf dem fly versuchen, wenn Sie wollen, kann die Technik zuerst zu Hause perfektionieren. Tun Sie dies so oft wie Sie für alle Titel, die Sie planen, in Ihrem Set der Praxis verwenden müssen macht den Meister. Nun, da haben wir unsere Spuren aufgereiht, Lassen Sie uns einige fortgeschrittene DJ-Techniken in Live.
Alle Cued Up
Jetzt, da wir wissen, wie man unsere Songs spielen in der Zeit zurück miteinander, lasst uns auf die Schaffung Loops aus ihnen zu suchen. DJs kommen, um Ableton von traditionellen digitalen DJ-Plattformen fragen oft Wie richte ich Cue-Punkte? Allerdings gibt es keine direkte Korrelation zu Cue-Points in Ableton. Das heißt, wir können einen Clip so oft wie wir wollen, duplizieren, Einstellen unterschiedlicher Startpunkte und Loop-Punkte für jeden ein, und benennen Sie sie entsprechend für eine einfache Referenz.
Schritt 1: Duplizieren eines Clips, indem Sie es und trifft Command-D, oder halten Sie die Alt-/ Wahltaste gedrückt und ziehen Sie es an einem leeren Clip-Steckplatz.
Schritt 2: Wenn wir diese Version des Clips an der 33. bar anstelle des ersten starten möchten, bewegen Sie den Start-Marker an den Anfang des 33. bar, oder geben Sie dies numerisch.

Sie werden bemerken, der Teil einer Datei, um zu spielen ist gesetzt hat einen weißen Hintergrund, während ein Teil der nicht spielen wird (wegen der außerhalb des spielbaren Bereich durch die Start-und End-Marker gesetzt) ​​hat einen grauen Hintergrund.
Schritt 3: Benennen Sie es, indem Sie den Clip und schlagen Befehlstaste-R oder Eingabe in den Clip-Namen ein.

Wenn Sie möchten, Farbcode Sie mit der rechten Maustaste auf den Clip und wählen Sie eine neue Farbe oder indem Sie eine Farbe aus dem Clip Farbauswahl Dropdown-Menü.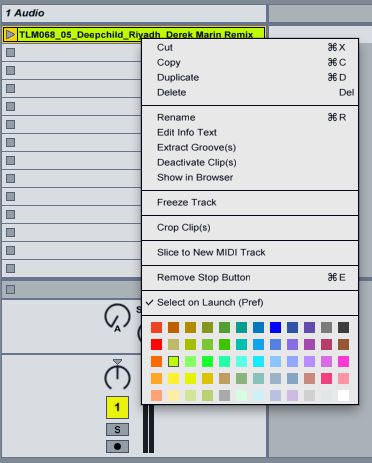 Erste Loopy
Wenn ein Titel wurde Warped, ist es bereit für Looping.
Schritt 1: In der Clip-Probe Eigenschaften, greifen die Loop-Taste.

Schritt 2: Stellen Sie die Dauer der Loop mit dem Loop-Klammer im Sample-View, oder numerisch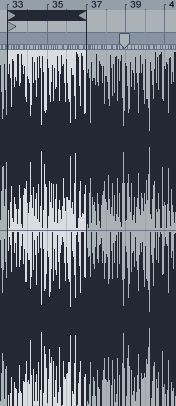 .

PRO-TIP: Der Startpunkt kann unabhängig von Loop-Punkte, so können Sie die Wiedergabe eines Song von Anfang an, aber loop einem späteren Abschnitt zum Beispiel unter Ausnutzung der Mix-freundliche intro aber nur Looping Ihre Lieblings-Abschnitt, und Vermeidung von Bits, die Sie nicht mögen könnte (sax solo, diva Gesang, etc.), die nach dem geschlungenen Abschnitt kommen.
PRO-TIP: Stellen Sie Ihre Loop-Start und Länge mal on the fly mit den Set Tasten, die auch MIDI-und Key map-Lage für fortgeschrittene Anwender.


Duplizieren, um so viele verschiedene Versionen eines Songs erstellen, wie Sie möchten, alle mit unterschiedlichen Startpunkten (Cues) und Loops, farbig und umbenannt zur schnellen Identifizierung benötigt.
Wenn Sie eine Sample-Bank Strecke mit knapp ein-Off-Samples, die nicht do-Schleife erstellen möchten, stellen Sie sicher, Looping off wird für alle Proben, die Sie für diese zu nutzen und standardmäßig werden sie nur einmal spielen, wenn ausgelöst eingeschaltet.
Die Live-DJ Set
Da jeder Kanal in einem Live-Set kann nur einen Clip zu einem Zeitpunkt, müssen Sie mehrere Spuren haben, um eine Schichtung zu tun. Wie viele Tracks kann man haben? Das ist bis zu Ihnen und jede Spur kann seine eigene Kette von einzigartigen Leistungsmerkmalen Auswirkungen haben, zusätzlich zu der Einrichtung Ihres Sends und Returns für globale Auswirkungen. Hier ist ein Schnappschuss von einem sehr grundlegenden DJ-Set-Konfiguration in Live mit drei Hauptkanäle für Tracks und Loops, die seit farbcodiert nach Stil und Namen für eine einfache Referenz haben, plus einer Sample-Bank-Kanal (FX Bank) zum Auslösen one-shot-Effekte durch einen großen Saal Hall auf der schicken.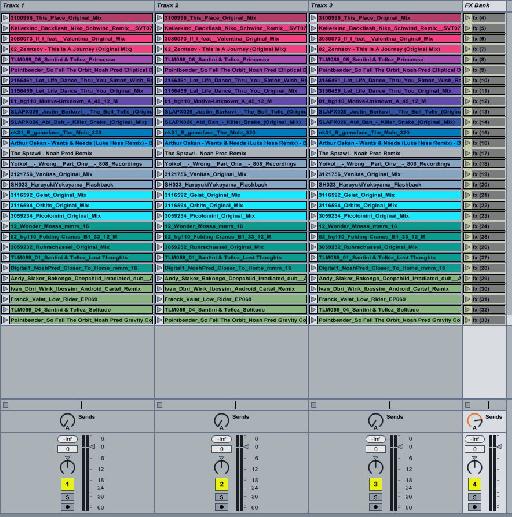 Machen Sie Ihre Hausaufgaben durch Verziehen Ihre Spuren und Konfiguration Ihres Loops und Sie werden bereit sein, um als kreativer einer Leistung zu liefern, wie Sie träumen können. Das heißt, wir haben kaum die Oberfläche von Live Potential als DJ-Plattform zerkratzt, mit allerlei Effekten, Automation und Anpassungsmöglichkeiten ebenfalls zur Verfügung. Wenn Sie Faktor in Lives extrem vielseitigen Controller Mapping-Funktionen, Bridge Integration mit Serato Scratch Live, und die irrsinnig Reihe von Tools zur Verfügung mit Max for Live ist das Potenzial wirklich grenzenlos.