Despite Ableton Live being an awesome studio DAW, it's always still considered by many as the ultimate digital DJing platform. Find out whether DJ & producer, Noah Pred, shares this belief and why.
Dans les dix années depuis sa première lancée, les artistes de tous bords ont adopté Ableton Live pour sa polyvalence improvisation et la configuration robuste. Grâce à son interface réseau notoire rappelle un Live Ableton tableur ne peut pas regarder la partie, mais en fait, a le potentiel pour être maniée comme l'une des plates-formes DJ les plus puissants sur le marché aujourd'hui.
Conçu comme un support sur scène, il n'a pas un sport de DJ traditionnel GUI avec 2-4 canaux accompagnés par un ensemble standard de banques d'échantillons et l'effet contrôle la Traktor ou Serato. Au lieu de cela, les seules limites à la quantité de pistes, des couches, des échantillons et des effets que vous pouvez utiliser dans un jeu en direct alimenté par DJ sont les spécifications de votre ordinateur et de votre propre imagination. De même, il n'ya aucune limite sur les types de contrôleurs que vous pouvez utiliser avec le logiciel Ableton ou les personnalisations que vous pouvez faire sous le capot de créer une plate-forme unique DJ tous les vôtres.
Téléportez-disque
Disc-jockeys pré-numériques seront bien au courant du processus de beat-matching: réglage de la hauteur d'une nouvelle piste via casque cue pour correspondre au tempo de la dernière pour un éventuel mélange lisse entre les deux. Avec Ableton Live, ce processus peut aussi se faire en temps réel, mais il est probablement mieux traités à l'avance de votre performance, au moins jusqu'à ce que vous avez maîtrisé la technique de gauchissement vos morceaux très rapidement.
Semblable au processus de Traktor beat grille, la clé ici est la définition de vos marqueurs Warp. Une caractéristique intégrante de Live propriétaire de time-stretching méthode, marqueurs Warp fournir des instructions au logiciel quant à savoir comment, quand et où pour aligner les beats d'une chanson. En définissant les marqueurs Warp à l'avance, nous nous assurons que toutes les pistes correctement Warped joueront en synchronisation avec le mondial du BPM (Pic 23) de votre Live Set, et, par conséquent, rester dans le temps avec les autres pistes Warped ainsi. Même si un certain sens du risque peuvent être perdues sans la possibilité d'un mélange hors de contrôle en temps réel, l'idée ici est que, en prenant soin de ces calculs à l'avance, les DJ peuvent se concentrer sur la programmation plus avancée, en boucle, les effets et, Bien sûr, leur danse se déplace au cours de leur performance. Gauchissement chansons pleines est plus facile que jamais dans Live 8 en particulier si elles ont été produites électroniquement avec un tempo constant. Jetons un coup d'oeil à la façon dont c'est fait.
Étape 1: Dans la zone d'enregistrement / Warp / Launch du Live (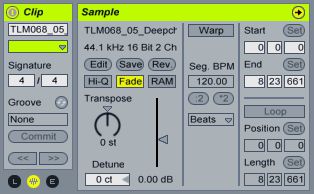 Étape 4: Engager Warping manuellement en cliquant sur ​​le bouton Warp dans l'échantillon les propriétés de la zone de la vue Plan-séquence.
Étape 5: Zoom (en cliquant au dessus de la forme d'onde, dans le domaine de l'échelle de temps où l'icône de loupe s'affiche, puis faites glisser vers le bas ou vers le haut pour effectuer un zoom arrière) dans le premier temps de la piste et double-cliquez sur le marqueur transitoire (triangles gris) ci-dessus pour créer un marqueur Warp.

PRO-Conseil: Maintenez la touche Maj enfoncée tout en faisant glisser le marqueur Warp de glisser ou d'affiner son positionnement par rapport à la forme d'onde.
Étape 6:

Etape 7: Cliquez-droit sur ​​le marqueur Warp que vous venez de créer et sélectionnez Warp ici (Régulier) du menu contextuel. À ce stade, vous devriez maintenant voir les grosses caisses de la forme d'onde plus ou moins la queue correctement avec le réseau de distribution.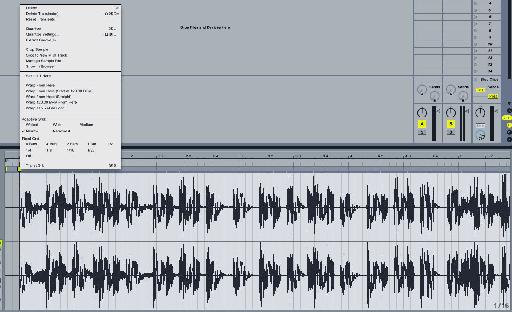 Étape 8: Notre dernière étape consiste à effectuer un zoom arrière jusqu'à la fin de la piste et faire un léger ajustement pour toute dérive dans le calcul algorithmique tempo. Utilisez la vue macro-séquence dans le coin inférieur droit de la vue Détails, puis cliquez vers la fin de la forme d'onde pour passer à la fin de la chanson à l'agrandissement actuel sans effectuer un zoom arrière et sauvegarder po

Concentrons-nous maintenant sur une grosse caisse ou autre temps fort, vous remarquerez peut-être que c'est un peu tôt ou tard dans ce cas, il est un peu tôt, en légère baisse avant que la barre 225e.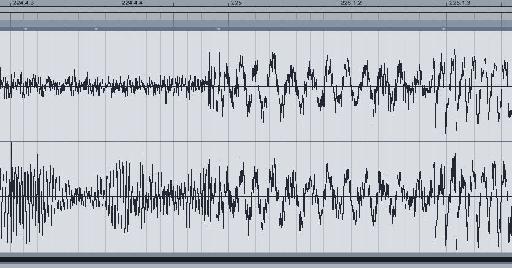 Double-cliquez dans la barre transitoire pour créer un nouveau marqueur Warp justement au début du battement dérivé que vous souhaitez régler, et faites-le glisser à l'intervalle de synchronisation correcte.
Ce léger ajustement se répercutera tout au long de la piste, de corriger toute dérive précédente. Si le Seg. Zone de BPM dans l'échantillon propriétés de la zone se lit désormais un nombre pair (c'est à dire 123,00 au lieu de 123.45), les chances sont que vous l'avez cloué.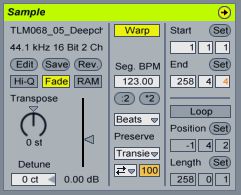 Pour le tester, soit déclencher le clip avec le métronome, ou un zoom arrière dans la vue de forme d'onde clip et déclencher différents points de la piste via la zone de Scrub en utilisant l'icône petit haut-parleur, avec le lancement de chaque nouvelle partie à l'intervalle de quantification lancement mondial ( par défaut réglé à 1 bar), si déformé correctement, tout doit rester synchronisé, peu importe où vous déclenchez la lecture dans le fichier.

PRO-TIP: Une fois que tous vos marqueurs Warp ont été fixés, ainsi que tous les autres ajustements exemples de base (volume, Transposition, Mode Warp, etc), cliquez sur le bouton Enregistrer dans la zone Propriétés de l'échantillon de sorte que chaque fois que vous apportez le même fichier dans une nouvelle série Live, il conservera la même chaîne et d'autres paramètres.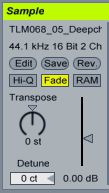 En utilisant cette méthode, nous pouvons battre rapidement la hauteur de nos pistes à l'avance en utilisant pas plus de deux marqueurs de chaîne n'hésitez pas à essayer ce à la volée, si vous pouvez perfectionner la technique à la maison d'abord. Faites ceci autant de fois que vous avez besoin pour toutes les pistes que vous prévoyez d'utiliser dans votre pratique rend parfait ensemble. Maintenant que nous avons obtenu nos pistes alignés, nous allons explorer certaines des techniques plus avancées DJ en direct.
Tout CUED Up
Maintenant que nous savons comment obtenir nos morceaux à jouer dans le temps avec l'autre, nous allons voir comment créer des boucles d'eux. DJs viennent à Ableton de plates-formes traditionnelles DJ numériques demandent souvent comment puis-je définir des points de repère? Cependant, il n'ya pas de corrélation directe aux points de repère dans Ableton. Cela dit, on peut dupliquer un clip autant de fois que nous voulons, la définition de points de départ différents et les points de boucle pour chacun d'eux, et en les nommant en conséquence pour faciliter la consultation.
Étape 1: Dupliquer un clip en le sélectionnant et en appuyant sur ​​Commande-D, ou en appuyant sur ​​la touche Alt / Option et faites-le glisser vers un emplacement clip vide.
Étape 2: Si nous voulons que cette version du clip de lancer au bar 33e place de la première, déplacez le marqueur de début au début de la barre 33e, ou entrer dans cette numériquement.

Vous remarquerez que la partie du fichier qui est mis en place pour jouer a un fond blanc, alors que la partie qui ne jouera pas (en raison de la chute hors de la région jouable fixé par les marqueurs de début et de fin) a un fond gris.
Étape 3: Renommez-le en sélectionnant le clip et en appuyant sur ​​Commande-R, ou en tapant dans le champ nom du clip.

Si vous aimez le code de couleur, il en clic droit sur ​​le clip et en sélectionnant une nouvelle couleur ou en sélectionnant une couleur dans la couleur de sélection pince menu déroulant.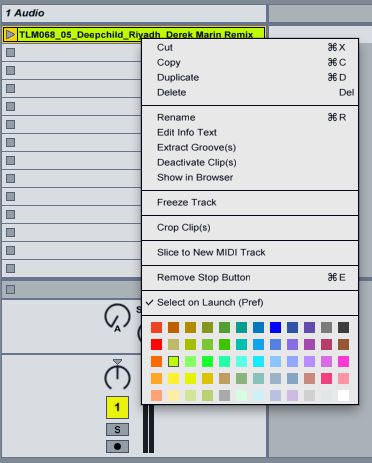 Obtenir Loopy
Une fois qu'une piste a été déformé, il est prêt pour le bouclage.
Étape 1: Dans Propriétés de l'échantillon du clip, s'engager sur le bouton Boucle.

Étape 2: Définir la durée de la boucle avec l'accolade de la boucle dans la vue Sample ou numérique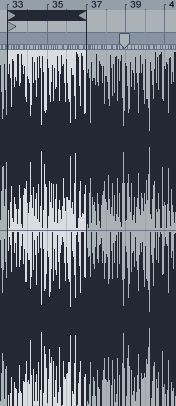 .

PRO-TIP: Le point de départ peut être indépendante des points de boucle, de sorte que vous pouvez démarrer la lecture d'un morceau depuis le début, mais en boucle une section ultérieure, par exemple, en profitant de l'intro mix-amical, mais seulement une boucle de votre section préférée, et en évitant les morceaux que vous pouvez ne pas aimer (solo de sax, voix de diva, etc) qui viennent après la section en boucle.
PRO-TIP: Réglez votre début de la boucle et le temps Longueur à la volée avec les boutons de réglage qui sont également MIDI et par touche carte-mesure pour les utilisateurs avancés.


Dupliquer pour créer autant de versions différentes d'une chanson que vous le souhaitez, le tout avec des points de départ différents (indices) et les boucles, de couleur et rebaptisée pour une identification rapide.
Si vous voulez créer une piste banque d'échantillons avec seulement de courtes ponctuelles échantillons qui ne sont pas en boucle, assurez-vous que Looping est désactivée pour tous les échantillons que vous souhaitez utiliser pour cela, et par défaut, ils vont jouer qu'une seule fois lors du déclenchement.
Le Live Set DJ
Étant donné que chaque canal dans un Live Set peut jouer qu'un seul clip à la fois, vous avez besoin d'avoir plusieurs pistes afin de faire une stratification. Combien de titres pouvez-vous avoir? C'est à vous et chaque piste peut avoir sa propre chaîne d'effets uniques de performance, en plus de la configuration de vos envois et les retours d'effets globaux. Voici un aperçu d'une configuration DJ set très basique dans Live avec trois principaux canaux de pistes et de boucles, qui ont été codés en couleur en fonction du style et nommé pour faciliter la consultation, ainsi qu'un échantillon de la banque de canaux (FX Bank) pour déclenchement one-shot effets à travers une grande salle de réverbération sur l'envoi.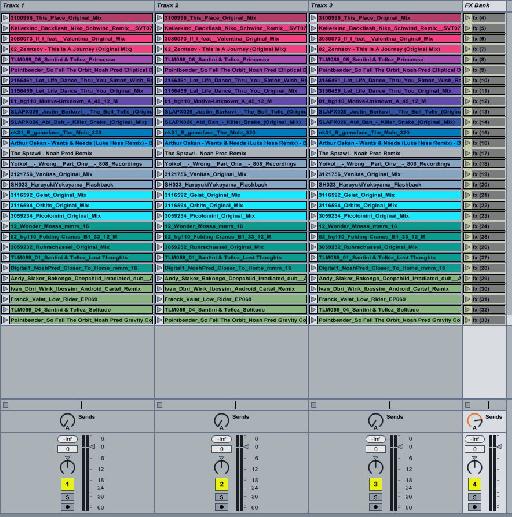 Faites vos devoirs en déformant vos pistes et la configuration de vos boucles et vous serez prêt à livrer une performance aussi créatifs que vous pouvez rêver. Cela dit, nous avons à peine gratté la surface de potentiel de Live en tant que plate-forme de DJ, avec toutes sortes d'effets, de l'automatisation et de possibilités de personnalisation disponibles aussi bien. Une fois que vous prenez en compte en direct ultra-polyvalentes capacités de cartographie du contrôleur, l'intégration Bridge avec Serato Scratch Live, et le tableau ahurissant des outils disponibles avec Max for Live, le potentiel est vraiment illimitées.