Despite Ableton Live being an awesome studio DAW, it's always still considered by many as the ultimate digital DJing platform. Find out whether DJ & producer, Noah Pred, shares this belief and why.
Nei dieci anni dalla sua prima lanciato, artisti di tutte le bande hanno abbracciato Ableton Live per la sua versatilità di improvvisazione e la configurazione robusta. Con la sua interfaccia di rete noto che ricorda un foglio di calcolo Ableton Live non può guardare la parte, ma in realtà ha il potenziale per essere brandita come una delle piattaforme DJ più potenti oggi sul mercato.
Progettato come un mezzo performance live, non lo sport un tradizionale DJ GUI con 2-4 canali accompagnati da un set standard di banche del campione e l'effetto controlla la Traktor o Serato. Al contrario, gli unici limiti alla quantità di brani, livelli, i campioni e gli effetti che è possibile utilizzare in un Live-alimentato dj set sono le specifiche del computer e la vostra immaginazione. Allo stesso modo, non ci sono limiti ai tipi di controlli è possibile utilizzare con Ableton o le personalizzazioni che si possono fare sotto il cofano per creare un impianto veramente unico DJ tutto tuo.
Warp
Pre-disc jockey digitali sarà familiarità con il processo di beat-matching: regolare l'altezza di una nuova traccia attraverso le cuffie spunto per abbinare il tempo del l'ultimo per un eventuale fusione armoniosa tra i due. Con Ableton Live, questo processo può essere fatto anche in tempo reale, ma è probabilmente gestito meglio prima della performance, almeno fino a quando non hai imparato la tecnica di Warping tuoi brani molto rapidamente.
Simile al processo di beat Traktor di rete, la chiave qui è l'impostazione delle Marcatori Warp. Una caratteristica integrante del Live proprietà time-stretching metodo Marcatori Warp fornire istruzioni al software su come, quando e dove per allineare i battiti di una canzone. Impostando i Marcatori Warp in anticipo, ci assicuriamo che tutte le tracce correttamente Warped verrà riprodotto in sincronia con il globale BPM (Pic 23) del vostro Live Set, e, di conseguenza, rimanere nel tempo con tutte le altre tracce Warped pure. Mentre un certo senso di rischio potrebbe essere perso senza la possibilità di un mix perdendo il controllo in tempo reale, l'idea è che per prendersi cura di questi calcoli in anticipo, i DJ possono concentrarsi su una programmazione più avanzata, loop, effetti e, Naturalmente, la loro danza si muove durante la loro performance. Canzoni piene di deformazione è più facile che mai in Live 8 specialmente se sono stata prodotta elettronicamente con un ritmo costante. Diamo uno sguardo a come si fa.
Fase 1: Nella zona Record / Warp / Launch delle (Live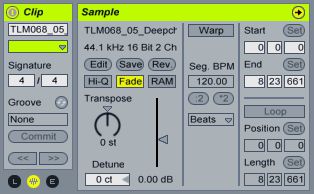 Fase 4: Inserire Orditura manualmente facendo clic sul pulsante Altera nella zona campione delle proprietà della vista clip.
Fase 5: Zoom (cliccando sopra la forma d'onda, nella zona righello temporale in cui l'icona della lente di ingrandimento, e trascinare verso il basso o verso l'alto per ridurre) nella prima battuta del brano e fare doppio clic sul marcatore transitorio (grigio triangolo) sopra di esso per creare un Marcatore Warp.

PRO-SUGGERIMENTO: Tenere premuto il tasto Maiusc mentre trascinate il Marcatore Warp di scivolare o di mettere a punto la sua collocazione in relazione alla forma d'onda.
Fase 6:

Fase 7: Fare clic con il Marcatore Warp che hai appena creato e selezionare ordito da qui (etero) dal menu contestuale. A questo punto, si dovrebbe ora vedere le grancasse della forma d'onda più o meno in fila correttamente con la rete di distribuzione.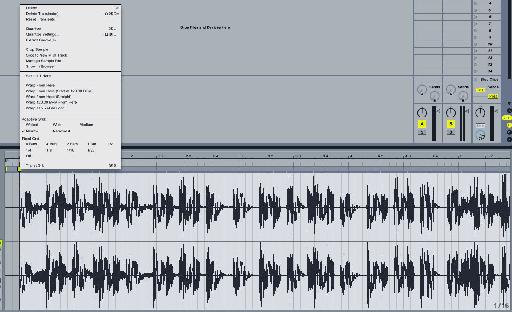 Passo 8: Il passo finale è quello di diminuire fino alla fine della pista e fare un piccolo aggiustamento per qualsiasi deriva nel calcolo algoritmico tempo. Utilizzare la vista macro clip nell'angolo in basso a destra della visualizzazione Dettagli e fare clic su verso la fine della forma d'onda per passare alla fine della canzone con l'ingrandimento corrente senza zoom out e interattiva

Concentratevi ora su una cassa o un altro tempo forte, è possibile notare che è un po 'presto o tardi, in questo caso è un po' presto, cadendo poco prima del bar 225.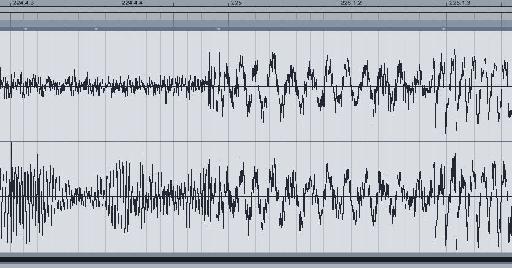 Fare doppio clic sulla barra Transient per creare un nuovo marcatore ordito proprio all'inizio della battuta alla deriva che si desidera regolare, e trascinarlo l'intervallo di tempo corretto.
Questa regolazione lieve ondulazione sarà tutta la traccia, correggendo qualsiasi deriva precedente. Se il Seg. Zona BPM nell'area Esempio proprietà , leggi un numero pari (vale a dire 123,00 invece di 123,45), è probabile che hai azzeccato.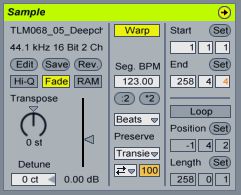 Per provarlo, o attivare la clip con il metronomo, o lo zoom indietro nella visualizzazione della forma d'onda clip e attivare diversi punti della traccia tramite area di scrub utilizzando la piccola icona dell'altoparlante, con ogni nuovo pezzo di lancio con l'intervallo di quantizzazione globale lancio ( di default impostato a 1 bar), se deformato correttamente, tutto dovrebbe rimanere in sincronia, non importa dove si attiva la riproduzione all'interno del file.

PRO-SUGGERIMENTO: Una volta che tutti i Marcatori Warp sono stati fissati, insieme alle altre modifiche di esempio di base (volume, per l'attuazione, la modalità Warp, ecc), fare clic sul pulsante Salva nella zona Esempio di proprietà in modo che ogni volta che si mettono lo stesso file in una nuova serie Live, manterrà stesso ordito e le altre impostazioni.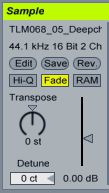 Utilizzando questo metodo, possiamo rapidamente battere abbinare le nostre tracce in anticipo, utilizzando non più di due marcatori ordito non esitate a provare questo al volo, anche se si consiglia di perfezionare la tecnica di prima casa. Fatelo volte di cui hai bisogno per tutte le tracce che si prevede di utilizzare nella pratica rende perfetti insieme. Ora che abbiamo le nostre tracce in fila, esploriamo alcune tecniche più avanzate DJ in Live.
Tutti cued Up
Ora che sappiamo come ottenere le nostre tracce si riproducono nel tempo uno con l'altro, diamo un'occhiata a creare loop da loro. DJ vengono a Ableton dai tradizionali piattaforme digitali DJ spesso chiedono Come faccio a impostare i punti di cue? Tuttavia, non c'è diretta correlazione ai punti di cue in Ableton. Detto questo, siamo in grado di duplicare una clip tutte le volte che vogliamo, impostare i punti di inizio e punti di ciclo per ciascuno, e la denominazione di conseguenza per una facile consultazione.
Fase 1: Duplicare una clip selezionandola e premendo Comando-D, oppure tenendo premuto il tasto Alt / Opzione e trascinandola in uno slot clip vuoto.
Fase 2: Se vogliamo che questa versione della clip per lanciare al bar 33, invece del primo, spostare il marcatore di inizio all'inizio della barra 33, o entrare in questo numericamente.

Noterete la porzione di un file che è impostato per giocare ha uno sfondo bianco, mentre la parte che non giocherà (in seguito alla caduta di fuori della regione riproducibile fissato dagli indicatori di inizio e fine) ha uno sfondo grigio.
Fase 3: Rinominare, selezionando la clip e colpire Comando-R, o digitando nel campo nome del clip.

Se ti piace, codice colore dal tasto destro del mouse sulla clip e selezionando un nuovo colore o selezionando un colore dal clip colore di selezione menu a discesa.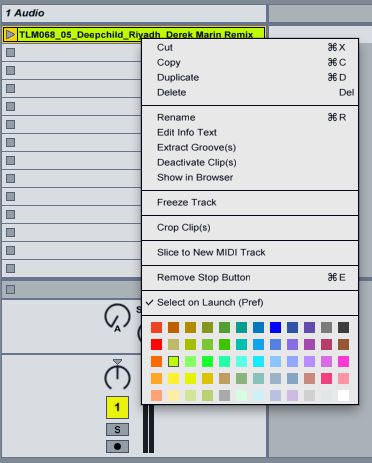 Come Loopy
Una volta che un brano è stato deformato, è pronto per il ciclo.
Fase 1: In Proprietà campione della clip, inserire il pulsante Loop.

Fase 2: Impostare la durata del ciclo con il ciclo di loop nella vista di esempio, o numericamente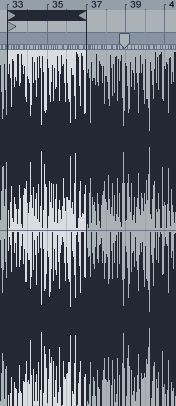 .

PRO-SUGGERIMENTO: Il punto di partenza può essere indipendente dei punti di loop, in modo da poter avviare la riproduzione di un brano dall'inizio, ma ad anello una sezione successiva, ad esempio, sfruttando il mix-friendly intro, ma solo il loop la tua sezione preferita, e evitando parti che non potrebbero interessarti (assolo di sax, voce diva, ecc) che vengono dopo la sezione in loop.
PRO-SUGGERIMENTO: impostare la data di inizio Loop e tempi di lunghezza al volo con i tasti Set che sono anche MIDI e Key-map in grado per gli utenti avanzati.


Duplica per creare diverse versioni come molti di una canzone che ti piace, tutti con punti di partenza diversi (spunti) e loop, colorati e rinominati come necessari per l'identificazione rapida.
Se si desidera creare una traccia sample bank con un solo brevi una tantum campioni che non loop, fare Looping che è disattivata per tutti i campioni che si desidera utilizzare per questo e per impostazione predefinita faranno giocare solo una volta quando viene attivato.
Il set DJ Live
Dal momento che ogni canale in un live set può giocare solo una clip alla volta, è necessario disporre di più tracce per fare qualsiasi stratificazione. Quante tracce si può avere? Ecco a voi e ogni traccia può avere la propria catena di effetti di performance uniche, oltre alla configurazione degli mandate e ritorni per gli effetti globali. Ecco un'istantanea di un molto semplice configurazione dj set in live con tre canali principali per le tracce e loop, che sono stati codificati a colori secondo lo stile e il nome per una facile consultazione, oltre a un campione banca canale (FX Bank) per l'attivazione una tantum effetti attraverso un riverbero grande sala in invio.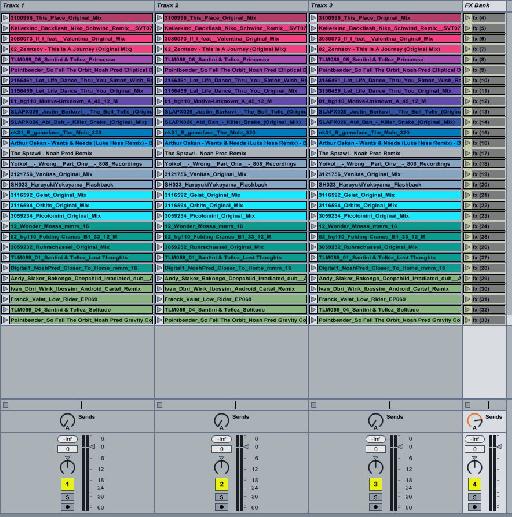 Fate il vostro dovere da orditura le vostre tracce e la configurazione dei loop e sarete pronti per la consegna di una performance creativa, come si può immaginare. Detto questo, abbiamo appena scalfito la superficie del potenziale Live come piattaforma DJ, con tutti i tipi di effetti, automazione, e le possibilità di personalizzazione disponibili pure. Una volta fattore di capacità di Live di controller ultra-versatile di mappatura, l'integrazione Bridge con Serato Scratch Live, e la sbalorditiva gamma di strumenti disponibili con Max for Live, il potenziale è davvero senza limiti.