Despite Ableton Live being an awesome studio DAW, it's always still considered by many as the ultimate digital DJing platform. Find out whether DJ & producer, Noah Pred, shares this belief and why.
Nos dez anos desde que foi lançado, artistas de todos os matizes têm abraçado Ableton Live por sua versatilidade de improvisação e configuração robusta. Com sua interface de rede notório que lembra uma folha de cálculo Ableton Live não pode olhar para o lado, mas na verdade tem o potencial de ser manejada como uma das plataformas de DJ mais poderosas no mercado hoje.
Projetado como um meio de performances ao vivo, não um esporte tradicional DJ GUI com 2-4 canais acompanhados por um conjunto padrão de bancos de samples e efeitos controla la Traktor ou Serato. Em vez disso, os únicos limites para a quantidade de faixas, camadas, samples e efeitos que você pode usar em um DJ set ao vivo-powered são as especificações do seu computador e sua própria imaginação. Da mesma forma, não há limite para os tipos de controladores que você pode usar com o Ableton ou as personalizações que você pode fazer sob o capô para criar um verdadeiramente único equipamento de DJ todo seu.
Deformar unidade
Jockeys pré-digital disco vai estar bem familiarizado com o processo de batida de correspondência: ajustar o tom de uma nova pista via fone sugestão para combinar com o ritmo da última para uma eventual mistura suave entre os dois. Com Ableton Live, este processo também pode ser feito em tempo real, mas provavelmente é melhor tratado antes de seu desempenho, pelo menos até que você já domina a técnica de Warping suas faixas muito rapidamente.
Semelhante à grade Traktor Beat processo, a chave aqui é estabelecer suas Marcadores Warp. Uma característica importante do método Live tempo de alongamento proprietário, Marcadores urdidura fornecer instruções para o software sobre a forma como, quando e onde alinhar as batidas de uma música. Ao definir os marcadores da urdidura de antecedência, podemos garantir que todas as trilhas corretamente Warped serão reproduzidos em sincronia com o BPM global (Pic 23) do seu conjunto ao vivo, e, como resultado, fique no tempo com quaisquer outras faixas Warped também. Enquanto um certo sentimento de risco pode ser perdida sem a possibilidade de uma mistura girando fora de controle em tempo real, a idéia aqui é que, tendo o cuidado destes cálculos com antecedência, os DJs podem se concentrar em uma programação mais avançada, looping, efeitos e, claro, sua dança se move durante o seu desempenho. Canções de deformação total é mais fácil do que nunca no Live 8, especialmente se eles foram produzidos eletronicamente com um ritmo constante. Vamos dar uma olhada em como ele é feito.
Passo 1: Na área Record / warp / Lançamento do Live (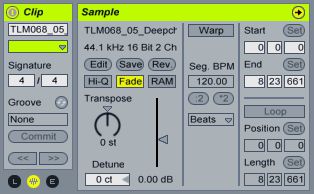 Passo 4: Praticar Warping manualmente, clicando no botão Urdidura na área de propriedades de amostra da visão Clip.
Passo 5: Zoom (clicando acima a forma de onda, na área régua de tempo, onde o ícone de lupa aparece, e arraste para baixo ou para cima para diminuir o zoom) na primeira batida da faixa e clique duas vezes o marcador transitória (cinza triângulo) acima, para criar um marcador Warp.

PRO-DICA: Mantenha a tecla Shift enquanto arrasta o marcador Warp para escorregar ou ajustar o seu posicionamento em relação à forma de onda.
Passo 6:

Passo 7: Clique com o marcador da urdidura que você acabou de criar e selecione Urdidura de Aqui (reta) do menu de contexto. Neste ponto, você deve ver agora os tambores pontapé na onda de mais ou menos alinham corretamente com a rede de distribuição.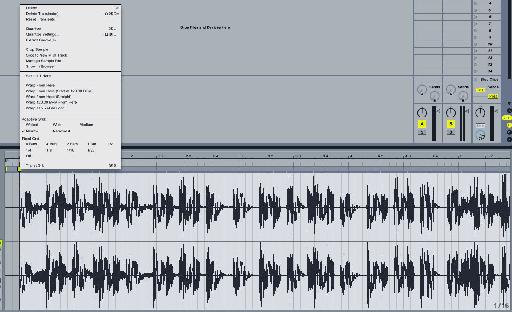 Passo 8: Nosso último passo é diminuir o zoom para o final da pista e fazer um pequeno ajuste para qualquer desvio no cálculo ritmo algorítmico. Use a visão macro clip no canto inferior direito da vista de detalhe e clique no final da onda para avançar para a final da música na ampliação atual, sem diminuir o zoom e para trás dentro

Concentre-se agora em um bumbo ou batida forte outro, você pode notar que é um pouco cedo ou mais tarde, neste caso, é um pouco cedo, caindo um pouco antes da barra de 225.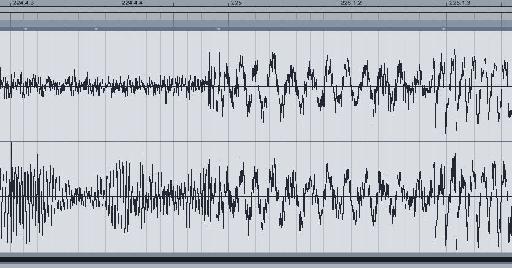 Dê um duplo clique na barra de transitória para criar um novo marcador da urdidura precisamente no início da batida deriva que deseja ajustar e arraste-o para o intervalo de tempo correto.
Este pequeno ajuste repercutirá em toda a pista, corrigindo qualquer desvio anterior. Se a Seg. BPM área na área de propriedades Amostra agora lê um número par (ou seja, 123,00 ao invés de 123,45), as chances são que você acertou em cheio.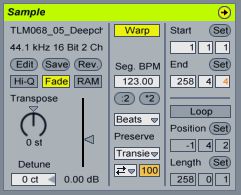 Para testar isto, ou desencadear o clipe junto com o metrônomo, ou reduzir o ponto de vista da forma de onda no clipe e desencadear diferentes pontos da pista através da área de esfrega usando o ícone pequeno altifalante, com cada nova peça lançamento no intervalo global de lançamento de quantização ( por padrão definido para 1 bar), se deformado corretamente, tudo deve permanecer em sincronia, não importa onde você acionar a reprodução dentro do arquivo.

PRO-DICA: Uma vez que todos os seus marcadores de urdidura foram definidas, juntamente com quaisquer outros ajustes de amostra básica (Volume, Transposição, o modo Warp, etc), clique no botão Salvar na área Propriedades Amostra de modo que sempre que você colocar o mesmo arquivo para um novo conjunto Live, ele vai manter a mesma urdidura e outras configurações.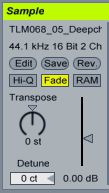 Utilizando este método, podemos rapidamente bater corresponder nossas faixas com antecedência usando não mais que dois marcadores urdidura sinta-se livre para tentar isso em tempo real, que você pode querer para aperfeiçoar a técnica em casa primeiro. Faça isso quantas vezes você precisa para todas as faixas que você pretende usar na sua prática de conjunto torna perfeito. Agora que temos nossas faixas alinhados, vamos explorar algumas técnicas mais avançadas de DJ ao vivo.
Todos cued Up
Agora que sabemos como obter nossas faixas jogando de volta no tempo com o outro, vamos olhar para a criação de laços com elas. DJs que vêm para o Ableton das tradicionais plataformas digitais DJ muitas vezes perguntam como faço para definir pontos de sinalização? No entanto, não há nenhuma correlação direta com pontos de sinalização em Ableton. Dito isso, podemos duplicar um clipe tantas vezes quanto nós queremos, definir pontos de início diferentes e pontos de loop para cada um, e nomeando-os adequadamente para facilitar a consulta.
Passo 1: Duplicar um clipe selecionando-o e atingindo Command-D, ou mantendo pressionada a tecla Alt / Option e arrastando-a para um slot vazio clipe.
Passo 2: Se quisermos que esta versão do clipe para lançar na barra 33, em vez do primeiro, mover o marcador de início para o início da barra 33, ou entre esta numericamente.

Você vai notar a parte de um arquivo que está configurado para reproduzir tem um fundo branco, enquanto qualquer parcela que não vai jogar (devido à queda de fora da região jogável definido pelos marcadores de início e fim) tem um fundo cinza.
Passo 3: Renomeie-lo seleccionando o clipe e bater de comando R-, ou digitando no campo nome do clipe.

Se você gosta, código de cores que por direito do mouse sobre o clipe e selecionando uma nova cor ou selecionando uma cor na menu de selecção clipe suspensa.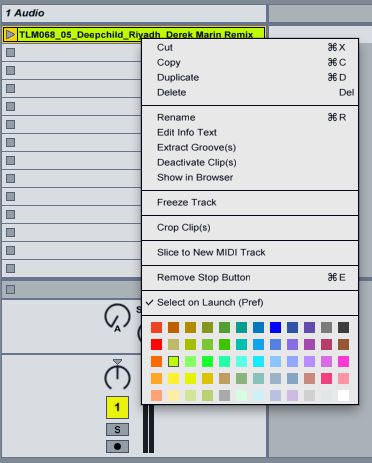 Obtendo Loopy
Uma vez que uma faixa foi entortada, ele está pronto para looping.
Passo 1: Em Propriedades do clipe de exemplo, ativar o botão Loop.

Passo 2: Defina a duração do Loop Brace com o laço na Vista de amostra, ou numericamente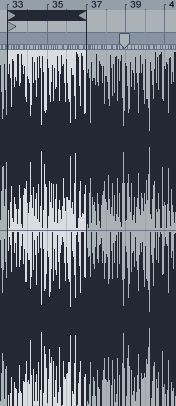 .

PRO-DICA: O ponto de partida pode ser independente de pontos de loop, assim você pode iniciar a reprodução de uma música, desde o início, mas um laço mais adiante, por exemplo, aproveitando a intro mix-friendly, mas apenas looping sua seção favorita, e evitando bits que você pode não gostar (solo de sax, vocais diva, etc) que vêm após a seção em loop.
PRO-DICA: Defina o seu início Loop e vezes o comprimento na mosca com os botões Set que também são MIDI e Key-mapa capaz para usuários avançados.


Duplicar para criar tantas versões diferentes de uma música como você gosta, todos com pontos de partida diferentes (pistas) e loops, coloridas e renomeados como necessários para a identificação rápida.
Se você quer criar uma faixa de banco de amostra com apenas um curto-off amostras que não loop, fazer Looping não está ativada para todas as amostras que você deseja usar para isso e por padrão eles vão jogar apenas uma vez, quando acionado.
O conjunto de DJ ao vivo
Tendo em conta que cada canal em um conjunto vivo só pode jogar um clipe de cada vez, você precisa ter várias faixas, a fim de fazer qualquer estratificação. Quantas faixas você pode ter? Isso é com você e cada pista pode ter a sua própria cadeia de efeitos originais do desempenho, além de configurar os envios e retornos de efeitos globais. Aqui está uma foto de uma configuração bem básica DJ set no Live com três principais canais de faixas e loops, que foram codificados por cores de acordo com o estilo e nomeado para uma consulta mais fácil, além de uma amostra de banco de canais (FX Bank) para desencadear um tiro efeitos através de um grande salão de reverberação no enviar.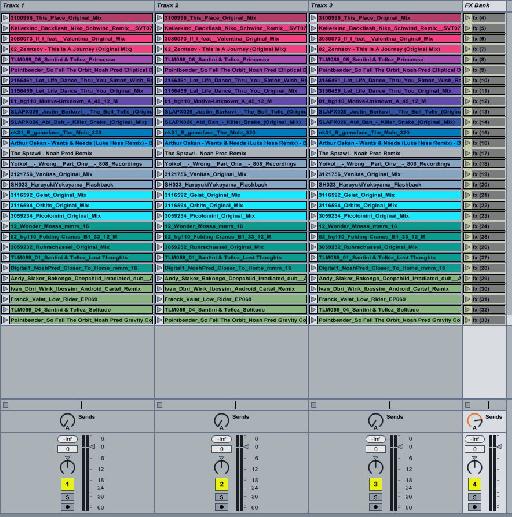 Faça a sua casa por entortar suas faixas e configurar seus loops e você estará pronto para entregar o desempenho de um criativo como você pode imaginar. Dito isso, nós mal arranhamos a superfície do potencial do Live como uma plataforma de DJ, com todos os tipos de efeitos, automação e possibilidades de personalização disponíveis também. Uma vez que você fator em ultra-versáteis ao vivo de recursos de mapeamento do controlador, Ponte integração com o Serato Scratch Live, ea gama enorme de ferramentas disponíveis com Max for Live, o potencial é verdadeiramente ilimitado.