One of the greatest jazz piano players of all time, Thelonious Monk shared some inspiring gigging advice with a band member back in 1960. Here is the list which is as useful today as it ever was.
Thelonius Monk, for those who somehow don't know, was a legendary Jazz pianist. He passed away on February 17th in 1982. But, aside from his musical legacy surviving, so does this gigging advice list transcribed by saxophonist Steve Lacy in 1960.
And despite the advancements in technology, much of the advice is as relevant for today's live musicians as it ever was. There's even tips here that DJs would do well to heed.
Here's a video of the Thelonious Monk Quartet performing 'Round Midnight' in Norward, 1966. And below is a photograph of the actual gigging advice with transcriptions of our favorite pieces of advice.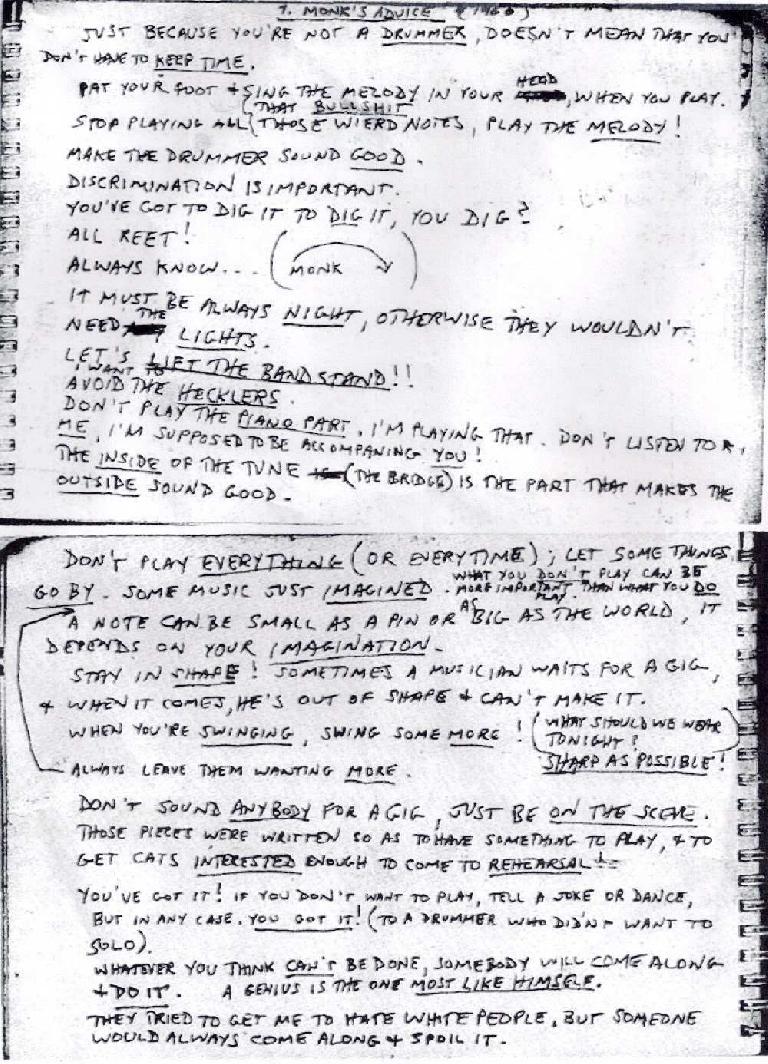 [courses_slider]
Here's some of our favorite pieces of advice transcribed:
JUST BECAUSE YOU'RE NOT A DRUMMER, DOESN'T MEAN YOU DON'T HAVE TO KEEP TIME.
PAT YOUR FOOT & SING THE MELODY IN YOUR HEAD, WHEN YOU PLAY.
STOP PLAYING ALL THOSE WEIRD NOTES (THAT BULLSHIT), PLAY THE MELODY!
MAKE THE DRUMMER SOUND GOOD.
IT MUST BE ALWAYS NIGHT, OTHERWISE THEY WOULDN'T NEED THE LIGHTS.
LET'S LIFT THE BAND STAND!!
I WANT TO AVOID THE HECKLERS.
DON'T PLAY THE PIANO PART, I'M PLAYING THAT. DON'T LISTEN TO ME. I'M SUPPOSED TO BE ACCOMPANYING YOU!
THE INSIDE OF THE TUNE (THE BRIDGE) IS THE PART THAT MAKES THE OUTSIDE SOUND GOOD.
DON'T PLAY EVERYTHING (OR EVERY TIME); LET SOME THINGS GO BY. SOME MUSIC JUST IMAGINED. WHAT YOU DON'T PLAY CAN BE MORE IMPORTANT THAT WHAT YOU DO.
ALWAYS LEAVE THEM WANTING MORE.
A NOTE CAN BE SMALL AS A PIN OR AS BIG AS THE WORLD, IT DEPENDS ON YOUR IMAGINATION.
STAY IN SHAPE! SOMETIMES A MUSICIAN WAITS FOR A GIG, & WHEN IT COMES, HE'S OUT OF SHAPE & CAN'T MAKE IT.
Stay inspired and prepare yourself, whatever your level of music technology knowledge, to create and perform your music with the AskAudio Academy video tutorials.