If you're shooting video don't ignore the sound recording or mixing process. Video is two thirds audio and Michael Wohl shares tips on getting the most out of location sound recording.
Setting proper audio levels

Just as important to where you position your microphone is that you set proper levels on the recording device. Regardless of what microphone you are using and what device you're recording onto, first and foremost, you need to make sure the audio levels are set properly.
The basic goal is to set your levels as high as possible without running the risk of overmodulating. Overmodulating (or peaking) is what happens when your audio signal is too loud for the recording device to handle. This can result in static or clipping and there's very little that can be done in post-production to fix this problem.
Honestly it's more important that the levels don't peak than it is that the levels are loud enough, but ideally you need to find a balance between solid levels that register clearly on the recording device and levels that are quiet enough that they never overdrive the recording device.
Three Simple Rules for Recording Great Sound
Since different devices use different metering indicators and gauges, I'm going to first describe in the abstract how to know when your levels are sufficient:
1. You want even the quietest sounds to register solidly on the meters.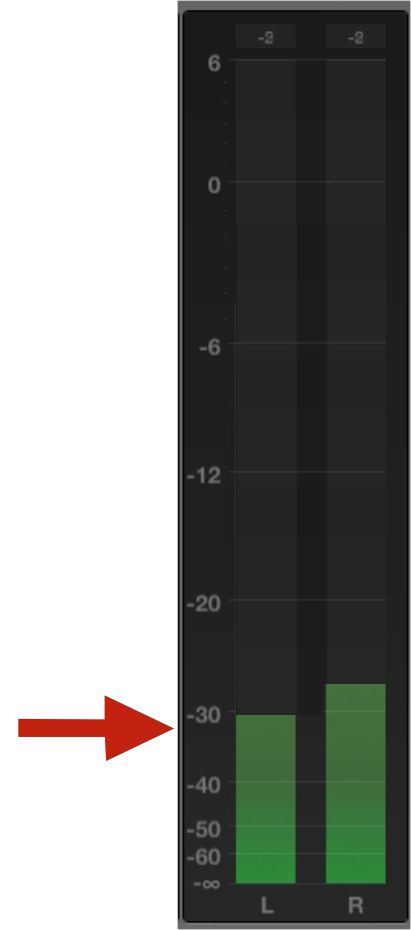 2. You want the average sounds to hit in the upper-middle range of the meters.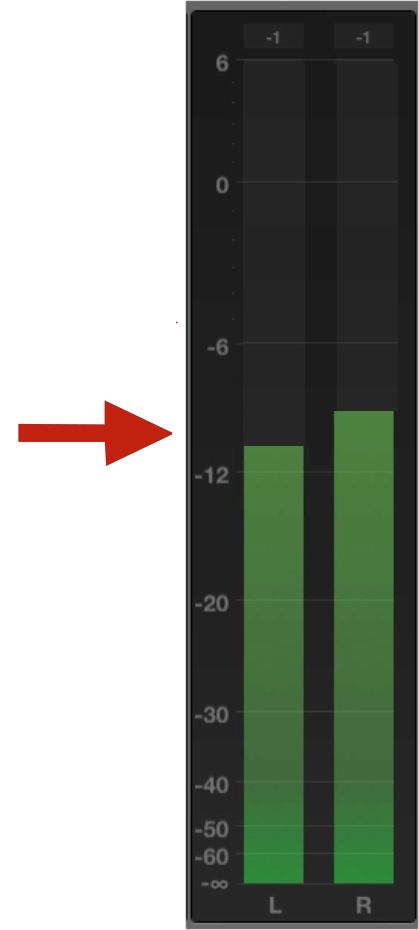 3. You want to ensure the loud sounds never touch the top of the meters.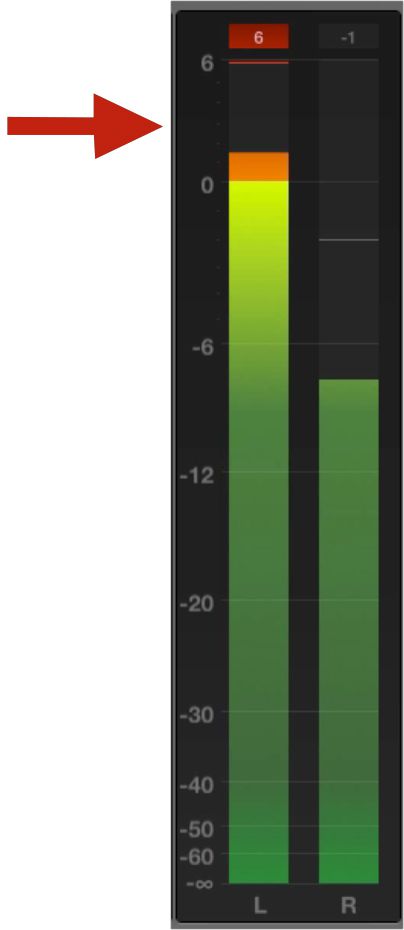 If there are numbers on your gauge, you're generally shooting for the average level, (that is the bulk of the signal) to be between -20 dB and -9 dB.
The peaks (or loudest moments) can be louder than that as long as they never touch 0 dB, which would mean that they overmodulated and might distort when you play the audio back.
Audio Level Settings Tips
If you've got multiple devices with volume controls, (such as a wireless transmitter, a mixer, and the camera), set all the devices at the mid-level setting, (or 0 dB gain if such an option exists), and then only make adjustments on the last device in the chain, which in most cases is the camera or audio recorder.
Be sure to set your levels before the scene begins'"during the rehearsal process or while the crew is setting up. The Location Sound Mixer course describes how to do this in detail, as well as what to do with scenes that contain both loud and quiet sounds .
You can make adjustments between scenes, but hopefully once you get your levels set pretty well, you shouldn't need to change much until you get to a new scene.
It's a bad idea to change the levels during the recording of a scene, because in addition to changing the level of the subject's voice, you're also changing the background noise, and such fluctuations will be very distracting when watching the final program.
Avoid Automatic Gain Control
That's why you should always avoid any sort of auto-level or Automatic Gain Control (AGC) setting on your camera or recording device that might modify the level mid-scene. If you use a setting like this, when your actor drops to a whisper to share her deepest secret, the camera will automatically crank up the volume, which means that this line will be too loud and full of background noise.
A Proper Level Is Not Enough!
Of course, getting the audio levels correct is only half the job of monitoring your audio. You also need to ensure that the sound being recorded is clean and accurate. This means using headphones and listening carefully whenever you are recording.
What Are You Listening For?
First of all, you're listening to hear that there's not too much background noise. Often sounds that are barely noticeable to the naked ear or that we unconsciously ignore can be very distracting when recorded by a mic: nearby traffic; planes and helicopters flying overhead; air conditioners; refrigerators; and other low frequency sounds can be really problematic.
Even sounds that aren't that loud can be a problem if they're inconsistent over the course of a scene. So if the fridge cycles on while shooting one of the characters, or a plane flies overhead during one particular shot, when it comes time to edit, every time you cut back and forth between the angles you'll hear that background noise turn on and off.
Eliminate Audio Hum
There also may be electrical hum interfering with the audio signal. Hum can occur if you allow an audio cable to run parallel to a power cable, like one powering a light.
Always be sure to tape the cables in a perpendicular pattern to prevent such hum from interfering with your recording.
Don't Add Unnecessary Noise
Extraneous voices can also be very distracting, even if they're quiet and in the background. When you watch the scene later, those voices will really stand out. That's why it's so important for everyone on set to be silent during shooting.
You also need to listen for microphone noise. This can occur no matter what type of microphone you may be recording with.
An inexperienced boom operator can make a lot of unwanted noise while moving the mic around, or if they aren't properly pointing the mic at the subject's mouth, the level could waver erratically.
Lavalier mics can also frequently generate noise especially if the subject is moving around and causing fabric to rub against the mic or mic cable.
Wireless mics frequently generate squawks, or burst of static. If these sounds happen in between the actors' lines, the editor will be able to remove them, but if they overlap with a line of dialogue, that line should be rerecorded.
Also as I mentioned before, as wireless mics' batteries begin to die, the sound begins to get fuzzy and distorted. All of these things are important for you to identify and alert the director about.
The Sound Mixer Can Cut the Scene!
One fun fact; the person monitoring the sound is the only person other than the director authorized to call 'cut!' and end a scene. That's because they're the only one who will know about these sorts of problems that would otherwise ruin the take.
That said, I'd recommend wielding that power sparingly; if it's at all possible to wait til the end of the take, I'd do so. But for long or complicated scenes you're better off saving everyone's efforts by interrupting the shooting before it goes too far.'¨

One last very important recommendation; always be sure to monitor the audio from the device that's actually recording. If you're monitoring from a mixer, there could be distortion or problems that occur between the mixer and the recording device that you'd never know about and that will generate an unpleasant surprise once you get to the editing room.
For more tips on proper recording techniques check out the Location Sound Mixer course.