With ever-higher video resolutions becoming commonplace, Final Cut Pro X's ability to export stills can be a real bonus. Here, Iain Anderson shows you how it works.
If you shoot video at events, eventually a client will ask if you can also shoot stills. Usually, that's tricky for an operator — it's hard to take great stills while you're trying to get the best video. But increasingly online photo distribution has meant that standards have slipped, and if you're shooting 4K, you can probably extract some pretty decent stills from your video. They won't be perfect, but they'll likely be good enough.
Image Format Basics
Whatever you shoot, clients are probably going to expect JPEG images as deliverables. That's fine: FCP X can export straight to JPEG, though it's missing a quality slider.
If you want higher quality, you can also export to PNG or TIFF, which use lossless compression, but produce much larger files. Use these if the still frames are going to processed further, or if your client requests them.
Markers And Shortcuts
A great way to get started is to duplicate your final project so you can make as much mess as you need to. Double click the new duplicate to make sure you're working on it, then mark all the frames you want to export.
You can skim and then press M if you like, or you can use any timeline navigation shortcuts for greater precision. Left and Right arrow keys move by a single frame, or add Shift to those to move by ten. Up and Down arrows move to the start of the previous or the next clip. Once you've got your markers in place, Control-; and Control-' jump from marker to marker, and this is a great way to verify that you've chosen the very best frames.
Automation With FCP X Image Exporter
If you just want to export the original clips, there's a great app waiting to help you. Download FCPXImageExporter, then double-click to launch. (If your security settings don't permit launching apps from unsigned developers, right-click and choose Open instead.)
From FCP X, export an XML file with File > Export XML (to the Desktop is fine), then flick across to FCPXImageExporter, press the FCPXML file button at the top, then locate the XML file you just exported. Click the Destination Directory button and choose where you want the output files to go (again, the Desktop is fine). Pick a format from the menu at the bottom left, then press Export. A few seconds later, the stills will have appeared as if by magic.
The only problem with this approach — and sadly, it's a big one — is that any effects on the clips are ignored when you export, and that includes color correction. If the original clips were well exposed and on the right white balance, you might be able to get away with it, but if you want to tweak the images before exporting, read on.
FCP X's New Color Controls
The new color correction tools in 10.4 — and really, it's the Curves that are most exciting — are a big part of the reason why you'd want to apply color correction in FCP X. You can add subtle or extreme contrast with Luma curves, color contrast effects with the other curves, and make complex color changes with the Hue/Saturation curves.
Vignettes can be added very easily with a quick shape mask, and the color effects on the Inside and Outside of a shape can be adjusted independently. Add as many separate corrections (with or without masks) as you think you need.
Exporting Single Images
To export a single image, just move to that frame (using the previous/next marker shortcuts from earlier) and use Share > Save Current Frame. Pick a format, then choose where to save it, and it'll export.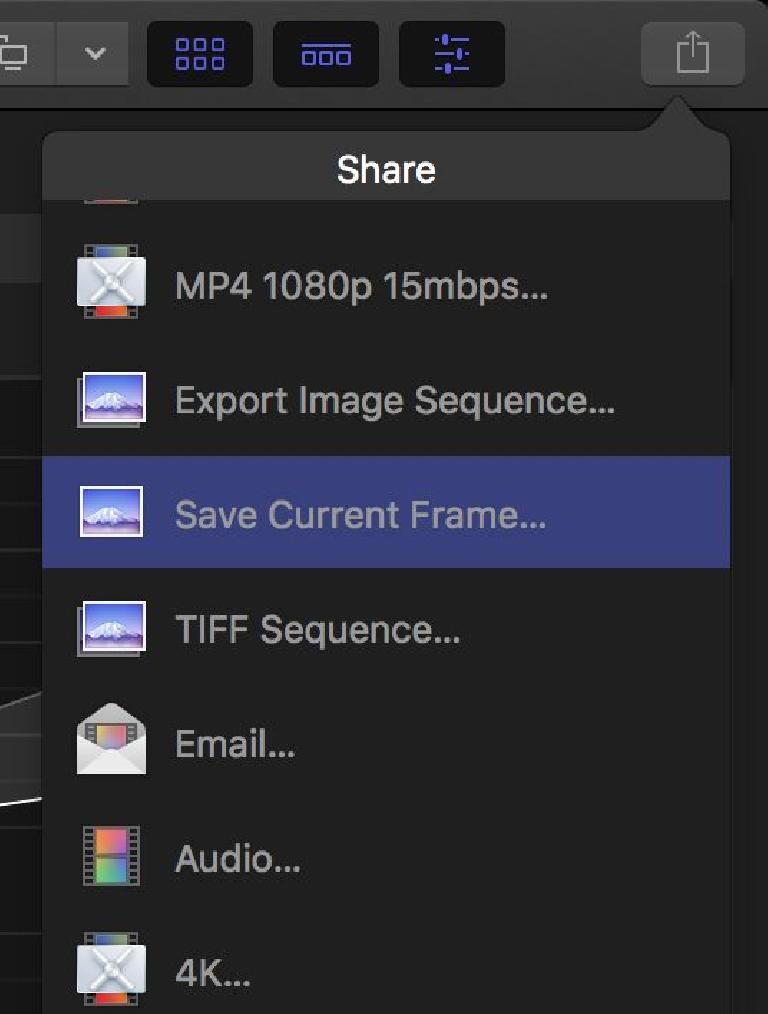 You can use File > Share or the Share icon in the top right — and set up multiple export options in Preferences > Destinations if you wish
But that's going to get tedious pretty quickly if you have more than a handful of images to export. Instead, we'll build a timeline which only contains the frames we want to export, and use another trick.
Blading Up And Trimming Down
The quickest way to drastically shorten our sequence is to make sure that each clip in the timeline has a single marker on the frame we want to keep. If there are clips with no useful frames, just select and delete them, and if there are clips with multiple good frames, blade (Command-B) between them to create multiple clips.
Start by putting the playhead at the start of the timeline. Press Control-' to move to the first marker, then press Option-[ followed by Option-] to Trim Start and then Trim End. This reduces the length of that first clip to just the frame the marker is on. Repeat this key sequence until your sequence contains only single frames with markers on them. (For bonus points, add extra shortcut keys so you don't need to switch modifiers. I'm a fan of F4/F5/F6 for this kind of thing.)
Exporting An Image Sequence
Now that you've got a timeline made up of only stills, you can use a different export method. Share > Export Image Sequence works like Save Current Frame, except that it exports every frame in your timeline to separate images in the same folder.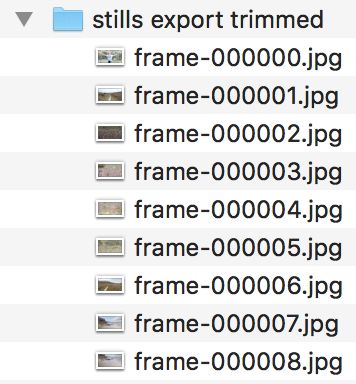 Exporting to an Image Sequence gives you all these images, in one hit
If you use this, but don't like the results, you can tweak the color in FCP X and then re-export to the same location, and it'll silently replace all the images.
Using FCP X As A Photo Manager?
Before concluding, I just want to state for the record that FCP X doesn't make a great photo manager. It's really close — keywords are fantastic for organisation, resizable thumbnails make for good browsing, and you can tackle any resolution you care to. But it can't deal with RAW images, and if you really care about photos, you'll want to shoot RAW, even if you deliver as JPEG. The dynamic range is better, the colors are better, you can push your images further. But what if you can't shoot RAW? Could it work?
In fact, yes: FCP X makes an awesome 360° photo manager. You can view photos in 360°, you can export at full resolution, you can remove the tripod, you can mess with horizons, and you can add color correction and effects. Very few 360° cameras shoot RAW, so its omission is not a problem.
One wrinkle is that photos won't have the necessary 360° photo metadata, but you can solve that by processing output images with the free app Exif Fixer.
Conclusion
As cameras have gotten better, crossing between the still and video realms has become far common. Unless you're shooting on something like a RED Helium, stills will likely have the edge for a while, but a good 4K camera's video is like shooting 7.3MP JPEGs at up to 60 frames a second. If the quality is high enough for what you need, you've got the shot.
Finally, if you really want to push this as far as you can, the GH5 can shoot video at the absurd resolution of 4992x3744 in the "6K anamorphic" mode. Gobloads of detail and as many frames as you want. Why not?