Knowing a few relatively simple techniques can help you save lots of time drawing by hand in Illustrator. Join Iain Anderson as he reveals the secrets of reflection, rotation and symmetry.
Illustrator is a wonderful program for creating vector artwork, but you don't need to create every single stroke by hand. Some built-in but tricky-to-access features can help you to mirror or to rotate your artwork automatically, creating symmetry and circular repeating patterns. There are a number of steps, but at the end you'll really know to make these techniques work for you.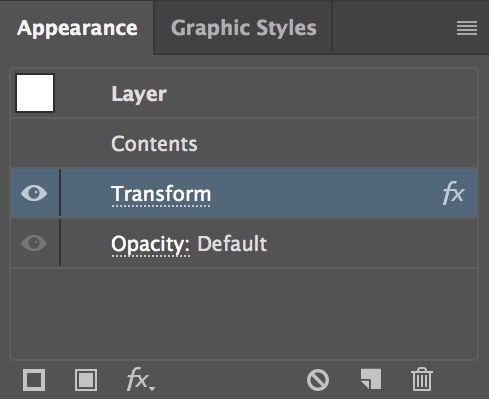 If you've never seen the Appearance panel, head to Window > Appearance and bring it up — it's how you change applied effects
Effects Are Awesome
Effects let you change your artwork in a non-destructive way, a little like adjustment layers do in Photoshop. With an effect applied to an object, its original outlines are still visible and editable, and the effect applies on top. Importantly, you can change the properties of an applied effect by using the Appearance panel.
Effects can be applied to an entire object, to an object's stroke or fill, or to a group enclosing multiple objects. Here, we'll actually apply an effect to an entire layer, so that new artwork you create will automatically have the effect applied. It'll work nicely.
Create a background element
We'll begin by creating a new document that's 600x600pt. Any size is fine, so long as it's square, and bigger than the artwork you want to make. With the document made, create a rectangle the same size as the artboard, positioned dead center by adjusting the values in the control panel at the top.
Why make this box? We'll be rotating and reflecting around the center of the document, and we want the center of this box to be at the same spot. By putting this shape in the effected group, we can control how the effect works. Be careful — if you draw outside the lines, you'll change the center point of the object and mess up the effect.
Transform!
Open up the Layers panel, then select Layer 1 by clicking the circle to the right of its name. Choose Effect > Distort & Transform > Transform. For now, tick Reflect X, set Copies to 1, and press OK. First, notice that the circle next to Layer 1 is now filled with grey, indicating an effect. Second, you won't have actually seen any change, but that's because our background element is being copied too, and is landing in front of the other artwork. How to fix it? Lock and hide it by clicking once in each of the boxes to the left of its name (hide the eye, show the lock). Oddly, the box still does its job even if it's not visible, and now you have a way to make artwork that reflects left-to-right.
Create some lines in front
Grab the Brush tool and scribble away. Draw on the left or the right, and it'll appear on the opposite side too. However, if you press Command-Y to dip into Outline mode, you'll see that only half the artwork is actually "real". If you want to use the Direct Selection tool to move points around, you'll have to adjust the real points, not the reflected ones.
As you draw lines to the center of the artwork, be careful only to cross the center line when you want lines to intersect. A single line at an angle will quickly become a cross.
Other transform options
Before we go any further, double-click on Layer 1 and rename it to "Reflect X" so we know what it does — we'll be extending this document quite a bit. Select the Reflect X layer, then choose Duplicate "Reflect X" from the panel submenu. Rename the new copy to "Reflect Y" and hide the original Reflect X layer.
Click on the circle to the right of Reflect Y to select it in the canvas, then look for the Appearance panel. (Choose Window > Appearance if you can't see it open.) You should see the word Transform in the Appearance panel, and it should be underlined. Click it once to access that effect's settings. Uncheck Reflect X and check Reflect Y, then press OK. Predictably, this will make your existing artwork look weird, so select all, delete, and start again. Your original artwork is protected on its original layer, the effect is still on its layer, and the rectangle is still hidden and locked in the background. Great.
Taking it further
There's more than just simple reflection on offer, though. Duplicate your layer one more time, rename your new copy Reflect X+Y, then hide and lock the original. Select with the circle, access the Transform effect through Appearance, then tick Reflect X as well as Reflect Y. This isn't a straight mirror any more, but it's still easy enough to understand. There's more, though.
Make another duplicate, and change its transform properties to Rotate by 90°, with 3 copies, and with no reflection. Why those numbers? Maths. With 360° in a circle, you need 4 copies at 90° from one another to complete the set. As the original artwork counts as #1, you need to make 3 extra copies. Try 120° with 2 copies, then 60° with 5 copies, and go completely bonkers with 5° and 71 copies. Just make sure you stay within the rectangle's bounds, or the effect will de-center.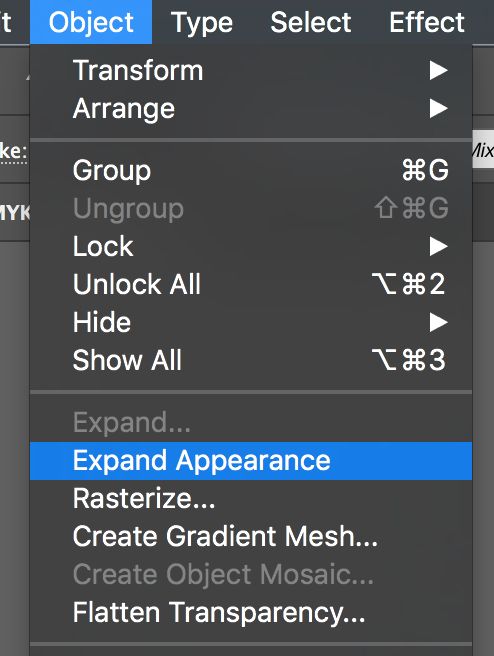 Expand and Expand Appearance can help when you need to make final art
Expanding
For many uses, these files will be just fine as-is, but the simpler reflections can sometimes show up with a hairline crack in the middle. If you do need to make the reflections "real" so you can close the gap, it's not hard. Duplicate the layer in question, hide the original, then select your layer and choose Object > Expand Appearance. The reflections are now real objects which can be edited manually. After expanding appearance, unite with pathfinder, then remove stray points to smooth any bumps out
Use the Pathfinder panel to Unite two solid objects, or Object > Path > Join to connect two disconnected paths. As usual, hover over an unwanted point with the Pen tool until it shows a minus, then click to delete it.
Conclusion
Reflection and repeated rotation can let you achieve beautiful symmetry effects and crazy repeating circles very quickly indeed. There's obviously many more possibilities with the Transform panel — did I mention you can use reflection and rotation together? — and it's easy to lose track of time as you create random art. Enjoy!