Finding shapes for your design projects doesn't always require opening your wallet and browsing 3rd party libraries. Toby Pitman shows the way to a creative, DIY path using InDesign.
Las formas de tecnología son útiles para todo tipo de proyectos que son un poco futurista. Ya se trate de HUD o modelos de texturas en 3D. Hay muchas bibliotecas 3 ª parte de estos diseños geométricos, GoMedia y jugo de Digital tienen algunas grandes paquetes de vectores.
En lugar de comprarlas es en realidad mucho más divertido para hacer su propio, y también muy fácil. La creación de su propia biblioteca de elementos de diseño en su tiempo libre puede hacer que sus proyectos más originales y ahorrar algo de dinero también.
Aquí está un rápido tutorial sobre cómo crear un elemento futurista de alta tecnología en Illustrator.
Aquí está lo que se va a hacer. Crear un nuevo documento. Normalmente yo sólo hacer una base RGB uno de 1000 x 700px.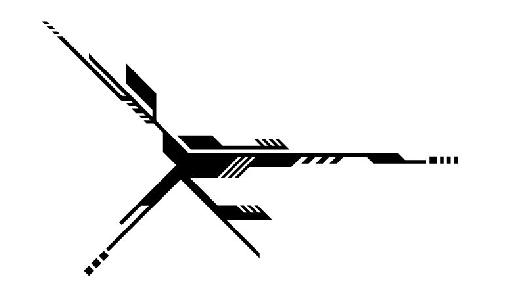 Paso 1
A su vez en el Grid (Comando -) y hacer que Ajustar a la cuadrícula está activada.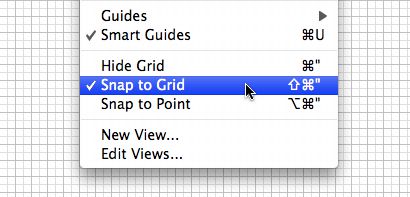 Paso 2
Sacar tres rectángulos delgados de diferentes tamaños. Usted puede ver estos están ajustados a la red un bloque de altura.

Paso 3
Ahora gire y unirse a ellos para hacer una base de forma de evitar. He rotado en un ángulo de 45 grados. Estas deben encajar muy bien juntos.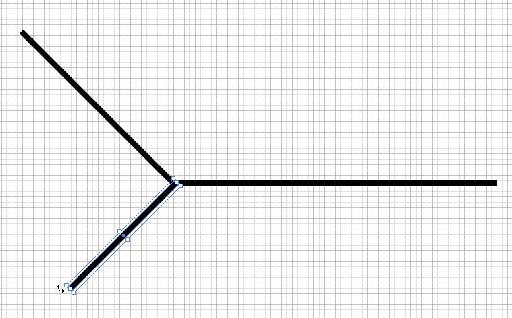 Paso 4
Siguiente Im que va a empezar a rellenar con algunas formas gruesas.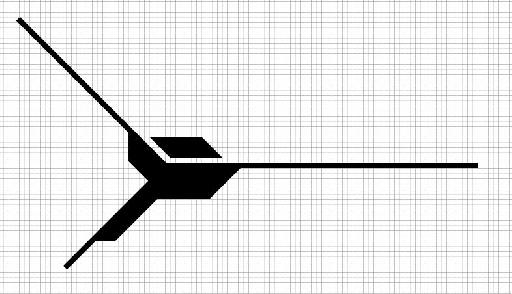 Paso 5
Lo que los bloques más grandes es simple y puede hacerse de dos maneras. La primera es con el corte herramienta de transformación. Dibuje un rectángulo y Control-Click. Elija de corte en el menú Transformar.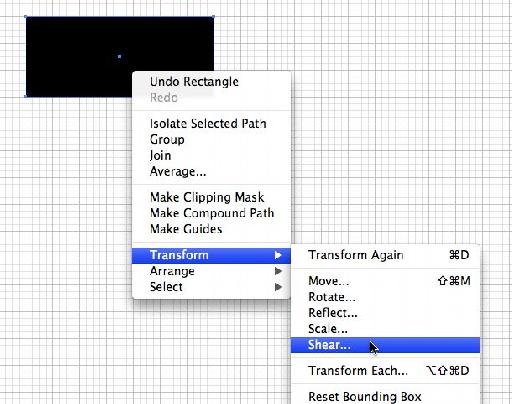 Paso 6
Ajustar el ángulo a 45 grados. Usted puede ver si te gusta. Esto le dará una perfecta inclinación 45 grados con respecto al rectángulo.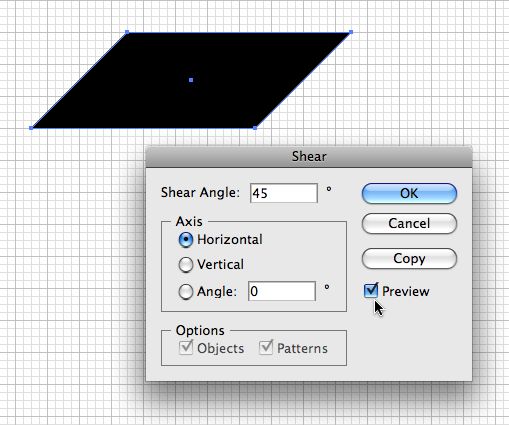 Una segunda manera de hacerlo es seleccionar la parte inferior dos puntos del rectángulo con la selección directa (flecha blanca) de Microsoft.
Se mueven en horizontal mantiene Shift (para limitar el movimiento) hasta que se ajuste a un ángulo de 45 grados en la parrilla.

Usted encontrará el método práctico de corte cuando se trata de varias rutas.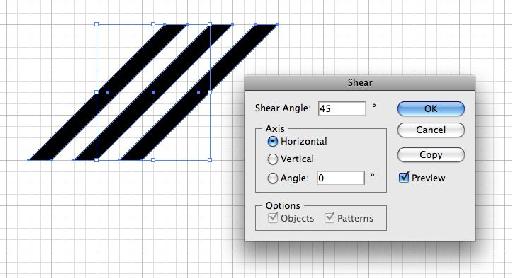 Paso 7
Inicio de tomar la forma juntos.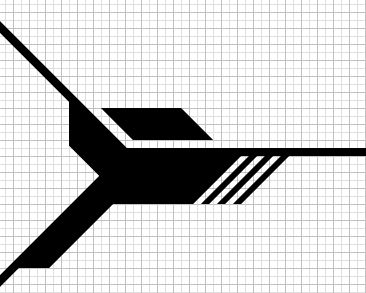 Yo, básicamente, el uso de estas técnicas y agregar formas hasta que yo llegue algo que me gusta.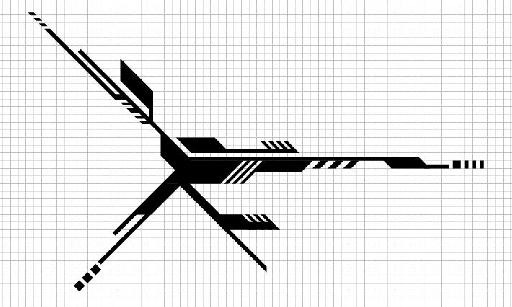 Paso 8a
Usted encontrará que usted termina con una gran cantidad de caminos separados en una sola capa.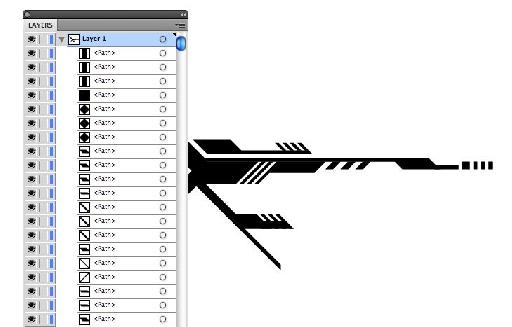 Ahora tiene dos opciones.
Usted puede unirse a todos los caminos para hacer un objeto mediante la selección de todos los caminos y el uso de la herramienta se unen en la ventana de Pathfinder.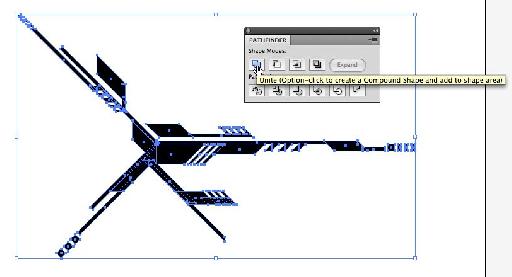 Esto es útil si desea importar la forma en Photoshop como una capa de forma.
Paso 8b
La otra opción es separar todos los caminos en las capas individuales. Usted puede hacer esto por entrar en el menú de capas y con su capa de elegir seleccionados Soltar a capas (secuencia).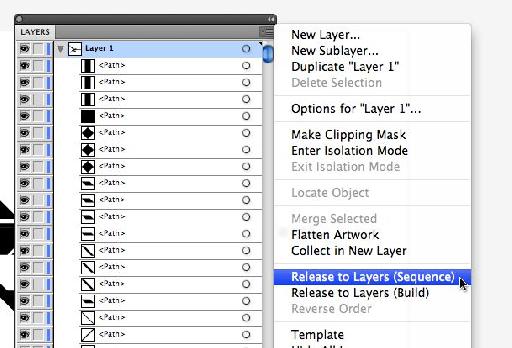 Esto crea una capa para cada ruta en orden.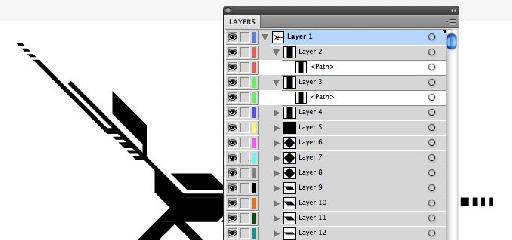 Seleccionar todas las capas de sub que ha creado y arrastrarlos fuera de la capa 1. Eliminar la capa de vacío.
Paso 9
Ahora puede importar este archivo de Illustrator en After Effects como una composición y la animación de cada elemento como AE ver todas las capas separadas.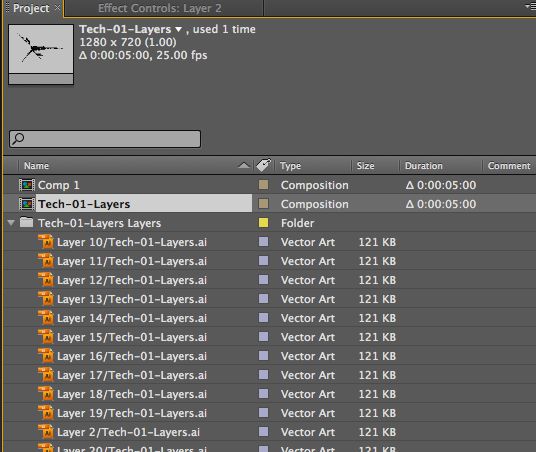 Paso 10
Aquí puedes ver todas las capas en la línea de tiempo. Recuerde que debe seleccionar Contraer transformaciones para todas las capas de líneas vectoriales nítidos en AE.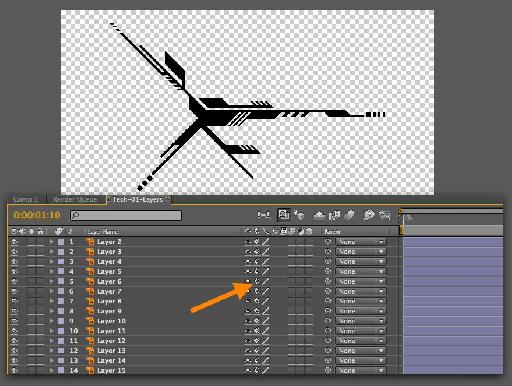 Usted puede experimentar con todo tipo de formas como círculos y hexágonos. Sólo tómese un minuto para que pueda construir todo un arsenal de sus propias formas personalizadas bastante rápido!