Finding shapes for your design projects doesn't always require opening your wallet and browsing 3rd party libraries. Toby Pitman shows the way to a creative, DIY path using InDesign.
Formes Tech sont utiles pour toutes sortes de projets qui sont légèrement futuriste. Que son HUD ou la texturation des modèles 3D. Il ya beaucoup de bibliothèques 3ème partie au sujet de ces dessins géométriques, GoMedia et Digital Juice quelques packs grand vecteur.
Au lieu de les acheter sa fait beaucoup plus de plaisir à faire vos propres, et trop facile. Construire votre propre bibliothèque d'éléments graphiques dans vos temps libres peuvent rendre vos projets plus originaux et vous faire économiser de l'argent aussi.
Heres un tutoriel rapide sur la création d'un élément futuriste technologie dans Illustrator.
Heres ce que l'on va faire. Créez un nouveau document. J'ai l'habitude de juste faire une base RVB un sur 700px x 1000.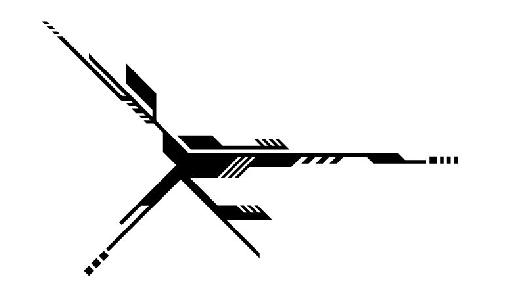 Etape 1
Allumez la Grille (Command -) et assurez-vous de la grille Aligner est activée.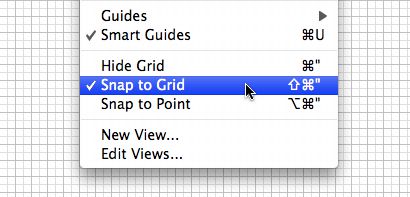 Etape 2
Dessinez trois rectangles de différentes tailles minces. Vous pouvez voir ces s'arrachent à un bloc de grille en hauteur.

Etape 3
Maintenant tourner et de les rejoindre pour faire une forme de base pour travailler autour. Ive tourné à un angle de 45 degrés. Ceux-ci devraient s'emboîtent très bien.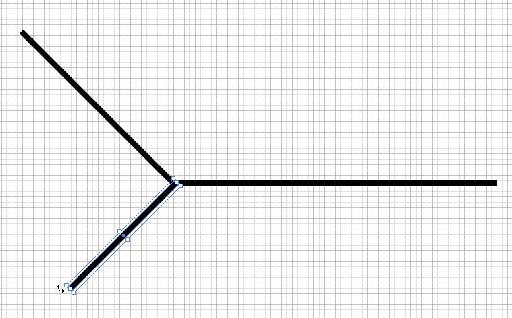 Etape 4
Suivant Im va commencer à remplir avec quelques formes épaisses.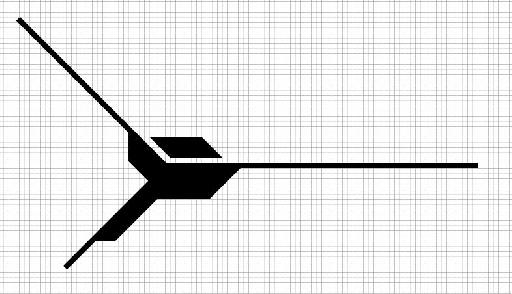 Etape 5
Faire des blocs plus gros est simple et peut s'effectuer de deux manières. La première est avec l'outil Déformation transformer. Dessinez un rectangle et de contrôle-Click. Choisissez cisaillement à partir du menu Transformer.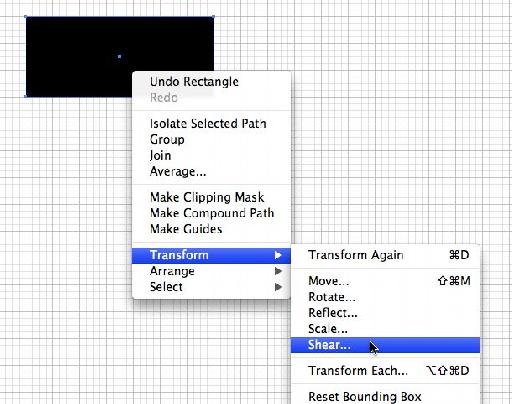 Etape 6
Réglez l'angle à 45 degrés. Vous pouvez prévisualiser si vous voulez. Cela vous donnera une parfaite inclinaison 45 degrés vers le rectangle.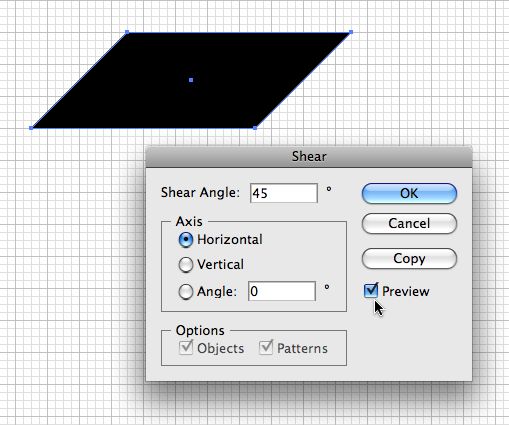 Une deuxième façon de faire est de sélectionner les deux derniers points du rectangle avec la sélection directe (flèche blanche) de l'outil.
Déplacez-les horizontalement la tenue Shift (pour limiter le mouvement) jusqu'à ce qu'ils s'accrochent à une angle de 45 degrés sur la grille.

Youll trouver la méthode de cisaillement très pratique lorsqu'il s'agit de plusieurs chemins.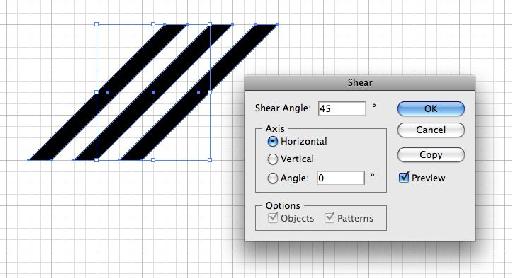 Etape 7
Démarrer claquer les formes ensemble.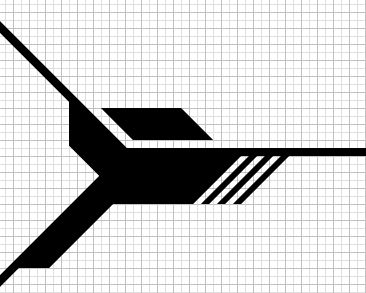 J'ai fondamentalement l'utilisation de ces techniques et d'ajouter des formes jusqu'Ã  ce que je obtenir quelque chose que j'aime.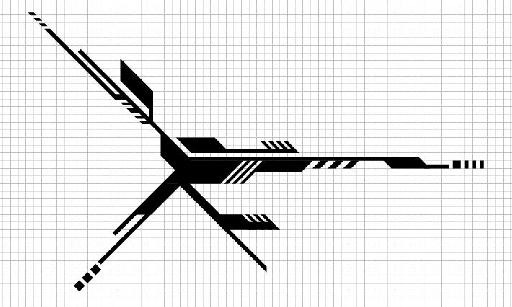 Étape 8a
Youll trouver vous vous retrouvez avec un grand nombre de chemins distincts sur une seule couche.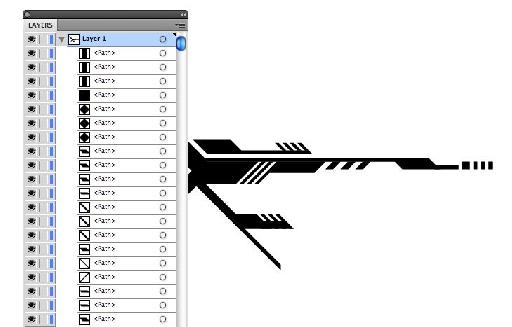 Vous avez maintenant deux choix.
Vous pouvez rejoindre tous les chemins pour faire un objet en sélectionnant tous les chemins et en utilisant l'outil s'unir dans la fenêtre Pathfinder.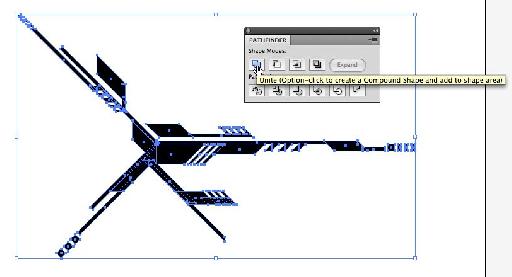 C'est pratique si vous souhaitez importer la forme dans Photoshop comme un calque de forme.
Étape 8b
L'autre option consiste à séparer tous les chemins sur des couches uniques. Vous pouvez le faire en allant dans le menu Calques et choisissez votre couche choisie Décomposer en calques (séquence).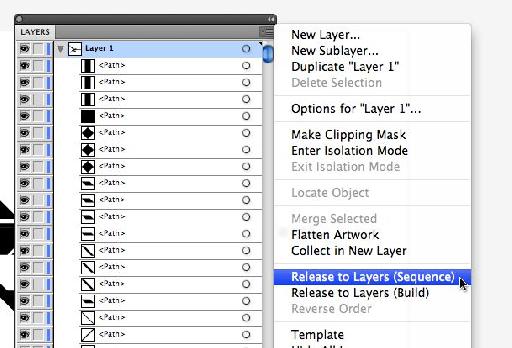 Cela crée une couche pour chaque chemin dans l'ordre.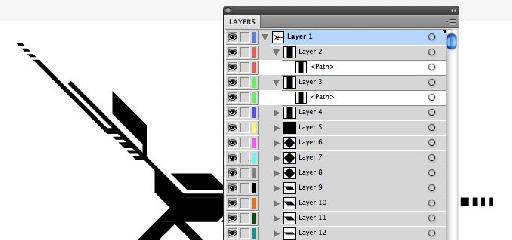 Sélectionnez tous vos sous-couches que vous avez créé et les traîner hors de la couche 1. Supprimer le calque vide.
Etape 9
Vous pouvez maintenant importer ce fichier Illustrator dans After Effects en tant que composition et d'animer chaque élément comme AE pourrez voir toutes les couches séparées.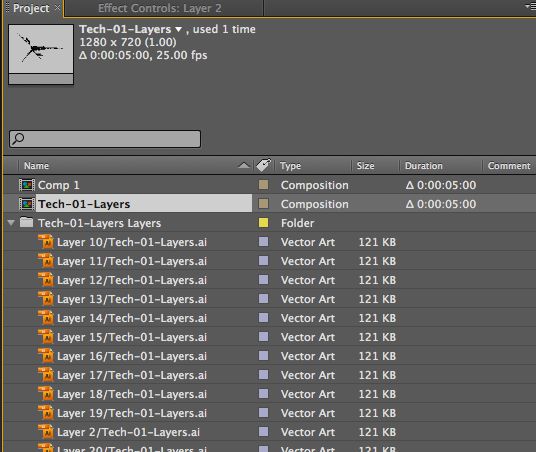 Étape 10
Ici vous pouvez voir tous les calques dans le scénario. N'oubliez pas de sélectionner Condenser transform pour toutes les couches des lignes vectorielles nettes en AE.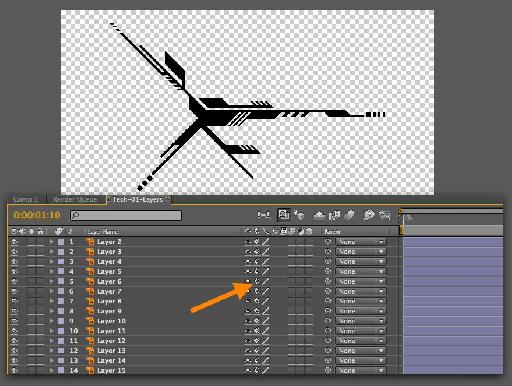 Vous pouvez expérimenter avec toutes sortes de formes comme des cercles et des hexagones. Ils ne prendra qu'une minute pour vous permettre de construire tout un stock de vos propres formes personnalisées assez rapide!