Logic Pro's Space Designer is an excellent convolution reverb. However, using IR's can add muddiness to your sound. Jay Asher shares a clever technique to help you achieve better and clearer mixes.
Anmerkung des Herausgebers: Obwohl dieser Artikel wurde mit Logic Pro 9 im Hinterkopf entwickelt. Die gleichen Techniken skizziert unten durch Logic Pro X Benutzern verwendet werden. Genießen Sie!
Obwohl ich der Autor dieses Artikels, Ehrlichkeit verlangt, dass ich gestehen, dass ich nicht kommen mit dieser Idee auf mich selbst angewiesen sein. Diese Unterscheidung zu einem talentierten Komponisten benannt Bengt Nilsson, die freundlicherweise hat mir die Erlaubnis, gehört, äh leihen! Er tat dies mit Altiverb IRs, die zwar sehr gut, dazu neigen, muddiness hinzuzufügen. Für diesen Artikel jedoch, werde ich Logic Pros Space Designer Faltungshall, als die Technik ist die gleiche.

In Bild 1 sehen Sie eine einfache Cello Ostinato in Teil I mit einem EastWest Hollywood Strings Legato Patch Cello gespielt haben. Es ist ein schönes, warmes, leicht düsteren Sound.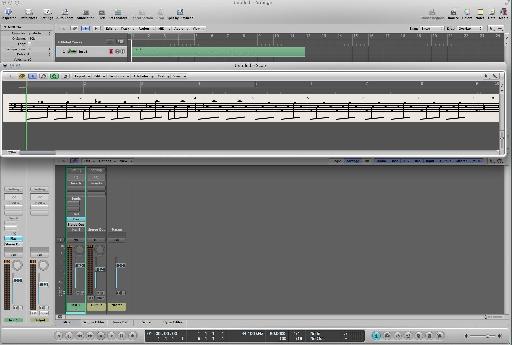 Pic 1
In Bild 2 habe ich eine Pro Logic Space Designer Hall auf einen Bus eröffnet und gesendete Signal, um sie vom Cello Kanalzug. Ich lud eine Impulse Response, im Folgenden eine IR, wie sie allgemein genannt bezeichnet. Ich habe einen Namen 02.4s Big String Reverb (07 Vermächtnis gewählt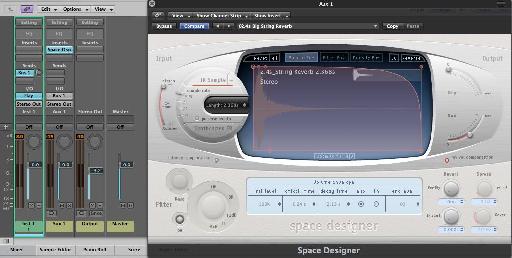 Pic 2
Es ist durchaus ein schöner Klang, aber ein wenig schlammig, und ich bin ziemlich sicher, dass später, wenn ich mehr Streicher und senden Sie es, es wird problematisch sein, weil einige muddiness im IR mischen. Ich brauche, um damit umzugehen.
Ich erstelle eine neue Audio-Channel-Strip und instanziieren Sie den Test Oscillator. Siehe Bild 3.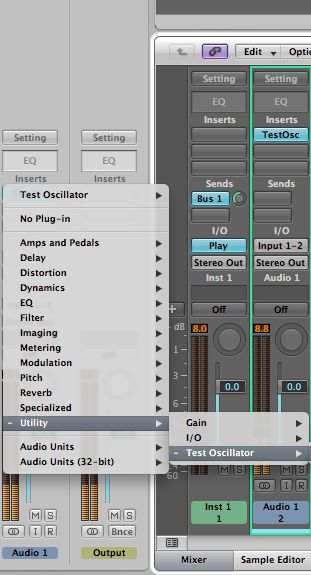 Pic 3
Innerhalb der GUI der Test Oscillator, laden ich die Voreinstellung für Pink Noise, die der Test Oscillator sofort beginnt zu generieren. (Es ist nicht unbedingt rosa Rauschen sein, es könnte weißes Rauschen usw.) Sehen Pic 4.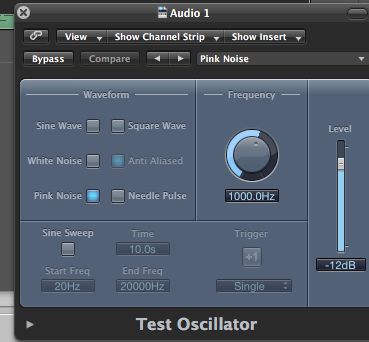 Pic 4
Ich Stummschalten des Cello Region. Auf der Aux hostet Space Designer ist, öffne ich Logic Pro Match EQ in dem zweiten Einsatz, und dann umgehen Space Designer.
Ich öffne den Match EQ auf der Analyzer in der oberen linken Ecke des GUI drehen und klicken Sie auf die Schaltfläche Template Learn, wie Sie sehen können, dass ich in Abb. 5 geschehen.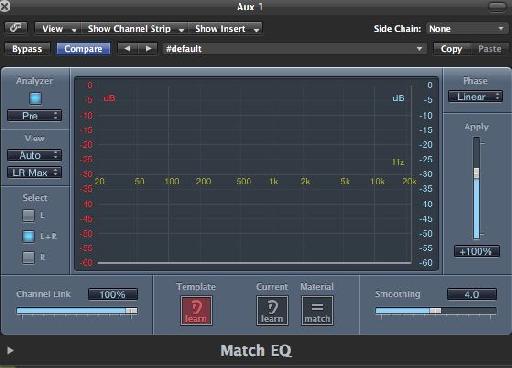 Pic 5
Ich lasse den Match EQ analysiert den Klang der Test Oscillator durch die IR für etwa zehn Sekunden, und drücken Sie dann die Template Learn-Taste ein zweites Mal.
Ich nehme Space Designer von Bypass-Modus, drücken Aktuelle Infos Schaltfläche, die Sie in Bild 6 zu sehen.

Pic 6
Wieder ließ ich das Spiel analysieren EQ den Sound für etwa zehn Sekunden, drücken Aktuelle Infos und ich sicherstellen, dass Werkstoff Spiel eingeschaltet ist. Siehe Bild 7.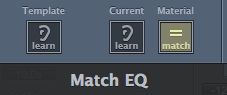 Pic 7
Jetzt in Bild 8, können Sie sehen, dass ich eine EQ-Kurve für diesen speziellen IR, um die Trübung zu korrigieren, wie viel oder wenig, wie ich mit dem Anwenden Schieberegler wollen.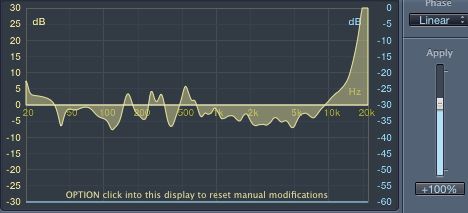 Bild 8
Die Idee dabei ist, dass die IR Reverbs werde keinen Bass oder hohen Frequenzen und andere Sachen, um das Material. 100% hält die EQ völlig flach, während 40% klingt einfach gut zu den Ohren.
Ich kann dann speichern Sie diese als Match EQ Preset, wie Sie in Pic sehen. 9, und / oder speichern Sie die Channel-Strip-Setting, wie in Bild 10.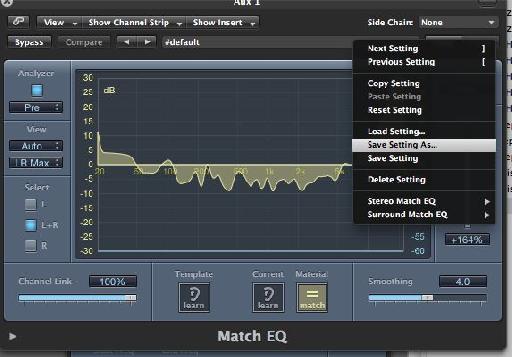 Bild 9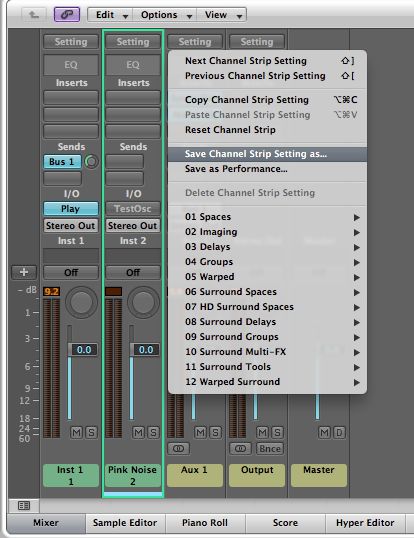 Bild 10
Dies ist eine einfache, aber effektive Technik, die Ihnen helfen, eine bessere Zusammensetzung auf der ganzen Linie, wenn Sie Ihre Lieblings-Faltungshall verwenden. IRS.