Logic Pro's Space Designer is an excellent convolution reverb. However, using IR's can add muddiness to your sound. Jay Asher shares a clever technique to help you achieve better and clearer mixes.
Nota del editor: Si bien este artículo fue creada con Logic Pro 9 en mente. Las mismas técnicas se describen a continuación pueden ser utilizados por los usuarios de Logic Pro X. Disfrute!
Aunque voy a ser el autor de este artículo, las demandas de la honestidad que yo confieso que no he venido para arriba con esta idea por mi cuenta. Esa distinción pertenece a un compositor talentoso llamado Bengt Nilsson, que amablemente me ha dado el permiso para, errar es prestado! Lo hizo con Altiverb impulsiva, que si bien es muy bueno, lo tendemos a agregar turbidez. Para este artículo, sin embargo, voy a usar la lógica Pros Space Designer reverb de convolución, ya que la técnica es la misma.

En Pic 1, se puede ver un violonchelo sencilla ostinato parte he jugado con un Hollywood Strings parche cello legato EastWest. Es un sonido agradable, cálido, un poco oscuro.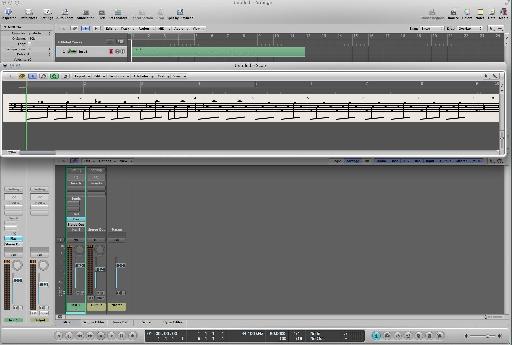 Pic 1
En Pic 2, he abierto un Logic Pro reverb Space Designer en un autobús y se envía la señal a la misma desde el canal cello. Cargué una respuesta al impulso, en lo sucesivo un IR como se le llama comúnmente. He elegido uno llamado 02.4s Gran Cadena Reverb (07 Legado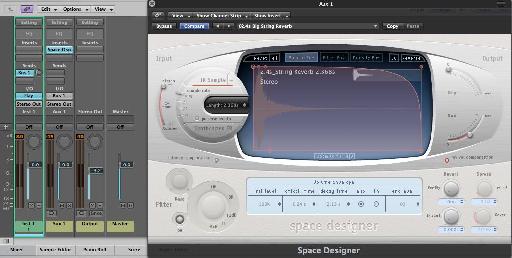 Pic 2
Es todo un sonido agradable, pero un poco de barro y estoy razonablemente seguro de que más adelante, cuando puedo crear más piezas de cuerda y envío a la misma, que va a ser problemático para mezclar por alguna turbidez en el IR. Tengo que lidiar con esto.
Creo un nuevo canal de audio y crear una instancia del oscilador de prueba. Ver imagen 3.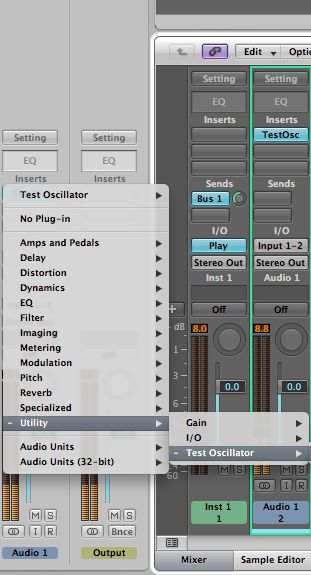 Pic 3
Dentro de la interfaz gráfica de usuario del Oscilador de prueba, me carga el preset de Ruido Rosa, que el oscilador de prueba inmediatamente comienza a generar. (No necesariamente tiene que ser el ruido rosa, podría ser ruido blanco, etc) Ver Pic 4.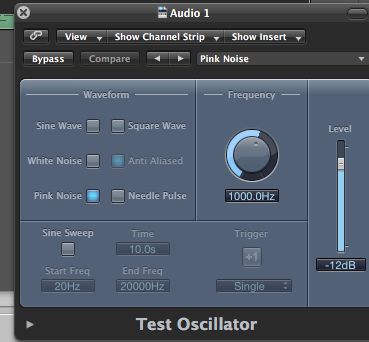 Pic 4
Para silenciar la región cello. Por Aux que aloja Space Designer, abro Logic Pro Match EQ en la segunda inserción, y luego pasar por alto Space Designer.
Abro el Match EQ, enciendo el analizador en la parte superior izquierda de la interfaz gráfica de usuario y haga clic en el botón Template Learn, como se puede ver lo que he hecho en el Pic 5.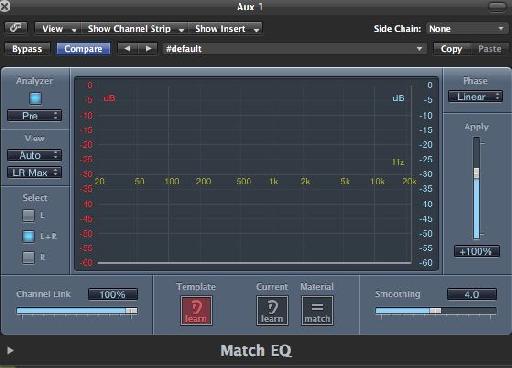 Pic 5
Dejé que el Partido analizar EQ el sonido del oscilador de prueba a través del IR durante aproximadamente diez segundos y, a continuación, pulse el botón Plantilla Aprender una segunda vez.
Tomo Space Designer del modo Bypass, pulse el botón Learn actual que se ve en la Fig 6.

Pic 6
Una vez más, dejo que el Partido analizar ecualización del sonido durante unos diez segundos, pulse actual aprendo y me aseguro de que Material Match está activada. Ver imagen 7.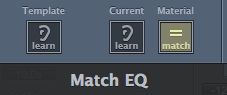 Pic 7
Ahora en Pic 8, se puede ver que tengo una curva de ecualización para este IR específico para corregir la turbidez tanto o tan poco como quiera utilizando el control deslizante en Aplicar.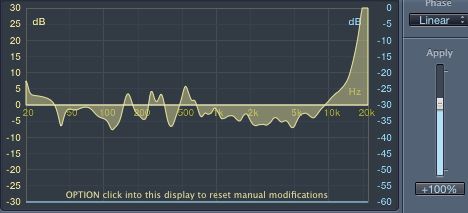 Pic 8
La idea con esto es que el IR reverberaciones no añadir cualquier bajo o altas frecuencias y otras cosas para el material. 100% mantiene el EQ totalmente plano mientras que el 40% puede sonar bien a los oídos.
Entonces puedo guardar esto como un ecualizador predeterminado del partido, como se ve en la Fig. 9, y / o guardar el ajuste de canal, como en Pic 10.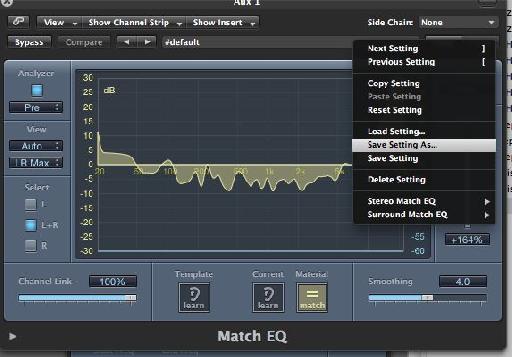 Pic 9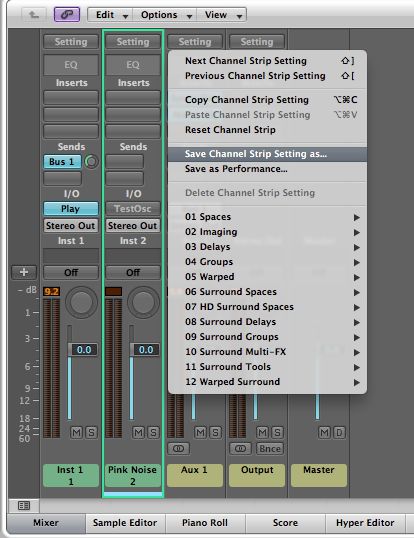 Pic 10
Se trata de una técnica sencilla pero eficaz que le ayudará a obtener una mejor mezcla en la línea cada vez que usted utiliza su reverb de convolución favorito. IRS.